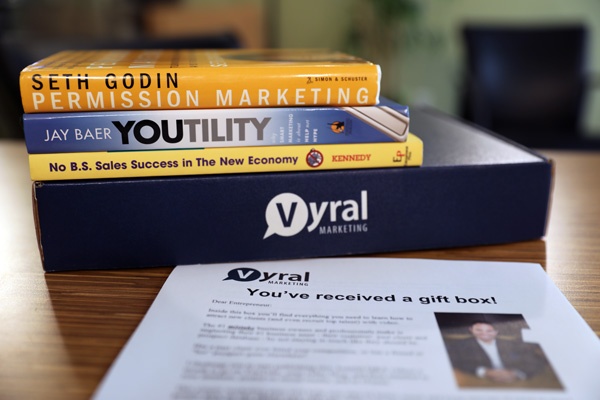 Read the cover letter (PDF)
Know a future client who needs marketing help?
FedEx them a Vyral Marketing Gift Box on us.
We'll ship it, with your personalized message, to help them get educated on how to attract new business with helpful, authentic Q&A videos.
They will receive
A physical copy of our 20 page Official Video Marketing Plan - "The Database Reset:

How to Reconnect with Your Neglected Contact Database to

Increase Sales with Video & Social Media."



A gift certificate to a 30 day no-risk 100% money back trial of our done-for-you Vyral Marketing service.
Includes three books
Permission Marketing: Turning Strangers into Friends and Friends into Customers by Seth Godin ($14 Value)


No B.S. Sales Success in The New Economy by Dan Kennedy ($14 Value)


Youtility: Why Smart Marketing Is About Help Not Hype by Jay Baer ($14 Value)
You get a special gift, too.
Ready to make the world a better place?
Get a $20 charity gift card for every introduction you make. Choose from 250+ charities to donate your money. It's a thank you gift that feeds a hungry child, protects an endangered species, or brings clean water to a remote village.
Here's what you donated to date:
January 2018: $240