Get our latest marketing tips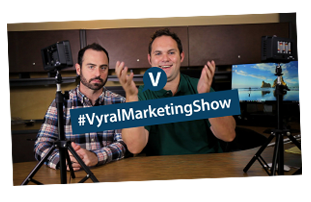 Subscribe to our Official Weekly e-Newsletter packed with:
New #VyralMarketingShow episodes

In-depth client interviews on what works

Video and email client marketing examples

Best client video of the week

Top performing client video and email topics
> Select your industry and get more updates including events, masterminds, webinars and more specific to your industry.
> Choose your business stage for personalized updates unique to your immediate business challenges and goals.
Subscribe on Facebook, Twitter, YouTube, and iTunes for updates, too.
--------
Opt out anytime. You will never be spammed.
Your contact information is 100% private and will never be shared, rented or sold. We hate spam as much as you do.
Look forward to seeing you weekly in your inbox!