Clients and friends,
If you're a mortgage professional, or you know one - Episode 22 is up and it's for you.
We had a strategy session request come in last week from a Phoenix mortgage professional in the business for 14 years.
His goal was to get from 10 deals a month to 20 deals a month.
"This income increase would change my life", he said.
The problem was his main strategy to secure business was sending out a weekly newsletter to real estate professionals. It wasn't working.
First, no phone calls were made to proactively follow up for a business meeting.
"What's my reason to call other than to ask for business? I don't want to do that", he said.
We also didn't know if the list contained any productive real estate professionals.
(Top mortgage professionals hold relationships with a handful of real estate agents who refer them business).
He only needed five new referral partner relationships who would send him 2 deals a month.
I attended the Mortgage Mastermind Summit in Las Vegas last year, and this is exactly how Steven, the CEO, launched his multi-million dollar mortgage business by interviewing top real estate agents on the radio for his community real estate program.
He reached out to top agents as the host of the radio program to book them as guests.
This got him the appointment.
So, I suggested this strategy without the radio expense. He would start "The Phoenix Real Estate Journal" video blog, brought to you by his mortgage firm.
Vyral Client Brett Jennings does this with huge success in Silicon Valley.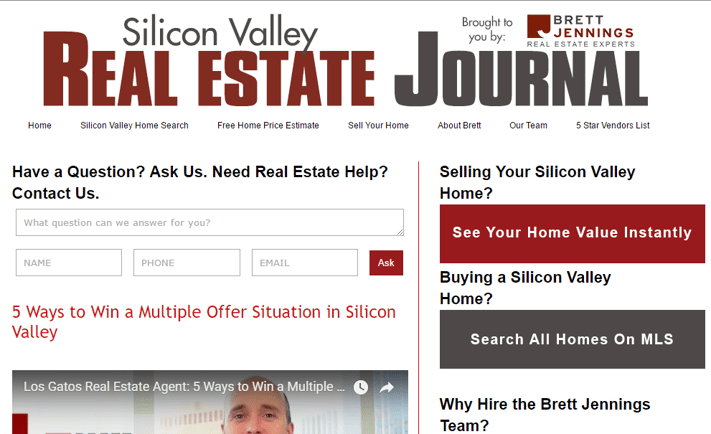 As the host of his own "online magazine", he would now interview top real estate agents about home prices with tips and insight to help residents make smart real estate decisions.
These videos would now go to everyone he knows, not just real estate agents. This includes the people on his Facebook, LinkedIn, in his address book and more.
Even better, he would now likely generate home buyer and seller leads to bring his real estate clients. What top agent would turn down an appointment from you if you brought them business?
Now of course, there are referral laws, but this strategy still works when you're compliant.
The point is, whether you're in mortgage or not, you can leverage your Vyral Marketing video blog to interview people.
It's much easier to book an appointment with successful people as the host of your show seeking a knowledgeable guest, and in return offering them exposure to your audience.
Interviewing is also a great way to feature customer, and even employee, success stories.
We met many of our referral partners in new industries by starting a podcast in the mortgage, financial advisor, recruiter, and chiropractor professions.
Episode 22 covers this entire strategy. It works for any industry. It's very, very powerful.
If you're a client of Vyral Marketing, we can fire up a free Google Hangout over YouTube Live (we'll make it private so it simply records) when it's time for us to interview you, along with your guest, so you can literally interview anyone in the world - or just in your office.
If you have any questions about the benefits of interviewing, write me an email and I'll guide you to how it will work for your situation.
Request a strategy call if you're interested in working with us.
And if you're a client, you can get me on the phone anytime.
Have a wonderful weekend.

Frank Klesitz, CEO
Vyral Marketing
P.S. I'm headed to VidCon next week in Anaheim, CA. If you're in the area and you'd like to meet up, let me know.