1 Free Week of Marketing School
We'll train your marketing person to generate customers for you.
Give your marketing person the knowledge they need to grow sales.
What was the student's marketing problem?
The
House of Conundrum
in Omaha, NE experienced their first slow down in business since opening their doors two years ago.
Here's more about the business:
David decided to send an advertisement to the past customer and prospect database.
How did the student solve the problem?
Business at The House of Conundrum has been steady since opening day.
John pays a couple different companies to generate new business for him, but David sees room for improvement.
John actively collects email addresses for The House of Conundrum's newsletter and has a DATABASE as a result.

David knows John's database is his NUMBER ONE business asset, but John and the companies he pays to generate business don't use it!
It is much easier to get more business from people that already know, like, and trust John than it is to drum up new business from a crowd of complete strangers.
David texted John and shared what he knew about the power of his database, "You need to create a new offer and email it to your database, but it can't be weak. It has to be something that people want and will actually take."
He continued to elaborate on the idea, "Would it be possible to offer something like 25% off to anyone who donates a can of food for the local food bank? If you let me, I can create an email campaign with a reconnect message and an offer to your database to drive more business in the door."
Here is the plan...
Craft a strong offer and tie it into a charity

Send an email with a call-to-action (i.e. Bring this email and a can of food for 25% off)
David learned in school that many times ineffective marketing can be traced back to a weak offer that people aren't interested in.
He also learned that tying an offer into a charity, holiday, or current event is a simple way to spark interest. People enjoy being part of a community and feeling like they are part of something bigger.
So, with David's offer they get a double benefit -- family fun and feeling like a supporting member of the community -- when they donate food through The House of Conundrum.
What does the student's marketing look like?
He used what he learned about Canva to create a rough sample ad. He made the ad and sent it to John within 15 minutes of suggesting that John send a new offer to his database.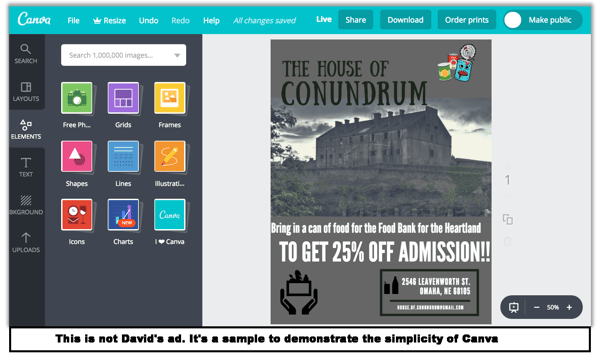 John replied to David's ad and wrote "Wow! David, this looks like what I pay people to make for me. Could you do something like this for me if I pay you?"
David didn't expect to get such positive feedback on his rough draft and replied, "Of course, I just need some better photos to use for the ad and you'll have to let me know exactly what you would like me to offer."
What did the student say in class?