Free 200+ Page Agent Recruiting Workbook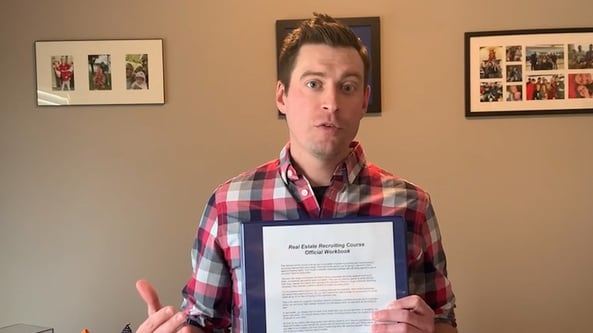 You'll see the 24-lesson curriculum in our 6-Month Agent Recruiting Implementation Project that starts January 2021.
Get the updated December 2020 workbook for free
Clients and friends,
Happy Monday!
It's been about 4 years now I've been teaching (and Vyral has been implementing) our 6-Month Recruiting Project.
I'd like to give you the updated 24 lesson, 200+ page workbook for free. You have to be an agent or broker to get it and we will verify your identity before inviting you into it.
You can get a free copy of the workbook here.
It's an add-on to our core service to build you an agent training blog and then use outbound email and Facebook ads to get frustrated agents on your training newsletter, to your workshops, and then to one-on-one meetings where they join your team, brokerage, coaching program, or down-line depending on the solution that best meets their needs.
You can only get so far making more calls or spending more money on lead-generation.
At some point, if you want to grow, you need agents under you to do the grunt work so you can focus on leadership, culture, systems, accountability – and if you want – generating leads for them.
(Most teams simply give their agents the cheap buyer leads you can catch off Facebook for about $5 each, depending on your market. You don't even need a fancy CRM anymore with the FB lead-form ads. You'll also give them your old leads, phone numbers to distressed homeowners to cold call, and email support to hit their database once or twice a month to get responses. It's not that expensive to give them leads, especially when your mortgage person, financial advisor, solar company, or other vendors pick up part or all of the tab in return for getting in front of your agents. In the end, you're paid to create the environment where they actually will make their calls with skill.)
We've taken over 100 top team leaders and brokers through it over the past four years.
If you already have a recruiter, this will make them more productive with marketing support so they can get more appointments for you (they will learn how to be the video journalist of what's happening at your brokerage to get your story out).
You can see example video blogs, Facebook ads, success stories, pricing and the entire syllabus here.
Here's one of many video blog examples, they look great:

You'll join a live, 1 hour Zoom class with me weekly for a lesson with about 10 peers, and then you'll work with my office for a one-on-one call to implement that week.
I teach two classes a week. We start every January and July each year with a new semester of clients.
My goal is to position you as the #1 real estate training expert in your MLS – where struggling agents go when they give up and understand they need you to make a real living in the business.
With COVID, there's also a massive need for you to take those who are unlicensed and train them up with an apprenticeship or scholarship program.
I love what Kris Lindahl does in the Twin Cities for his real estate scholarship. I just respect what he's doing and want to give him a well-deserved shout out.
There needs to be more leaders and mentors like him who train unlicensed people, with the right behaviors and motivation to succeed in direct sales, on real skills to make a living in real estate.
I invite you to review the workbook and let me know if you're interested in class. The entire project is $6,000 – it includes 24 lessons with me (live in a very small group), 24 implementation calls, and our team doing all the work with you on the back end to get it set up.
The first 30 days you have a money back guarantee so you can make sure the class format is right for you. The most we can take through the program are 20 agents – that's all the staff room we have.
Think about what it would be like if you had, let's say, just 10 agents on your team all actually doing 2 deals a month.
I was talking to my friend Kevin Kauffman in Tempe yesterday, in fact.
He told me the date was Thursday, November 6, 2014 to be exact.
That's when he decided that day to never go on a listing appointment again. It completely terrified him. Instead, he focused on talking to anywhere from 5-15 agents a week about working for him. Kevin recruited them, and his partner Fred trained them.
At the time he just gave them a Boomtown account and told them to get to work. Get this – in 2014 he did 160 deals. The very next year, their team did 382 deals all from adding 20 agents as fast as possible in hyper-competitive Phoenix.
Spring Bengtzen in Utah spoke with me a few years ago exhausted with the real estate game – she was ready to quit. I challenged her at breakfast at a mastermind in LA to step up and be a leader in her MLS, ideally catering to women in the industry. Long story short, she just started her own brokerage and is doing excellent (and that's an understatement).
Here's a success story video she made for us so she can share her story in her own words.
https://www.getvyral.com/blog/spring-story
"We'll do $100 million this year in volume and my brokerage is up to 50 agents. I only launched two months ago. I'm very confident I will go to a hundred agents this year. I don't know if my business would be where it's at today without them."
If you're thinking about getting into recruiting agents, or you want to do better at it, and you want help on the marketing side to get your name out there as a great leader, get the workbook and review the material. It's very strong. It works. It's the same formula to build any coaching company - which is what your recruiting is in disguise.
I would love to have you in class and guide you.
Let me know and I'll get you on a consultation call with John, my business partner, about working together to get it implemented.
I have two more classes with the current semester of students – we're covering YouTube Ads this week and then onward to the master checklist to make sure it all keeps getting done in 2021.
Thanks for reading all this. I'm really proud of this course, it's my life's work professionally.
Have a great week this week,

Frank Klesitz
P.S. The January mastermind/workshop is sold out in San Diego, however we just opened up a February date. Chris Watters is coming down to join us then, too. He sold 840 homes in Austin and 3,000 more homes(!) through 15 expansion partners in 2020, all while collecting currently $150,000 a month(!) across his system in vendor money to cover the expense of getting leads. Come on down and join us if you sell 75+ homes a year or earn $500k+ GCI. We have space for 6 top agents for a pretty unique experience. It would be great to meet you personally and get to know you better, too.