How to get more agent referral business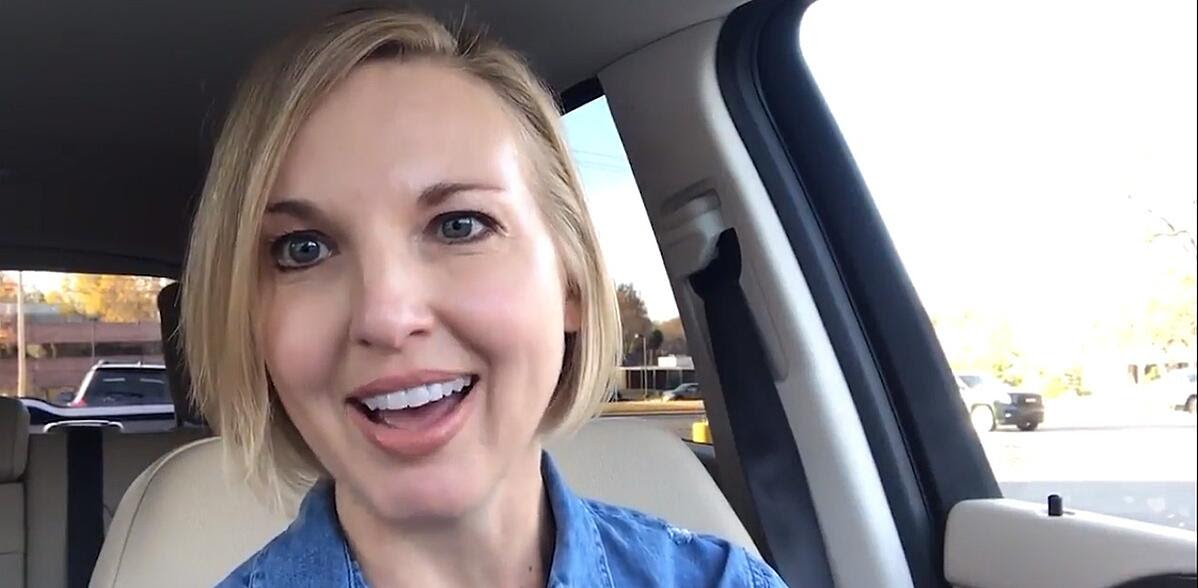 You'll learn how Vyral Client Jennie Wolek earned $481,000 GCI directly from agent referrals in her Tulsa market this year.
Request free access to the 200+ page recruiting workbook
Real estate clients and friends,
Happy Monday!
I have an insight for you to boost your agent referral business as our week ramps up again.
We start our 6-Month Recruiting project in January 2021 to help you implement a full-blown agent recruiting marketing system with email, video, Facebook ads, workshops and more.
Request free access to the 200+ page, 24 lesson recruiting workbook
The Wolek Group lead by Jennie Wolek in Tulsa, broke past $1 million GCI this year for the first time with the help of the above recruiting plan, but for agent referrals.
She will close out the year selling 174 homes, of which 47 came by agent referral. She has paid out $131,000 in agent referral fees and kept $350,000 to date this year.
These referrals come from agents all over the USA who know buyers or sellers needing help in Tulsa.
She pays out 25% of the commission to the referring agent at closing, without any money from her risked upfront to get the business.
This is a big deal.
Here's a post on Lab Coat I have permission to share from C.C.: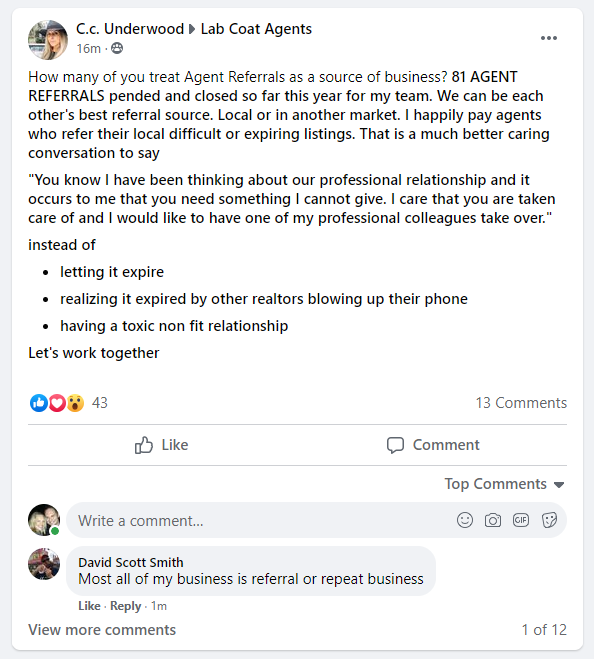 Agent-to-agent referrals are very high quality, zero-marketing risk leads – you want as many you can get right now.
*On a side note, in a low inventory market, you want to sign up as fast as you can for referral providers like Homelight, OpCity/Realtor.com, OJO Labs, Dave Ramsey referrals, and even going to banks to get referrals from their in-house mortgage department.
You can also approach agents who were doing a lot of business (but not a lot anymore) and agents spending a small fortune on PPC leads (Google "Homes for sale + city") who don't have the people to call their archives.
When transactions are down, it's more expensive and time consuming to get leads, so you set up referral relationships.
Pay the 25-35% on the back-end 100% risk free, it's worth it. Don't forget there are sellers in your buyer leads, too.
And remember, charge a transaction fee; there's likely no referral fee on that money. This is all after you maximize your current database business first, however (no referral fees there!)
Jennie graduated from our recruiting project about two years ago.
We built her this recruiting video blog, and she sends out 2 training videos a month to her 100% permission-based, opt-in email list of 2,697 agents.
She uses it to recruit to her team and for agent referral generation.
See Jennie's Live Agent Training Video Blog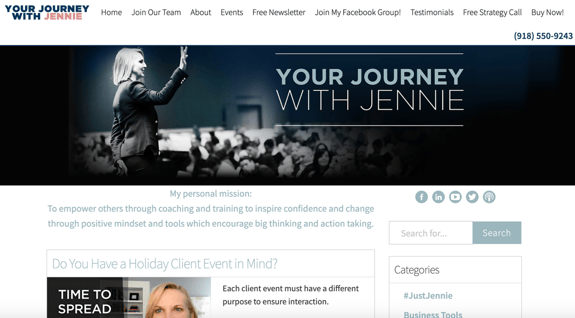 She has a great relationship with her brokerage, too, so they feature her on podcasts and webinars to increase her agent exposure.
Agents go to her training blog to download helpful things working for her, and in return Jennie collects their contact information to stay in touch.
Just this year, after much encouragement from me, she decided to start charging for her training in fact.
She had 184 agents buy her workshop and 60 agents purchased her training course.
"My confidence level was already through the roof making training videos and holding Zoom webinars", she told me. "Then when COVID happened things really took off for me."
You can run the revenue calculations, but she has zero-costed all of her marketing and recruiting expenses this way, with money left over to spend as her reward for a great product.
That's what a nice coaching/training back-end does for you.
Agents will pay you for your expertise to guide them on how to make more money. They just need to know you better.
Let's break down exactly how Jennie did all this, so you get more agent referrals, too.
She made a list of all the agents she knew and put them in a

n email

list

She

launched an agent training video blog

and started sending them helpful videos

She added every new agent she met to

her

list

after

going to events, networking etc.

She accepted interview requests and offered

agents

free stuff in return for their email

She always let

s

agents know she's in Tulsa and to send her their

clients!

She offers paid training classes to her biggest fans to

earn well-deserved income.
Jennie also started a Facebook Group just for agents that now has 4,000 members. She shares tips, tricks and motivation daily.
Jennie didn't need to make a single cold call to recruit or sell anything.
It was all done with attraction-based marketing where you're the guest, not the pest.
We cover all this in the 6-month recruiting project that starts in January 2021. That material above is in the workbook.
Again, you can get a copy of it here for free.
You know this stuff – nothing new above. It's all about building a list, communicating with it, making offers for response, and serving the business that comes your way. You do this for your buyers and sellers already, you just now must do it for an audience of agents.
If adding agents to your real estate team/brokerage or increasing your agent referral commissions are part of your 2021 business plan; let me know.
If you have any questions for me - ask, just leave a comment below.
I'll write you an intelligent response and point you in the right direction for your next steps, whether it's hiring us to help you or not.
I highly recommend you buy Jennie's training, too (it's $75) – her business is agent referral and database driven, so it's very profitable.
You'll learn how to mirror her business, which includes following everything we help you implement here at Vyral Marketing.
If anything, get on her list and model exactly what she's doing; and hire us to do it with you like Jennie did to save you time.
Hope that gets your wheels turning.
Have a wonderful holiday this week. We all have a lot to be appreciative for in this industry this year.

Frank Klesitz, CEO
Vyral Marketing
P.S. Happy holidays from our family to yours! That's my wife Katy with my daughter Melody and son Michael next to her, along with their two friends Kennedy and Morgan making a Gingerbread House this weekend.