"I think the power of video is going to be the hottest thing in our marketplace. And it's not necessarily the slick stuff. As I said, we really try to make it more like a home movie when we have a seller go through it, not a big splashy production. I think to be able to use video is an enormous thing, and what it did for us is it created a discipline of doing it twice a month. It's calendared for my whole year. Marjorie can do a million things, but it's on her calendar and it's something that she shows up for."

Want the results you see above?
Get The Video Marketing Plan
Vyral Client Bill Stuart, with his wife Marjorie, are real estate agents in Washington, DC for the past 10 years. They decided to "attack on a narrow front" and dominate a small area of town called Cleveland Park with initially a mailing list of 1,000 – and now up to 5,000 homeowners.
They sold 40 homes last year with an average price point of $1 million dollars earning $1.5 million in total gross commission income. They focus only on their niche area, rarely taking listings "they cannot walk to."
In this interview, you'll learn how Bill & Marjorie got started by farming a small area, deeply, with direct mail and then leveraging their "met" database of 1,200 people they built with video marketing. Over 90% of their business comes from their database, "without making any outbound phone calls at this point."
You'll see examples of his postcards and newsletter, too, which features his video blog and video updates.
Best of all, he uses the written content from his videos for his print newsletter and contributing article in the community newspaper to get the most from his videos. If you're looking to position yourself as an expert and dominate a local niche in a BIG city with a lot of competition, you can learn a lot from Bill's "strategy of preeminence" niche area farming approach.
Bill is an excellent storyteller, which is the highest level of content generation, that gets people engaged so they relate to him and his wife.
You'll learn his tricks in the interview. This is a great watch if you're a Vyral Marketing real estate client who seeks to focus on getting listings in a niche area.
Example YouTube Channel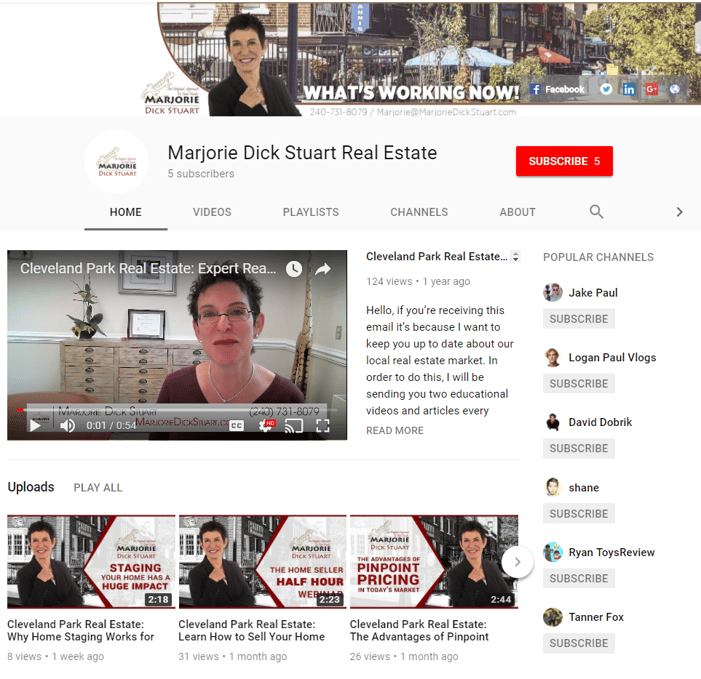 Example YouTube Video
Example Blog Article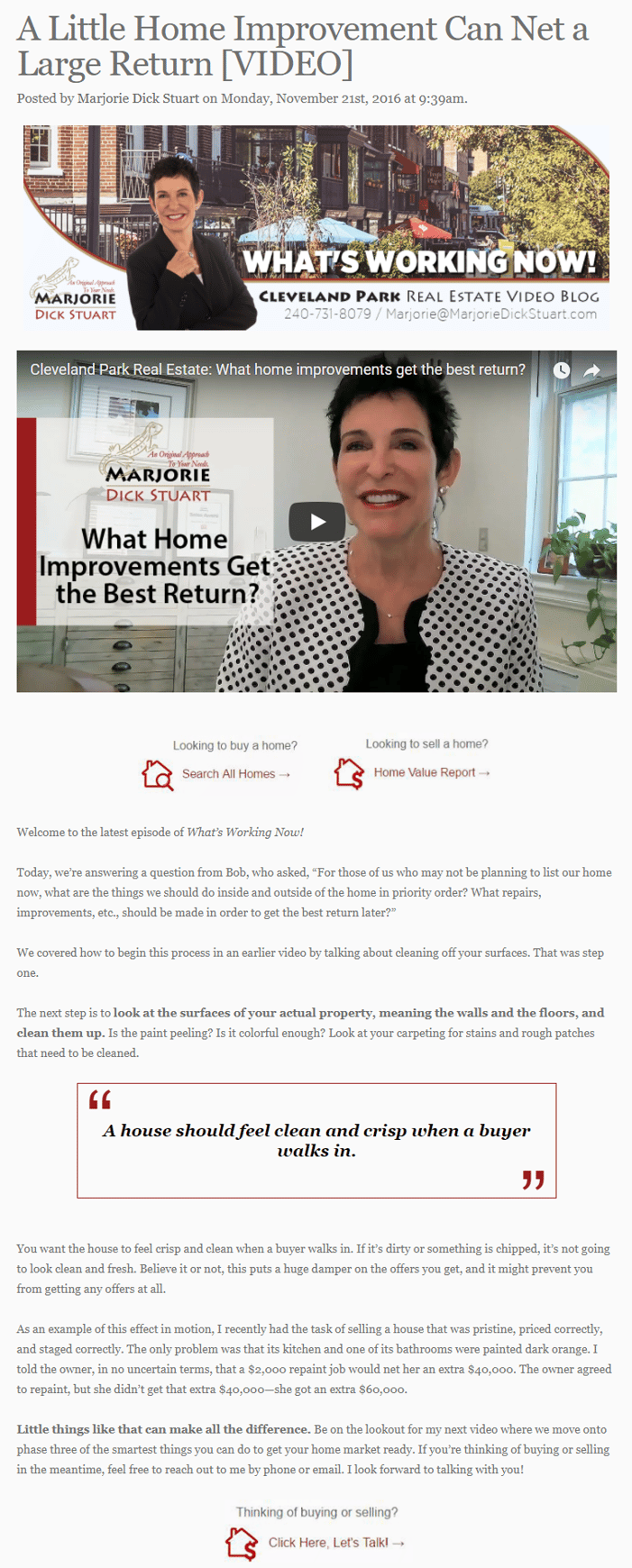 Example Facebook Post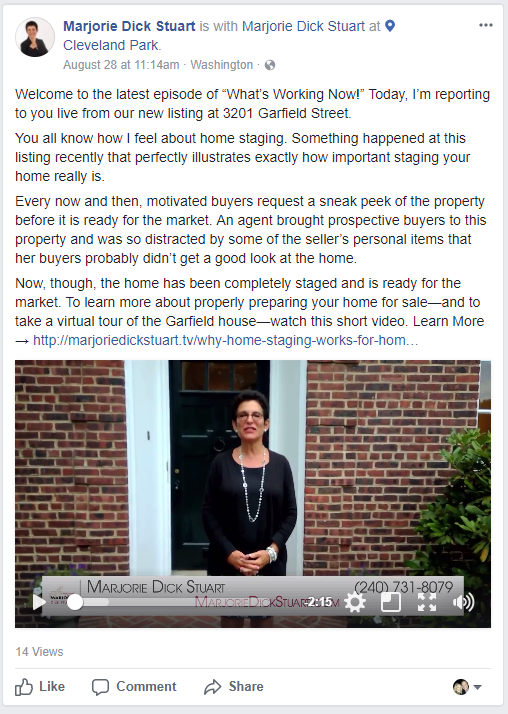 Full Interview Transcript
| | |
| --- | --- |
| Frank Klesitz: | Hello there. My name is Frank Klesitz, I'm the CEO and co-founder of Vyral marketing. Welcome to another Vyral Marketing Hangout interview with one of our great clients, Bill Stuart. Almost lost your name there for a second. It's Bill correct? |
| Bill Stuart: | Yes, so far so good, Frank. |
| Frank Klesitz: | So Bill is a great real estate professional in Washington, D.C. And he's been in the industry for over 40 years, but started really focusing on his real estate practice and selling real estate about 10 years ago. About 90% of his business comes from his database. He really focuses on one of the things we talk about at Vyral Marketing, which is attacking on a narrow front. When you are a real estate professional and you're not one of the fortunate real estate professionals who got in early with some radio personalities or got in early on buying online leads where you can scale up very quickly, how do you compete against mega agents in the area? Those agents have lots of money, big teams, and MSAs with mortgage professionals. You've really got to pick a niche and you have to dominate it. |
| | That is good marketing advice no matter what industry that you're in, to attack a narrow front. That's something you've done very well Bill, and we're going to go deeper into that. And if you'd like a copy of the marketing plan that Bill follows, you can go to our homepage getvyral.com; this is the marketing plan that all of our clients follow to reconnect with your number one business asset. That's your database, it's your past clients, it's your sphere of influence, it's even—in Bill's case—the homeowners that he's nurturing in a specific forum area who he's gotten permission from to stay in touch with. |
| | In today's interview, you're going to hear Bill's story of how he got started with his real estate team. We'll go over the challenges he dealt with, how he heard about Vyral Marketing, why he decided to start publishing educational videos, and the challenges involved with that. We're going to talk about some examples of what he's doing, so you can model that too if you're looking to get more listings and get more business by building a database, building relationships, and having relationship-building strategies. So Bill, are you ready to lay down some knowledge for our audience today, my friend? |
| Bill Stuart: | Yeah, let's go Frank. |
| Frank Klesitz: | Cool, man. So 10 years ago you decided to start selling real estate. Now, that was in Washington D.C., is that correct? |
| Bill Stuart: | Yeah, that's right. I've been in the business for a long time Frank, but primarily, other than when I first got started—when I first got started, I was just selling houses in the summer because I could make more money than working construction. So I actually never thought I'd stay in real estate. But now, 40-some years later, I'm still here. |
| | I've owned a couple of companies, I've run companies, and my wife, who really is the face of our business, has been very successful. We had a son, she retired, and as our son was getting older, she was sort of getting the itch to get back in the business. So we decided to launch a brand-new real estate business. While we both had a lot of experience, this was a startup business about 10 years ago. |
| Frank Klesitz: | Okay. You're really focusing on high-end homes. Just so we give the people an idea here, your average price-point—maybe not 10 years ago, but now at least—it's $1 million? |
| Bill Stuart: | Yeah. I mean, in our marketplace, there are very few houses lower than $1 million. Most of the properties that we handle that are under a million are probably condominiums. Although there are condominiums in our marketplace that are $1 million, $2 million, $3 million, that's kind of the norm. So our average is around $1 million or so; certainly the median is $1 million. |
| Frank Klesitz: | And last year you sold 40 homes? |
| Bill Stuart: | Yeah, 40 or so. |
| Frank Klesitz: | Yeah, with about $1.5 million GCI, that's pretty good, man. It's great. Good for you. So let's talk about how you got into the business. How do you generate business? How did you start to generate business? Let's talk about how that has morphed into how you generate business today. |
| Bill Stuart: | Yeah. The first thing I've always taught people is to do geographic farming. I've been in the business long time, and that works over time—if you work it. So my wife had been very successful doing that. When we started the business, we made a decision: We're going to target a market. We're going to target a market that happened to be where we lived also. It doesn't have to be, but that happened to be the case. |
| | In her previous life, my wife targeted a market where she didn't live and everybody in the neighborhood thought she lived there because she was so active there. People thought she was the mayor. But we targeted a very specific market. We knew we could not afford to be Coca-Cola to Washington D.C., but we did have the resources to be Coca-Cola in Cleveland Park and the surrounding areas. So our goal is leverage. It's time and money, and I want to get the best returns we possibly can. We frequently get the question, "Well, why do you limit yourself?" And I say, "Well, that's why." I want to make more dollars per hour and get a better return on the money we invest and the only way you can do that is by that focus, the same thing you talked about earlier. |
| Frank Klesitz: | That's a pearl of wisdom. Let me ask you, what's your definition of geographic farming? |
| Bill Stuart: | Jay Abraham has a great phrase, and it's really two words: "Preemptive, pre-eminence." We've positioned Marjorie as Cleveland Park's favorite agent. We don't say number one; she's the favorite because more people hire her than anybody else. So we're not bragging about being number one, we're talking about how we're the neighborhood favorite. She's the go-to person in that neighborhood. So when we're targeting that marketplace in our particular case, it was probably easier because we live there, our son went to school there, he played baseball there, and I coached kids there. We can't go out to dinner and not bump into friends and clients. If we sit a sidewalk café, we're probably stopped four times in the middle of a meal by somebody. |
| | Everything we do is involved in that community. Marjorie is very active in a couple of charities, and they are all community-based. |
| Frank Klesitz: | I'm going to share my screen here for the audience. I want you to see how niche this area is. So here we have D.C., right? |
| Bill Stuart: | Yep. |
| Frank Klesitz: | And you're here in Cleveland Park, is that correct? |
| Bill Stuart: | Yeah. If you go to the National Cathedral, that's close to Cleveland Park. Now we take some surrounding areas, but that was where we started. That was Cleveland Park, in North Cleveland Park. When we started, that was it. And we started it quite simply with direct mail. |
| Frank Klesitz: | So you decided that of all the fronts you could attack on, you wanted to go after this Cleveland Park area. Is there any reason other than the fact it was the area you lived in? |
| Bill Stuart: | Yeah, there are couple of things. |
| Frank Klesitz: | You have a big area here, let's just put that into perspective. |
| Bill Stuart: | We don't cross the river. If we've got a lead in Virginia, we pick up the phone and call somebody and refer it. We're very focused on where we do business. We may stray a little bit, but if Marjorie can't walk to it, she refers it. |
| Frank Klesitz: | Okay, I like it. So you like the idea of you just going to farm the neighborhood you lived in? |
| Bill Stuart: | Yeah. Now, we live our life in about one or two-mile circle, except when we travel. And it's where we shop, eat, live, play, whatever we do, but it's all in Cleveland Park. Marjorie had been in the business a long time, and when she was first in the business, she started with very low-priced properties. She was brand-new, and back then there were probably around 40-something thousand dollars, so she was making probably 500 bucks a deal. And after a while, we realized that there is no future in that because those people are never going to be able to leave. |
| | And so we were looking for a market. It didn't have to be the highest market. As a matter of fact, the sweet spot in Washington D.C. is probably up to about $2 million. When you start getting into the ranges above that, it's a quicker market. More properties stick around in the market. |
| Frank Klesitz: | So you picked this niche area. To give me an idea, what's the turnover in this area and how many homes are there? |
| Bill Stuart: | Turnover in that particular area—I mean, we farm about 5,000 . . . |
| Frank Klesitz: | 5,000 homes you direct mailed at the time? |
| Bill Stuart: | Yeah. We direct mail to 5,000 but the turnover rate is not—If you looked at just the turnover rate on a national basis, most people will look for something higher, but we may only have 4% or 5% a year. However, with an average price of about $1 million, it sort of mitigates that low or lower thing. |
| Frank Klesitz: | I love how you're not driving all over D.C., that would be a lot of work. |
| Bill Stuart: | Well, yeah, it's just leverage. As I said, on occasion, based on a personal relationship, we'll stretch a little bit farther. But at some point, we'll tell people, look, you're better off having somebody else handle it. My daughter lives in Fredrick—she actually works for us—and we've told her to get somebody up there to do it. |
| Frank Klesitz: | Bill, if somebody stopped watching us right now I think they can take away a huge nugget, which is picking a target market. Some people will take buyer leads all over the area and run around like a crazy person. It sounds to me like you're focused on listings and a good price-point close to where you live and dominating a very small area in an extremely competitive market. |
| Bill Stuart: | Yeah. |
| Frank Klesitz: | You've been in the business for a long time, for 44 years now, and you started this venture only 10 years ago, which is not a terribly long time. But let's go a little bit deeper before we get into growing a database and making the videos. Earlier, you said something profound about how geographic farming always works. Do you have any pearls of wisdom now that you've spent that time in real estate and seen fads—or even different styles of business—come and go? Tell me more about why geographic farming works. Picking market of an area and being in front of them all the time—why is that the best strategy out of all the things you've seen out there? |
| Bill Stuart: | There could be other strategies but this is the one that I've been able to most consistently teach. If somebody landed here from Mars and consistently applied this strategy step by step, they will be able build a business in a neighborhood. |
| | I don't really care too much about who's already there as a competitor because often an agent will come to me and say, "Bill, you had success farming; I'm thinking of farming a neighborhood." Then I say, "Well, what neighborhood?" And they say, "Well, I was thinking about such-and-such, but you know, so-and-so does all of the business there." Then I say, "Okay, all of the business, right?" And they say, "Yes." And I say, "This will take you about three minutes: I want you to go to the multiple listing service and I want you to run all of the listings sold in that neighborhood in a 12-month window. I bet you that this person who sells 'everything' is probably doing no more than 10% of the business." Nine out of 10 times, that will be the answer. The person that is perceived as the neighborhood expert who does all of the business is probably only doing 10% of the business. Every once in a while, the answer might be 12% or 13%, about 90-plus percent of the time, they're only doing 10%. |
| | Now, the good news about that is that means there is lots of territory open within that market place. Second, look how little you have to do to be perceived as the person doing all the business. I mean, that's huge leverage. I've had people take over a neighborhood with one listing, and that's where it always starts. It's a race. How do I get the first one? Once I've got the first one, then I can leverage that through my marketing to be perceived as the expert, which is particularly successful if no one else in the area is doing that. |
| Frank Klesitz: | That's great Bill. Thank you for sharing that. Since you started off with direct mail, you probably had some money. Let's just talk about—you started with 5,000 in the area . . . |
| Bill Stuart: | We actually started with about 1,000. |
| Frank Klesitz: | Okay, start with 1,000. We're going to work our way to Vyral, but let's start with the foundation when you started to work with Vyral. So where did you get the names, how did you choose your names from a list of companies, what did you send them, how often did you mail them, and what were the costs? Why don't you tell us the direct mail platform that you did? |
| Bill Stuart: | First, we knew we had to do it consistently. So you've got to have the money and the mindset to do it consistently, particularly in startup, at a minimum of twice a month. Once a month isn't good enough. Once a quarter isn't good enough. And probably I might do it about three times the first couple of months to try to get some momentum going. I you can't afford 2,000 the right way, then do 1,000 the right way. Cut it into half and do the 1,000 the right way. |
| | We did two things to start out with. First, we got three signature marketing pieces. We actually did create a personal brochure for Marjorie. It wasn't about honors and recognitions; it was personal. A lot of our marketing is about our lives. Nobody on this planet identifies with a real estate agent except another real estate agent. But they can identify with a mom. They can identify with somebody who moved from Pennsylvania. They can identify with somebody who had to wait tables, or whatever else it is. They can identify with somebody whose kid plays baseball. So we don't hide that from people. We're people. And in the old days, it used to be if someone called and you weren't in the office, it was never, "Tell them I'm taking a day off, never tell them I'm playing with my kids, tell them I'm on another appointment." But you know what, we're people; it's okay to have a life. |
| | When Marjorie was first in the business, she had no money, she'd moved here from another town, and she was starving, so she just had to run as fast as she could. And she built a business, a very successful business back in the 80s, but she worked 100 hours a week. So when she retired to have our son and to take care of her mother, she thought she would never come back. She was burned out, she'd had it, she threw away her trophies, she gave away her lock boxes, and if we'd been smart enough we would have built a system to do this, but she referred everyone who called her to another agent. |
| | And the interesting thing is, she'd built a successful enough business that every single person that she referred to another agent actually hired that agent. Now, we were unable at the time to figure out a platform to perpetuate that, so we really were starting again from scratch. But I've totally forgotten the question, ask me again. |
| Frank Klesitz: | Well, it's important. You started your farming by telling personal stories about you and your life, right? It wasn't necessarily about real estate? |
| Bill Stuart: | Right. The first thing the brochure talked about is our life, we just rewrote it to be more of Marjorie's story. Then there is some real estate stuff involved in it. But it really is her story. That was one of the first direct mail pieces we put together. |
| Frank Klesitz: | What are the two other pieces? |
| Bill Stuart: | The other two is we did were simple. Postcards are simple. I mean, in the old days they weren't even pretty. They were black and white and you hand-wrote them usually and stuck stamps on. But we started with postcards. That's something that is the cheapest and easiest thing that you can do, so that's where we started. Were there problems? Money and the time to do it consistently. We just wanted to be cranking them out; they can be really simple. |
| Frank Klesitz: | So you were going on three times a month? |
| Bill Stuart: | Two or three to start. |
| Frank Klesitz: | What were the postcards? What was the message in the postcard? |
| Bill Stuart: | When we were brand-new and just starting again, we didn't have a new listing to come out. So [the postcard] might be, "Here's what going on in the neighborhood, here's the last 12 sales." It's not rocket science. Within maybe a month or two of the kickoff of our farming. Marjorie got a phone call and it was somebody who was handling an estate. The reason he called her was because when he had gone to the vacant house—he was from out of town, he'd gone to the vacant house and there was a lot of mail on the floor by the front door, and he picked it up and called the agency that sent them those postcards. |
| | So how does it work? Well, I'm not sure why, but it works. And from there, that's fine. You can go around the neighborhood and tell people you've got it, and your sign goes up. We sold it very quickly. And we sold at a time of the year where everybody thinks nobody buys a house. It went on the market between Christmas and New Year's, and we sold it right away for $100,000 above the price. But then we can leverage that because we're having open houses, we're inviting the neighbors . . . |
| Frank Klesitz: | And again, there is the synergistic effect of all this being in the same area. People are driving by seeing the listing sign, seeing your signs everywhere, and getting your direct mail, right? |
| Bill Stuart: | You really want to pour the gasoline on then because you want to get the next one as fast as you can. It's like how people talk about radio advertising; you don't advertise once a week, you just blast it for however many days or the period that you can blast it. So that's what we did, then we got the next one, then the next one, and then the next one, and it keeps going on from there. |
| | the direct mail was part of it. This was pretty early in the game for Marjorie, probably about the same time but it didn't turn into business right away. In the summer, we have one of the biggest list serves in the country, it's almost 20,000 people. And somebody had tickets to the national baseball game. We've got a young son who, at that time, was going to be a pitcher and is now a senior at Emory University, and he pitches for them. We said, "Let's go to a baseball game." So Marjorie calls up the person, and says, "I live over here," which happens to be in the neighborhood to pick up the tickets. |
| | She went over to pick up the tickets and while she was there she said, "By the way, I'm a real estate agent, if you ever need any help." And handed him her brochure. And he said, "Well, as a matter of fact, my wife and I are looking." I think that afternoon she showed him a house. Now, it didn't happen quite that quickly, but within a number of months he bought a house at almost $6 million from us. That was from picking up baseball tickets. |
| | Once he remodeled that house, we then sold the house he was living in for close to $2 million. That's just a simple thing, but it was that community involvement. |
| Frank Klesitz: | So you picked a niche market and you started consistently communicating with that niche market using the technology available to you at the time, which is direct mail. Let's talk now about transitioning to Vyral, and how you heard about us, and why in the world you decided to add this as a strategy to on top of what you're currently doing. |
| Bill Stuart: | We were using email pretty effectively in that whenever we did business, people knew we got a new listing, it's going to be open this Sunday, we just sold it, whatever else it was. So we were doing a good job of that. As the business has evolved pretty quickly, most of our requests to do business actually are not phone calls, they're emails. |
| | Frequently, Marjorie would get a phone call from somebody she might have met at an open house, and she doesn't even know who they are even though we've been communicating with them, and they'll say, "I have seen you at 20 of your open houses over the years, and we just saw a house we want to buy and we want you to represent us." But what we did right ahead of Vyral—for one, Marjorie did a TV interview where it was recorded, so we would use that as an intro to a client, and post it on our webpage, that sort of thing. |
| | Then we came up with something else right before Vyral . . . I'm taking a while to get there but it leads me where you want me to go, Frank. We came up with another idea. Anybody who's been in this business and ever had a listing has probably had a seller who wants to intrude on the buyer. When someone shows up, they want to be there. They want to greet him at the door, they want to walk him through the house, and show him everything about the house that the buyer probably doesn't really care about. Or if they're not as outgoing as that, they will trail around like a puppy dog and all the buyer wants to do is get out of the house. Well, that's a problem. |
| | So we came up with using video to allow a seller to do a guided tour through their house. That way, we can tell them to get the hell out because the buyer could always look at the tour. Our business in working with our sellers is very story-based, just like we use our lives. When we're selling a property, we're asking the seller, what they went through buying it, how they found it, and what they have enjoyed about it? And then we've got the stories about the weddings in the back yard. And we had one where the story was, "Well, I was so excited when I bought the house because we were right around the corner from Starbucks, so I threw away my coffee maker." So we put that in our brochure. And in our marketing, guess what the buyer of the house said? "It's really going to be cool, I'm going to throw away my coffee pot, too." I mean, does that sound silly or what? |
| Frank Klesitz: | I like how you get the seller involved in the marketing of the home. It's almost like the seller writes the property description in many ways with what you're doing with the video. |
| Bill Stuart: | We took that and we put it in the video. The tour wasn't just to walk around and talk about the rooms; we talked about what happened in those rooms. And we found it resonated with the buyers. So we wanted them to translate that story. This was not a sleek production. My wife's assistant took an iPad, and Marjorie would be there and she'd introduce the seller, and then Marjorie would step away and the seller would walk through the house, and they would talk about things like "We expanded this family room so we can do this," but a lot of it was the stories about living there. |
| | And the first time we did it, we had a house that we'd put on the market, it was open Saturday. And we just ran with it, we didn't know what was going to happen. So Marjorie was there with a laptop or an iPad or something and she had the video on. People who came to the open house on Saturday were watching the video in the kitchen instead of walking around the house. They then the husband came in but the wife was out doing something. They would then email that to the wife, "Hey honey, I think you should come take a look at this. Walk through it with me." |
| | Now, that one house we put on the market I think for $799,000. We got an offer for $870,000 that night, so we could sell it and cancel the open house that was scheduled for Sunday. |
| Frank Klesitz: | Not bad for coming in higher. |
| Bill Stuart: | Yeah. But that's how we used it. Our business was engaged with the story. And however we came across you, it was probably you emailed us. I probably got emails, I saw you somehow, somehow we connected. So we liked the concept of the video. We'd used it a little bit but we liked the idea of how else can we use it, how else can we deploy it. A lot of the content we've done over the years before video was "how to" stuff for sellers, tips and that sort of thing. |
| | We were already in that mode, so it was kind of a perfect storm connecting with you all. Because one of the things that Marjorie is very good at, or I'm good at reminding her to do it because she usually forgets the stories, so before we go on with your tips, she goes, "What story is that?" And I have to repeat it because the story has gone out of her head. But it's not just an isolated tip. We call it "What's Working Now!" because it could have happened yesterday, but Marjorie does one of the videos with you all. And the idea of the video is "Here is what happened with John and George and here's the lesson of it, the story, and the tip," or whatever. |
| | It's not just, "Here are the three things to do." It's usually, "Here's a good strategy, let me explain how it worked just the other day." And so, it enabled us to sort of take that story concept and get it out in more ways through video. What we found is because you all do a great job at giving us the feedback and the tracking numbers, we get a lot of people to open it. A pretty good number of people click, I don't know all the numbers. You guys know what the numbers mean. Now, frequently we'll have 20% of the people open it. We'll have maybe 2% click, which you all tell me are pretty good numbers. |
| | But we liked that aspect of being able to tell a story. And one of the other things that's happened is, I was talking to Jayde, who handles our account, just the other day and she said, "You know Bill, Marjorie is always sitting at her desk and doing the video. We've got some clients who are starting to do something different. They're doing it at different locations, changing it up a little bit." And so I said to her, "Okay, well, that's a good idea." But we sort of got it. One of the things that we try to do systematize it. We've got a schedule, Marjorie is doing it, and it's structured, so we get it done. So this creates a little bit of a wrinkle. |
| | And I thought, you know what would be a good idea, let's do it. Marjorie can say, "Thanks for joining me for this week's edition of "What's Working Now! We're recording live at such-and-such that I've just put on the market." So she's starting the recording of her tip in front of a new listing. This is not to do a listing, but she'll say, "Come on in, let me go over it." She'll produce the same thing she produced at her desk, but now we're in somebody's house. So it's a listing we've just put on the market. |
| | And at the end of it, we'll say, "If you would like to look around more, click here. The seller will walk you through the home." If the seller didn't do that because they aren't always comfortable doing that, we've got a virtual tour. So now we've got it, we're giving a tip, we're giving our seller more exposure in the marketplace, and we're changing it up. So thank you, Jayde, for that idea. |
| | Just the other day, she did one that we will have up there for Jayde to get edited for us, so we'll see how that one goes. |
| Frank Klesitz: | Got it. I'm just taking my notes. |
| Bill Stuart: | Okay. |
| Frank Klesitz: | I love the niche market. I love the high price-point. I love how you live close to the area. I love your focus on listings. I love how you started with the foundation of direct mail of two to three times a month, and whatever you can afford to make list smaller, so that it's only 100 people a month. That's what you start with, two to three times a month. I love the personal connection. The personal stories. And I see a story-telling element to a lot of your content, which is like the most advanced form of content creation there is. As you tell a story, that's what resonates the most with humans. It's how knowledge has been shared since before people could read. Seller self-tour, love that. Loved the story of "What's Working Now!", here is this situation that was presented here and this is how we achieved that, let me tell you the story of what we implemented, as opposed to just giving a hard tip. You can seal the hard tip in the element of the story, which is great. |
| | So tell me about some of your fears and concerns signing up for Vyral marketing? |
| Bill Stuart: | There were three things. Number one, the video is terrific but what people may not think of is an amazing resource to repurpose. When we do a video, we use it everywhere. When we do a postcard Frank, one of the panels highlights "What's Working Now." |
| Frank Klesitz: | Let's see your postcards, hold it up. |
| Bill Stuart: | So there's one, on one side it's a bunch of sales . . . |
| | This is not the "What's Working Now!" panel, but then we flip it over and the whole of this side, which is the mailing panel and the first thing they see, it's all about "What's Working Now!" |
| Frank Klesitz: | Real estate video blog, look at that. |
| Bill Stuart: | Compliments of Vyral Marketing design. |
| Frank Klesitz: | Good. |
| Bill Stuart: | So we repurpose it. One of the other things that we do is the third sort of signature marketing piece is the newsletter. Well, guess what, every month I have at least one or two articles that I don't have to write. We just use the video blog that was produced, that's also put on a website and all the other areas you use it. So you all do a great job getting that video out to the planet. But when we go to print, once a month we have a featured article advertorial in the local community newspaper—again, focused. |
| Frank Klesitz: | And the content from your video blog is for that? |
| Bill Stuart: | That's it. Frequently that's the article, I don't have to write it. |
| Frank Klesitz: | We've got to tell our writers that they're frequent in the newspaper. |
| Bill Stuart: | Right. I don't have to write it. So I don't have to write an article in the newsletter. I don't have to write an article in the community paper. It's something else. We also use it, I mentioned our list serve, which has about almost 20,000 people twice a month. We advertise there twice a week, so two of those are video blogs and we use it there. |
| | That's part of what we do is if I've got a good piece of content even if it's not digital—our newsletter now is digital and it's our most powerful piece. But now that it's digital, they can click the link and see it from our newsletter. |
| Frank Klesitz: | Can you hold up that whole thing, I want to see that. Who is that mailed to? How many people does it go to and what's the cost? |
| Bill Stuart: | Five or six thousand people, it costs about a buck a piece. |
| Frank Klesitz: | My goodness, no wonder you're a deal. That would do it. |
| Bill Stuart: | Now, the front page is very personal, it's actually the only thing that I write. Everything else gets done for us. The front page is something about business but also our life. This was when we were up in New York. We're standing in a $70 million penthouse overlooking the United Nations. But part of the story was, it says, "On the whole, I'd rather be an Appleton." Well, that's because our son plays baseball, and his first two years they made it to the College World Series. This year the reason we were on that trip was they didn't make it, and that's why we'd rather be in Appleton. But this is usually something with some connection. 5,000 people know our son plays baseball. |
| Frank Klesitz: | Who does the layout for that? Do you use a graphic designer? |
| Bill Stuart: | Yeah, we have a template and then it's there's a publication company that produces it for us. But we have templates. |
| Frank Klesitz: | Let me the full spread in the inside, let me see that. |
| Bill Stuart: | We feature one of Marjorie charities, I forget which one this is. Once a month, Marjorie hosts a lunch for one of the villages. It's a concept that sort of spread up around the country of helping people age in place. So this was one of their recent lunches. I think the one that just getting ready to come out, Amazon has thrown down a million-dollar challenge to raise funds for her friendship place, which helps the homeless here in the D.C. metropolitan area. |
| | So this panel is always dedicated to one of her charities. This one typically is Vyral. On the back we do something as exciting as a bunch of sales, but people still like it. |
| Frank Klesitz: | And that goes out once a month to about 5,000 people? |
| Bill Stuart: | Yeah. This bottom is usually a testimonial. Here is a good story for you. We were in Atlanta for one of my son's baseball games, and the game was over and we went back to the Emory conference center. And one thing about our business is it's not just our business. From Valentine's day to Memorial Day, which is probably the busiest real estate market of the year, we are out of town 50% of the time watching our son play baseball. And it's also our busiest time of year. We've built the business so we can live our life the way we want to. But anyway, we're in Atlanta, the game is over and Marjorie gets a phone call. And the woman said, "Marjorie, I want your help. We need to sell a place and buy another place, and I knew you're probably be in Atlanta this week and watching baseball. So I went online to the Emory baseball schedule and I looked at the schedule and figured the game would be over by now. So that's why I'm calling you so late, I hope you don't mind." |
| | We came back to town, Marjorie listed the place, sold it, and then sold them another place. But they knew that because we don't pretend. We are people. |
| Frank Klesitz: | Wow. There is so much knowledge here when it come to the way you think of publishing content to position yourself as an expert with a niche audience, and then taking that content and spinning it through multiple media. You mentioned Jay Abraham? |
| Bill Stuart: | Yeah. |
| Frank Klesitz: | We're probably are cut from the same cloth in many ways, the people we've studied. Tell me about how this philosophy and approach to your business came about because this is very different than . . . I didn't ask you this question, but how many prospecting calls do you guys make a day let's say? |
| Bill Stuart: | Hardly any. |
| Frank Klesitz: | It's okay, you're making money. |
| Bill Stuart: | Let me say this: Marjorie, who was first in the business, made millions of prospecting calls, but she's so engaged with the community. For instance, every time we'll consult with some of your people and talk about well, what are the calls you're making? And we say, you know what, we really don't do it too much. We're starting to pay more attention to who's watching, and is there a touch we should make with that person. But I don't know how great our content is but I think our email list, which is about 1,100 or 1,200 people, they're people who we know and who know us and that probably is why we pay attention to it. |
| | But we're starting to pay a little bit more attention to who's opening something. And somebody we just did some business with . . . Marjorie was looking through the report and she said, "Oh God." She was sort of surprised that this person was looking at it because we just sold the house for him, and we just sold the house to him. And it kind of struck her. Well, within a week or two, we don't know that this is exactly why, but it probably had something to do with it, we got a referral from them for someone who wanted to buy a $1 million or $2 million-dollar house. They wanted to hire us to represent them. |
| Frank Klesitz: | Let's talk about mets and haven't-mets. Your haven't-mets farm is about 5,000, and the people you've met, your email database and the people that you know or you've talked to, you have 1,200. This is not a giant database by any means; you don't have like 100,000 people. And you're dominating the area and having a pretty high quality of life. I'm assuming you're loving what you do and feel happy and fulfilled. |
| | Let me go back to this question, now that I know you started with the calls. Not in a very long period of time, you have been able to build a reputable business where you are involved in the community and business comes to you. Where did your philosophy come from for this specific approach to business? Who did you study to learn about this approach? Because this is a unique approach, Bill. Most people don't approach their business this way. |
| Bill Stuart: | Years ago I was talking to the owner of a company here in town, and we were talking about opening an office. He said, "I notice you don't have a GRI or an XYZ or an ABC after your name, you don't have any of these professional designations?" And I said, "Well, you're right, I don't." But I read a lot and I try to learn a lot from people who are not in the real estate business because pretty much all business is the same. I'm looking for something different. When I would bring a new agent in, I'd pick their brain about what they used to do in their old business and say, "Can we apply it?" Maybe it was to help them directly, but I steal shamelessly good ideas. |
| | I don't know if there is any one person. I've probably seen in person, watched videos, and read books from almost every real estate trainer in the last 40 years. I've studied people like Jay Abraham and others. I look at everything every day. I listen to you. |
| | So I'm always learning. You said something to me when we talked about the training business we're doing, and I said I had 400 people registered for it, which is the first time we'd ever done it. So that sounds pretty good. And you said, "Yeah, but what results did you get?" And I said, "That's the right mentality to have." Because now I need to ask, "How do I help those people get results?" It's not just that they showed up that makes me feel good, probably good for the ego, but can I really help them? |
| | I never farmed before as an agent, and my father's partner's son came into the business and he decided to farm a neighborhood. He was going to do it with the newsletter. And I told him, "Well, if you're going to do it, make sure you're ready to do it all the time." He wrote a really good newsletter, one of the best I'd ever seen. And he was really involved in that community and doing stuff. I said, "Because once you start it, people are going to expect it." My father and I sold our company. I went to run another company and that company was very focused on farming. Everybody in that company farmed. And this was back in the early 80s. |
| | When I got there, the company had just lost 75% of their production to go start a new company. The average experience in that office was about one and a half years. I think only one person had been in the business longer than two years. Everybody else had been at zero to 18 months. But everyone farmed and in a market where rates went to 18 and 20%— |
| Frank Klesitz: | I couldn't imagine that. |
| Bill Stuart: | This was a group of pretty new agents. And back then, which was 30 some years ago, there were the worst conditions in history. That sales force averaged $50,000 in income and their average sale was like $90,000. That's probably a quarter million dollars if you look at where those prices would be right now. Two people I think made $30,000. And the only two people who made $30,000 were brand-new rookies. I think the best was $100,000, which is probably like a $1 million today. So the average is about $50,000 and every single one of them, it was the same thing. And all we sold were condominiums and cooperatives. |
| | So every single one of them, they targeted a building or buildings and they farmed. And every single one of them had success, whether they had experience or they were brand-new and totally clueless. They just did what you told them to do. |
| Frank Klesitz: | And it goes back to the co-principals of marketing and picking a target market. I think a lot of people get spread too thin, and you're able to go on. This is very good, man. Thank you for your insights on this so far. Let's talk about return on investment. In order to have this philosophy, if you're going to pick this niche area, then you're basically going to spend as much as you can afford or your certain percentage of whatever you bring into the business to be in front of the target market as much as you can be. How do you track when you are sending out emails, and you're sending out your newsletter, and they get the postcard, they see an event? |
| | You mentioned here that it was very difficult to track that to a specific thing. And I think you have to severe that link when you go with this strategy, or maybe you don't. Let me hear your thoughts on that. How do you know whether it works? |
| Bill Stuart: | It's hard, sometimes I know because I can track it. But here is an interesting one: Marjorie got a call from somebody who wanted to sell their property. And she always asks, "How did you happen to hear about me?" Their answer was, "Well, we just see you around." Now, this isn't in our core marketing area, it's a little bit on the fringe of it and we were testing another postcard program. And it just happened when she told me the address, I said, "They just got a postcard that came from here." But they didn't even remember it. They just knew of our presence, but I know within a week of that call they'd received a specific postcard. Even when Marjorie asked them about why they called, they recited the message that was on the postcard because the message was something like, "Even if you're thinking of selling right now," that sort of thing. |
| | When Marjorie met with them, they said, "Marjorie, one of the reasons we wanted to talk to you was because we're not quite sure what we're going to do." But they didn't recall they read it off a postcard. So, I know where that came from, but you're right, it's very hard. The way we do our business, it's so focused, so concentrated and we don't do just one thing. It's direct mail, it's physical presence, it's being involved in the community, it's bumping into people, and it's very hard to track because somebody might have seen Marjorie at 30 open houses over the last three years. They might have gotten God knows how many postcards and how many emails and watched so many of "What's Working Now!" videos. Well, how do you separate that? |
| | I try to pay attention to where things are because that may give me a clue of what else to do and what to do more of. But it's very hard to look and say, okay, this particular one is giving me this return on investment. I will test things to see if I can track it. I tried something recently with a local publication, where I know I got nothing directly from it. After a two-month test, we quit. That was the test. |
| | But with all the things we do, it's very hard to tell. I mean, we know anecdotally, it's lots of stuff. There's hardly a day that goes by that Marjorie doesn't get somebody talking about something that was on our newsletter, or on Facebook. She got awarded something by the Washingtonian magazine. We went to a function the other night and they snapped the pictures, so she put it on Facebook. She probably had 100 people congratulating her, saying "Way to go, you deserve it." That sort of thing. |
| | It's very hard to be able to know for sure exactly . . . Even if I know exactly where it comes from, there might have been 800 other contacts underlying it. |
| Frank Klesitz: | How do you know if Vyral Marketing is working? So for someone who is thinking about getting involved with Vyral and doing the Facebook marketing, the email marketing, and the video blogging, how do you know that it's a good investment? |
| Bill Stuart: | Well, here's the good thing for Vyral: The basis was geographic, but it's also a sphere because our geography is our sphere for the most part. But even if you're not doing geographic farming, Vyral is great for you because there's is no . . . You don't have to limit it to the geography, these are just people that you're helping. You're providing information, providing tips to whatever your marketing target is; maybe it's just a sphere of influence. |
| | I know people who've done a ton of business. They don't do geographic farming, but they have a great sphere of influence and great connections. Well, Vyral is perfect for that. The other thing that we talked about earlier is, it's not just Vyral. Number one, yes, it's Vyral and it gets you into the video which I think, look, we're looking for more ways every day. We just did a home sellers webinar, not a home sellers seminar, a home sellers webinar. |
| Frank Klesitz: | Interesting, tell me about that. |
| Bill Stuart: | We just started it. We're kind of testing it; we really screwed some of it up. We know the real estate industry but we're techno idiots, probably. So we didn't push one button, it's going on at 12:30, and like at 12:30 and 30 seconds I'm getting emails from people: "It says it's expired, it says it's expired." I go on and say, oh, we didn't push the button. So immediately at 12:05 or 12:35, there was an apology email: We're idiots, here's a link, watch whenever you want. We made mistakes, but part of it was a lot of the things that we do come out of how to solve a problem for us, a business problem for us or our clients. Well, Marjorie goes on a listing presentation, and I'd say, "We've got find a way to shorten it." I've got to find a way not to get into this and to get into that. |
| | We came up with the idea a home seller webinar so we could cover lots of things that you would not usually cover in a listing presentation. A number of years ago, we wrote a chapter in a book with Brian Tracy. I thought about all the objections we get from sellers, and that's how we came up with seven parts of that chapter. |
| | They fight you on price, they fight you on staging, they fight you on all kinds of things. Some were tips and some were things that we have to convince them of. We were trying to train the sellers in advance and in an educational way. When they're in the living room, it's confrontational because they want to do this and the agent says, "No, you're an idiot." I might say that. Marjorie usually wouldn't, but I might say that. |
| | But if I can go through and talk to them about pricing strategies and why we don't overprice . . . Actually, in our market we underprice slightly because that's how we'll get the more money. And again, in these chapters, it wasn't a tip, it was a story and was an example of exactly that. So we'd go through a story of someone who was fighting us on it. The woman who did the first video for us, she took most of Marjorie's advice but she loved the peach color in her kitchen. And Marjorie said, "Well, you don't have to repaint it but it could probably cost you $50,000." She said, "Never mind, I'll get George to paint it tomorrow." She was the one who made an extra $81,000 in a few minutes. But we thought, let's put that into a format so if someone is thinking of selling, they can sort of walk through it. |
| | The other thing is, now I can send that information to more than one person at a time; again, that's leverage. And I can record it and I think somebody went and looked at it, and we don't know if they will do anything or not. We might do a follow up with them. That's something that we're working on, we're trying to refine it a little bit. Trying to make note of all the places we've screwed up. We'll be developing a course that we'll release probably in September on how to do that for agents. How to do the, here is the structure, here's the plan, here's how you can do it. Maybe we need to partner with you on that for them being able to execute it. |
| Frank Klesitz: | We can help you. Let me show the audience something really quick. One of our clients, Chris Randall, is a top agent in the Twin Cities. He owns sellerworkshop.com and he runs a lot of ads to get people to his workshop. He does all over the city on how to sell your home. And this is kind of the copy that he uses, which can be some of the copy you use for your webinar on why someone would attend. So does that help you out a little bit there? |
| Bill Stuart: | Yeah. That's the sort of thing we're looking for, how we can do that. We always look at it and say, well, maybe there are ways to chunk that down. Maybe it's something that we use on Facebook or emails or whatever that's actually a lead magnet, a portion of it. There are also applications, something Marjorie would have done routinely, and she does it every time she lists a property. Maybe it's a seller tutorial on how to get your house ready for the open house and then get the hell out. That sort of thing. |
| | We're actually looking even administratively at how we can create mini-tutorials that are the same message every time that we can get out to the sellers. Here, it's two minutes long, do this, do this, do this, and get out. It could be here is what to expect next week when you hear from my marketing person. Or whatever it is. Or here's some tips on how to write the story about living in your house that we can use in your marketing, things like that. So we're looking at how else can we use video, which people seem to really respond to. |
| Frank Klesitz: | This is great Bill. Well, let's sum up for the audience today. When it comes to Vyral marketing specifically, why should someone do this? Who is it for? Speak to that person. What do they need to see a result? |
| Bill Stuart: | Here is what I'd say, and it's how we look at our training business. There are agents in our business who are really successful but they are always chasing the next deal. They're not doing the things Marjorie and I make the time to do. So they're agents who are working hard and not getting any results. Then there are brand-new agents who don't know what to do. Well, I think Vyral and any marketing program works for all those people. They all need something. |
| | The power of video—I'm not in that industry but I read and look at everything and I talk to people in different industries. We're looking at more ways to use it. Can I create a habit for Marjorie to use Facebook live? That's video. She just listed a house and she's walking out of the door and she's exhausted, but if she clicked on her phone and said, "I just wanted everybody to know about this house I just listed. It's not ready to go on the market yet but if it's something you might be interested in, you can see it through the packing boxes and whatever, let me know." |
| | I think the power of video is going to be the hottest thing in our marketplace. And it's not necessarily the slick stuff. As I said, we really try to make it more like a home movie when we have a seller go through it, not a big splashy production. I think to be able to use video is an enormous thing, and what it did for us is it created a discipline of doing it twice a month. It's calendared for my whole year. Marjorie can do a million things, but it's on her calendar and it's something that she shows up for. |
| | Now, we've got a little bit of a challenge because we're doing a variation of it, but there is discipline with the video and getting video out there. It's not just the video because if someone is struggling with marketing, why do one video? It's my postcard, it's my newsletter, it's this, it's that, you can use it a million different ways. |
| | If I'm going to start with one thing, using Vyral is one of the best things you can do because you can apply it and repurpose it across almost any platform that you want. And it's easy. Writing is hard. Marjorie doesn't write anything. If we have something to write, I write it. Writing is hard. Talking is easy, relative to that. So if I can talk it, your writers write a recount of it, and now I've got something, I don't have to think. |
| | I don't have to think of it. That's why I do it; I'm lazy. I enjoy writing to a point, but to have that burden off of me and now I have got something I can use and repurpose in newspapers, in postcards, in newsletters, and in other venues, that's tremendously powerful. Again, I look for leverage. If I can do one thing once and use it eight different ways, that's an enormous win. |
| | With our business, if Marjorie has an unfair advantage, it's me. I don't have to spend my time on the street, I just look for things like you guys. To see what else can we do, what can we add . . . |
| Frank Klesitz: | Well, she has someone like you supporting her. |
| Bill Stuart: | What can we pick away, what do we need to do? But most agents . . . Look, would Marjorie have Vyral if I weren't around? Probably not, because she wouldn't have the time to stop and think about it and do it. So if you are an agent and you don't have somebody, it doesn't have to be me but someone like me, which hardly anybody does, then how do I get content out? My postcards aren't going out because I'm too busy, my newsletter is not going out because I'm too busy. |
| | Well, if I can automate it . . . As a matter of fact, one of the things that we're doing now in our training business, when you hit me in the face with, "Okay, well, Bill, but what are the results?" Something we're getting ready to launch right now is we want to take that training and chunk it down to make it more effective. We're turning it into a four-week class with a weekly implementation call. We're also adding one of the things that we talked about, which is marketing. |
| | What we're putting into it is a done-for-you monthly marketing program that will probably take an agent 30 minutes a month to implement. I know agents don't have the time; they're out meeting people, showing homes—they're busy. That's where most marketing breaks down. With you, it gave us discipline for this part of our business. It also created huge leverage of content. You almost don't have to do anything else. If you do two of these a month, that's probably enough for everything you're going to do. |
| Frank Klesitz: | Because you took it and you spend it on other things. |
| Bill Stuart: | You do these two videos, that's probably your content for the month in whatever platform you choose. So yeah, that's terrific. |
| Frank Klesitz: | Bill, thank you so much for your time today my friend. I appreciate the knowledge you laid down. |
| Bill Stuart: | Okay, I enjoyed it, Frank. |
| Frank Klesitz: | Again, let's go over a few takeaways here. Number one, Bill is in D.C., which is a super competitive area with lots of agents, lots of entrenched agents, and he said the hell with that, we're going to dominate this very small niche area. What was the area called again, Bill? |
| Bill Stuart: | It's Cleveland Park. And when we chose to do it, our business was just getting off the ground. When 2008 happened, and that test was one of the best things that probably could happened to our business because everybody else went to hide and we said, okay. Fortunately, we were in Washington D.C. We still had a market. Some parts in the country, they didn't have a market. |
| Frank Klesitz: | Well, you went into the MLS and saw that there was still actually real estate trading. |
| Bill Stuart: | There were still transactions being done, so we went full speed ahead. |
| Frank Klesitz: | And Bill knows what he's talking about; $I.5 Million GCI, that's where he's at. He picked a niche. He started with direct mail two, three times a month, maybe three times in the beginning get going. By telling personal stories about relating with you as a person and sharing recent home sales, the key is consistency. Being in front of the target market all the time. Over time, he built an email list of about 1,200. Built his farm out to 5,000, which costs him about a dollar a piece to mail something out. But he takes the videos that he creates with Vyral and re-purposes them into a written advertorial in the community paper. He spins it and put it into a personal newsletter. |
| | I mean, all of this content is just being dominated into that area. Bill, if you're interested, one of the things we offer is a premium Facebook advertising service. It's a little extra money for non-clients but the first month is free for clients. Do you want to try it out? I would recommend taking your videos and boosting them in front of a two to three-mile radius running all the time. It's not only getting direct mail and getting other stuff; let's make sure they see you all the time on YouTube and Facebook. How does that sound? Like some digital farming. Okay, you'll want to talk to Leah in my office for that. The first month we'll do it, no management charge for it to test it out. And yeah, content creators. So Bill, thank you so much. |
| | If you too are looking to get involved with something like this, reach out to us at Vyralmarketing.com, getvyral.com. We execute all of this for you, the majority of it, but it all starts with the marketing plan. You have to agree with the marketing plan first, which is what Bill is following. And if you go to getvyral.com, you can get a copy of the official video marketing plan that we recommend so you can do what Bill's doing. Essentially, by building and working and dominating a database. So Bill, thank you so much for your time, my friend. We'll end the interview here. Thank you all so much for attending and learning how to increase your business. |