Download His Video Marketing Plan
I interviewed Vyral Client Dan Beer, a real estate agent for 14 years, who sold 303 homes in San Diego last year earning $4.5+ million GCI. It's a great interview.
I got it entirely transcribed for you. It cost $60 on Rev.com.
This way if you're at the doctor's office, waiting for an Uber - or what have you - you can scan through the material faster than watching the video.
I'll get right to the point. Here's the #1 take away I'm testing for Vyral Marketing clients right now.
Dan said to take your entire database, upload it to Survey Monkey, and send out a survey like the one below asking one question: "Do you plan to buy or sell a home in the next 12 months?"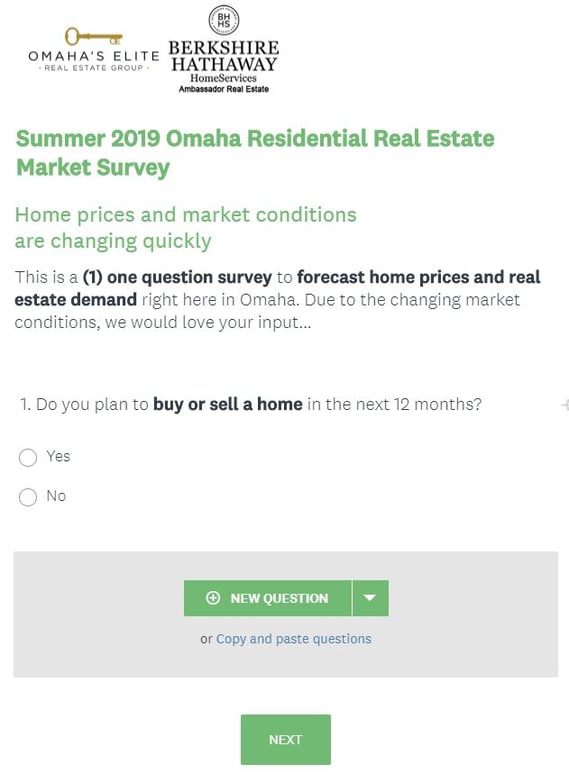 It's so stupidly simple. And brilliant.
The email comes from you via Survey Monkey
It looks different than any other broadcast email message
It's positioned as a real survey
They don't have to opt-in – you have their email already
We can easily scale this for you
It quickly tells you who may, or may not, be a lead right now
I'm working on the details to make this the next quarterly direct offer for our real estate clients to spike lead response from your database.
In addition to that juicy tip, Dan shares how to get started sending direct mail – or in his case a 12+ page newsletter - to a target farm along with open houses and community events to build your database.
He follows the core Vyral Marketing Plan to stay in touch with his database.
Enjoy the interview!
Frank Klesitz, CEO
Vyral Marketing
P.S. Our contact center is growing! We're getting a 26% contact rate calling the people who watch your videos with our Calling Assistant Upgrade for $175 a month. 1 in every 9 people we speak with want a call back about buying or selling a home. If you're not getting your "opens/clicks" called, tell me and I'll give you a 30 day free trial of our Calling Assistant upgrade so you can hear the quality of our Omaha, NE based calls and see the results.
Also, my next 6 month real estate agent recruiting course starts July 8th. I teach two semesters a year. I have room for 32 students. 75 agents and brokers have taken it over the past two years. It's an "add-on" to our core service where you meet with me on Zoom for an hour in a small group weekly. If you'd like a copy of the 200 page workbook to review the 24 lessons, I'll ship you one at cost for $40 or invite you to the restricted access PDF for free. You can learn more about it here and what clients are saying about it. It's hands-down the best (no joke - and I will defend this claim) recruiting plan with marketing in the industry. It's my life's work and I'm proud to teach it with you.
Key Points of the Interview
How he would start today farming 2,500 homes today
The 12-page newsletter he sends them that works
The community events he holds to get emails
How he holds open houses in the farm to get emails
The postcard he sends his farm and to his database
The "magical" survey email to send your email list now to get free leads
How he implements the Vyral Marketing plan with video
Dans' Marketing Examples
Example YouTube Video
Example Video Email