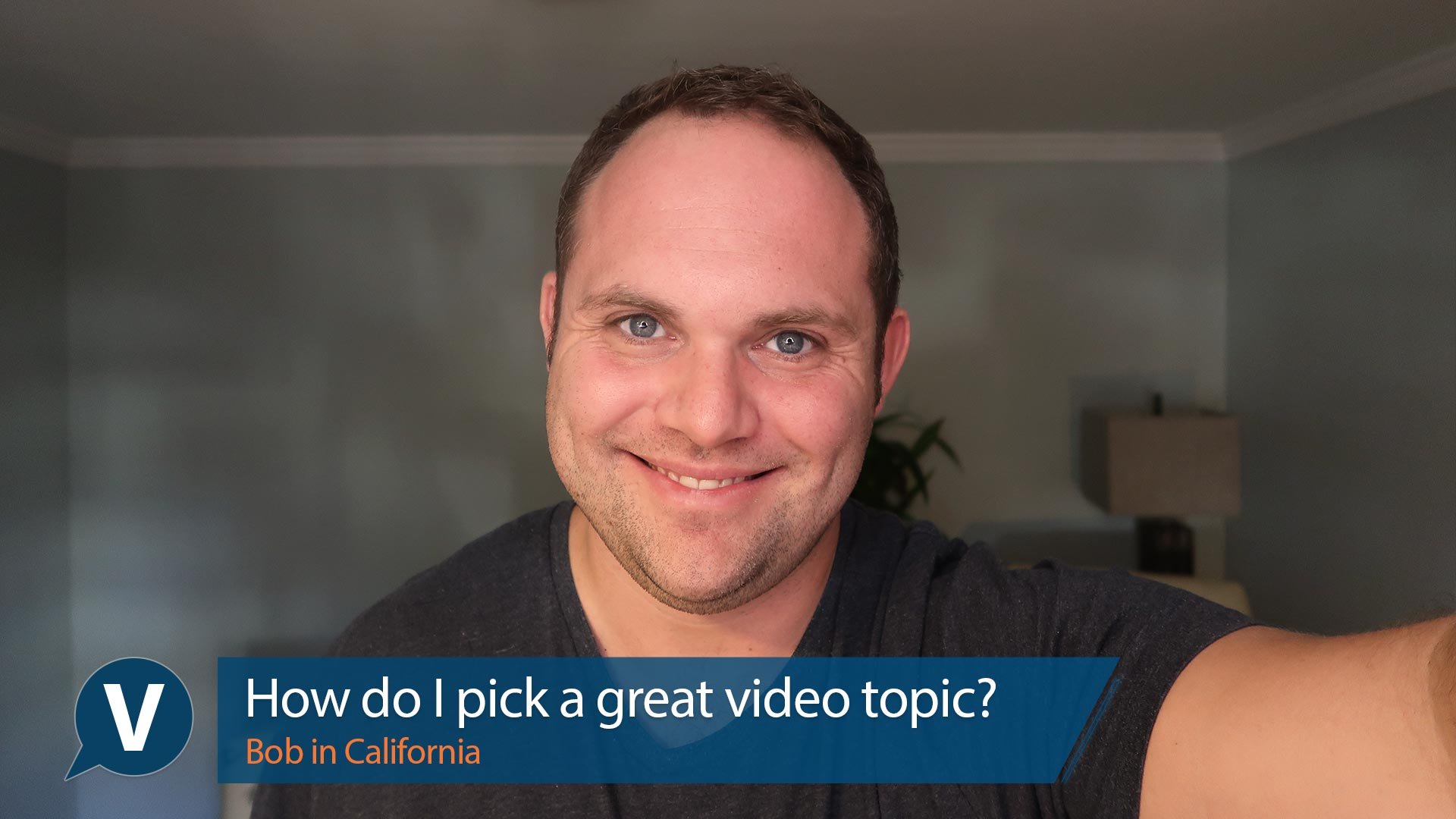 Real estate clients and friends
As promised from my latest email to you, here's what I've been up to...
I'm stepping up my game to provide more guidance on how to get the most from social media, video and database marketing in your real estate business.
I'm teaching a weekly class now for the new Video, Email & Social Media Database Marketing Course I'm officially rolling out in Jan 2020.
The purpose is to help you build a profitable seller lead generation system that's focused 100% on talking to sellers and your database.
https://www.getvyral.com/database-course
Clients will now get the latest workbook lesson each week as a part of your fee with us. It's free to you. I'll also make you a quick summary video about what we covered in class that week.
This is for real estate professionals only.
We gather the office every Wednesday morning for 3 hours to review that week's material. That way, when you talk to your Marketing Consultant you're working with here, they know how to implement it all for you.
Here is the syllabus as it stands now:
Module #1 – Reconnect With Your Database (Mets)

Lesson #1: Export and organize your neglected database
Lesson #2: Hiring a $4/hr VA to update missing phone/emails
Lesson #3: Send out a personal reconnect message
Lesson #4: How to include your team members


Module #2 – Build Your Seller Lead Database (Haven't Met)
(must enroll in course for implementation of this module)
Lesson #1: Exporting county records with phone numbers
Lesson #2: Getting inbound calls from personal direct mail
Lesson #3: Generating leads with a telemarketing assistant
Lesson #4: Getting inbound messages with FB video ads
Module #3 – How to Create Videos People Want
Lesson #1: Picking the best topics people want
Lesson #2: Writing an effective Q&A script
Lesson #3: Shooting a video that looks great
Lesson #4: Optimize the video to get found
Module #4 – The 36 Touch Marketing System

Lesson #1: Ideal design and layout for your video blog
Lesson #2: Sending out 2 video emails a month
Lesson #3: Update social media effectively (with advertising)
Lesson #4: Monthly direct mail newsletter
Module #5 – Direct Offer Lead-Generation Examples

Lesson #1: Facebook remarketing with a video
Lesson #2: Seller lead generation to your list
Lesson #3: Buyer lead generation to your list
Lesson #4:

Calling assistant for people who click links
Module #6 – How to Zero-Cost Your Marketing

Lesson #1: The best industries to get money
Lesson #2: How to get a list and approach them
Lesson #3: Interview them on your blog
Lesson #4: Asking for money (legally)
Here's what we covered in the test class last week:
Module #2: Build Your Seller Lead Database (Haven't Met)
Lesson #1: Exporting county records with phone numbers
How to export county records ($0.01 each) from using Propstream or InfoUSA of homes in your geo-farm around your median price point, owned for at last 10 years, that are likely to sell


How to export county records ($0.01 each) of the latest distressed homeowners (divorce, pre-foreclosure, liens, bankruptcy, vacant, failed to sell, code violations, probate, etc)


How to append all these records with phone numbers and email addresses


Formatting the data in the raw export for a personal direct mail campaign; looking up owners of LLC's using OpenCorporates


Getting the list ready for direct mail, outbound email, Facebook video messenger ads, and outbound telemarketing with an assistant to do it for you.


Adding the homeowners who respond to you to your database.
You can access the latest workbook lesson here. You'll need to be given access to it, so request permission and we'll share it with you. It's for current clients only.
Make sure to request access with the email address we have on file for you as a client so we can "accept" you into viewing it. It's updated weekly from my latest class with fresh material, and I'm still in the test phases with the order of the lessons.
If you're interested in taking the class live with me starting Jan 2020, let john@getvyral.com know. I have two classes slotted for an hour each week with 10 student seats available each. You can join at anytime. The material is not cumulative, rather you can start at the beginning of any module; but you must complete all six.
The class recordings are for students who enroll in the course.
However, the workbook lesson from class each week is yours (clients only). Your Marketing Consultant has watched and has been fully trained on how to implement that week's material for you, too.
The bottom line is the talk of the industry after years of online lead generation and cold calls is returning to database marketing to remain profitable. You're in good hands with us - we've been doing this for 10 years - the same thing over and over. I know exactly what works that stands the test of time, and I'm going to share it all with you.
Vyral Client Jeff Glover wrote this in a Facebook group I'm in this week: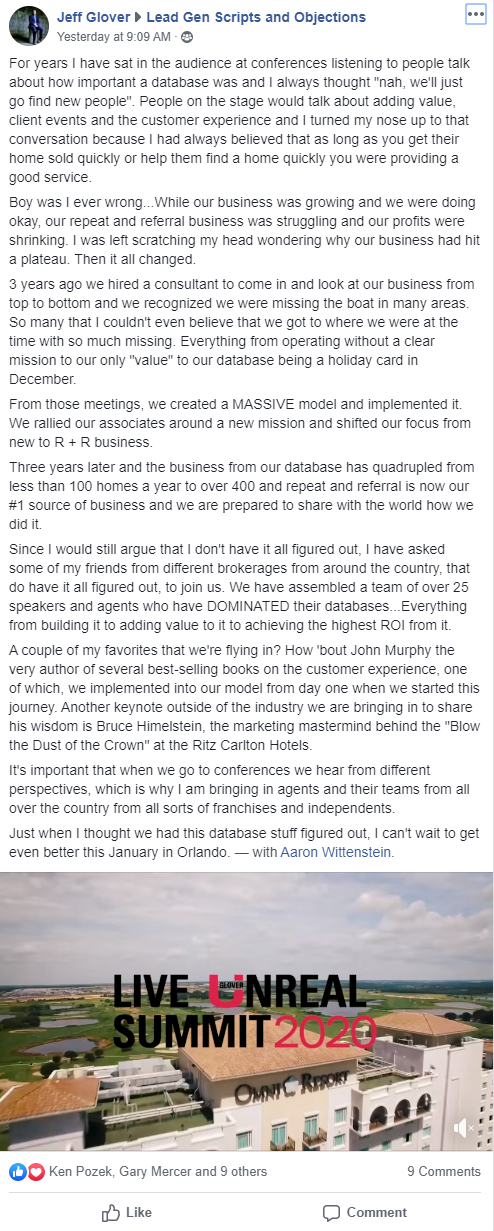 If you're a client, please schedule a weekly call with your Marketing Consultant now so we can make sure you're getting the most out of your time with us. I want you to get everything in this course implemented. We'll help you with that.
I'm very happy with Vyral Marketing with our service as an advertising agency (and you are too based on our Net Promoter Scores you provide us). However, I want to step up our game to become a better marketing consulting firm for you.
If you're thinking about working with us, request a strategy call here. It's free, we'll go over everything, and talk about if implementing our marketing plan we have in place for you makes sense.
Sincerely,

Frank Klesitz
P.S. Our mastermind meeting is tomorrow in San Diego November 14-15th. Learn more at www.mastermindclub.us and let me know if you're interested in learning more. Check out this story of a connection Vyral Client & Mastermind Club Member Kyle Whissel made at our September meeting: