Download David's Video Marketing Plan
Key Takeaways
David has sold over 1,000 homes in his career. In 2019 alone, he sold over 51 homes with an average price point of $1.5 million with the help of video marketing.

When it comes to filming your videos, David says you have to be consistent and simply do the work. Checking your "opens" and calling people will provide you with the opportunities you want.

.

With over 7,000 people in his database, over 80% of his business comes from it.

People are looking for authenticity, vulnerability, and moments of connection. Don't try to be someone you are not. You have to be cutting edge with your value proposition not just your technology



David grew up in Brooklyn, NY and attended Art School in Rhode Island. Right after school, he moved back to Brooklyn and found himself unable to get a sustainable job. His first job was at Dunkin Doughnuts while he did some freelance art for clients on the side.
At 23, he attended a seminar on open houses where he was offered a job in Phoenix, AZ. Without a second thought, he packed up his things and never looked back.
His goals for 2020 include having 100 homes sold, $100 million in sales, $2 million in GCI. He believes that hard work and being optimistic will get him to his goal.
Recently, at the Tom Ferry Elite Retreat, David was a keynote speaker in a prime speaking slot where he spoke on the importance of using his database. Naturally, his definition of a database is people who know who he is and who he communicates with, those who he can target through social media, email, and nurture marketing.
According to David, no one will really tell you that they watched your videos or saw your emails but you can see the stats. David ended up helping a gentleman buy four condos at $1.6 million each. This was a direct effect of years of nurturing his database with videos!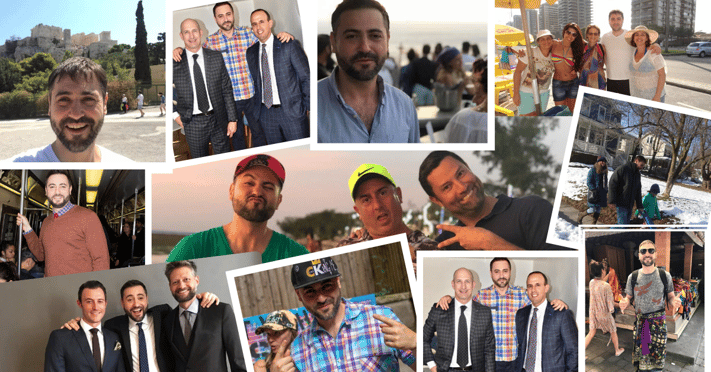 Here's The Edited Transcript...
Frank Klesitz 0:00
Hey guys, it's Frank Klesitz with Vyral Marketing. I'm interviewing David Rosen. He's in Manhattan right now and sells very expensive real state in a very difficult market. He is publishing simple educational web videos. Just to get people up to speed, how long have you been selling real estate?
David Rosen 0:34
I started in the business in 2005. I was in Phoenix and move back to the market I'm in now, my hometown, at the end of 2011. From 2012 to 2015 I worked for someone else. In 2016 I went on my own. Then in '17 '18 '19, I have been recognized by the Wall Street Journal, as among the top teams in New York City and New York state, as well as the highest level of sales for my company Douglas Elliman Real Estate for the Pinnacle Award.
Frank Klesitz 1:03
That is incredible. With cutthroat competition in New York, what's your typical sales price?
David Rosen 1:11
This year our average price is about $1.5 Million
Frank Klesitz 1:15
It also goes a lot higher than that. I've been in some meetings where they've thrown around "let's do a discount of $5 million" and then adjusted the price by 5 million dollars on some of those condos there.
At Vyral Marketing we're seeing more real estate professionals spending a whole afternoon, if not day, of their emotional intellectual investment, running around town with a video camera, trying to be the mayor of the city. And there's some validity to that.
If you're at the level of your business where you can afford that, let alone from a video production level because someone has to hold the camera and know how to use it. And you probably need a microphone and other technicals to do it well, let alone the research to do a good show. You have to know what you're going to talk about and then you'll need the editing and the promotion to get it done. Which is a lot more complicated, time-consuming and requires more capital than what we teach here at Vyral.
We're all about simple Q&A videos shot on your phone or webcam, just like David's doing consistently, sent out to your database to answer commonly asked questions about real estate.
David, you've been selling real estate for a long time and you go to many different coaching companies and listen to what they practice and preach. Why don't you take me back to your decision where you wanted to become a little more famous around town as the Mayor and let's talk about why you decided to do it. There's a lot of validity in the reason why. But you ran into some challenges of sustaining that. What you're doing now, and how Vyral Marketing publishing videos for you is making you successful? Take me back to when you decided to be the Mayor of New York.
David Rosen 3:15
Well, I'm still working on becoming the mayor of New York. But as far as being the unofficial Real Estate Mayor of New York, I must say that I'm proud of where I'm at the moment and looking forward to growing and I have a plan to do so. We have already created to your point, lots of the content we will be releasing. But if I rewind it to when I first moved back to New York, I wanted to have some sort of a drip email system to stay in touch with the leads that I would get that were what we call "BRC leads". People who aren't ready to transact but might one day. So, I developed a newsletter and a sub-brand for the newsletter. At the time, I was on someone else's team. If you look at it, it's a lot of brands and sub-brands. I was publishing something called Apple Sauce, published by David Rosen, who works for Josh Rubin a Douglas Elliman.
Then I would talk about a very inconsistent, smorgasbord of things: where I ate that week, what movie I saw, what play I did, or the New York City Marathon. Just whatever's in the news and it was an inconsistent offering of whatever might be compelling to people so that they wouldn't unsubscribe. They'd stay keeping me in their inbox and hopefully think about me if they had real estate needs. But it took a lot of energy. And when I reverse engineered what I closed and where they came from and when I saw where the technology was going, as I refined and refined and refined these things more, what seemed to make most sense and of course meeting with people like you meeting, seeing what people were doing that was working and what wasn't working the four words that just permeate my brain are "stay in your lane". I'm just not a great restaurant critic. I'm not a great theater critic. That doesn't mean I don't know anything about those things, I do. But that's not my job. There are specialists in that stuff and I'm a specialist in something else. Why should I hide from that? Why don't they go deeper into that? That's what people are interested in. That's what I offer. So that's what I pushed and what I transformed into.
Frank Klesitz 5:56
How much more money and time did it take to go down that path?
David Rosen 5:59
Less money, less time, and a big picture. I was using another third-party vendor to do my emails at the time, which I hate to say it, Frank, was more expensive.
Frank Klesitz 6:14
Vyral, by the way, costs $550 a month. If you get your mortgage person on board, they can pay half of that and I have the documentation for that. The whole Vyral program should cost you about $275 a month if your mortgage person is involved.
David Rosen 6:27
Well, I should talk to someone about that. But that's pretty affordable. I was paying a little bit more for getting less and the difference-maker for what you guys offer, is that the video production is almost free. People are wasting whole commission checks, in whatever market they're in, in post-production and nothing good is happening as a result of those extras. No one is saying "nice intro". They're looking at you. That's the whole point.
Frank Klesitz 7:21
So, you're keeping it simple. You're just recording the videos on your webcam. Did you fly out to Omaha?
David Rosen 7:28
I've done three iterations of filming at this point. Twice, I flew to Omaha and had a great experience. What I had done was I put together a list of 50 pain points, brought a few outfits, and went through each one or little vignettes that I could film standalone three-minute videos. Then I was able to do it for another 50. So, the first couple of years I just had blocks of evergreen material. Then the third time I wanted to step it up. So, I engaged with a film studio here in New York City and created "inside the broker studio" which I'm utilizing with Vyral now.
This allowed me to do my monthly market updates. These market updates between what I'm spending to boost them, not a fortune by the way, compared to mail marketing and my ROI, is the best thing I do. I get on every level of being a real estate team leader. It positions me where I want to be: the market expert of my industry.
Frank Klesitz 9:00
By the way, if you're watching this and you're client, it's free. You can come to our office in Omaha Nebraska right in the middle of the country. So, we have a big New York guy (David Rosen) coming out to Omaha, Nebraska.
David Rosen 9:09
I had a great time. The Vyral team is very friendly.
Frank Klesitz 9:22
And we didn't charge any extra other than maybe a couple hundred bucks for where we booked the space. But we just throw that in for our clients if you want to come out and shoot some videos. So there's pros and cons where you can make a decision.
David Rosen 9:34
The round-trip ticket plus the hotel. I have to say that if you consider that I did it twice, I got 100 videos out of it. And the editing on the other end is a cost that you have no idea what it could be or should be. But think about if you fly to somewhere to shoot 50 videos in four hours, you have 50 videos. End of story. You hire someone in your hometown, you might end up three hours later with half a video.
Frank Klesitz 10:13
Yeah, there's a psychological factor of flying, moving away and getting it done. Now you do something else in your emails if I remember. Don't you write a personal message at the top?
David Rosen 10:23
I've created a few different key elements of my emails. I have a personal signature, which we noticed was an effective thing that we tested. It's my actual ink signature. I lead with an anecdote, it's personal, it's engaging. Then the call to action is the "click on this video to see it". If they do click on it, they get a cookie.
Frank Klesitz 10:53
So, if they click it they go to your website and then you can follow them around (online).
David Rosen 11:00
Yes, and we can retarget them, which we do. I don't know really how to do that, you guys do it for me. I know that from looking at my data science that not everyone's who's opening it is clicking through. But the fact that they're opening it, hopefully, I'm retargeting them. Then I can continue the engagement ongoing. So that's a part of what we do.
Frank Klesitz 11:33
How do you know all this works? Why don't you just stop doing all of this and skip all these videos and just pound phones?
David Rosen 11:42
Everyone is in a different market but let me give an anecdote and this is just one of many. I can give this anecdote many times. I've sold well over $10 million worth of real estate to people for whom this type of interaction was ideal and part of it. Right now, we're dealing with Christine and Matt. They own a loft. I first met them four years ago from a friend of a friend. They decided to put their loft on the market themselves. They put it on for 2.5 million and it didn't sell. So, they came back. I sent them annual market update and they're on my emails. They're simply not engaging, and they've already gone FSBO in the past with a discount firm. It's not like a warm lead. But they're on the emails so they get retargeted and they were one of a half dozen people that called me around the New Year with an expanding family wanting to upsize. Fast forward 45 days, they purchase something for 3.5 million. I didn't show them anything. They found the home themselves and inserted me as their agent. I didn't even have to sit down with them to refresh the relationship. And they hired me to sell their $2 million place.
Frank Klesitz 13:08
That is interesting. Somebody who owns a $2 million home and wants to buy a three and a half million-dollar home. FSBO?
David Rosen 13:25
Then last year we had a similar situation, a similar cold lead. I met a guy at an open house years before. This family ended up owning all of these townhouses. And you wouldn't know this guy from anyone else on the train. He did not look affluent, had Prada glasses, but nothing shiny. They spent $10 million on condos with me. Just a cold lead, I barely knew them but kept sending them emails every week or every two weeks. I saw that he opened the emails. Try calling with my charming self but couldn't really get anywhere. I nurtured it for years and then finally it hit. But I positioned myself as a market expert during that time and did it in a way that had a PR feel to it as opposed to a cheesy feel.
Frank Klesitz 14:21
How are you able to make the adjustment when you're running your own business and every dollar counts, where you have a very variable revenue stream and taking on a fixed cost? Everybody wants that certain ROI. If I spend X number of dollars then I get X number of returns. You seem to delink that. So, can you tell me about the process of how you've matured? You're not looking at exactly what the specific ROI of Vyral is, because it's hard to do.
David Rosen 14:55
I can just tell you that if you want to make video a main part of your brand - which I did before we met then once we met I realized that this was the best platform - It doesn't take long to realize that if someone's going to help you do the post-production and it's a flat rate then that's probably the best-case scenario. Also, the ad placements themselves are tricky so I had you guys help me with that. The question really is, if you do nothing what will happen? Nothing. So, you have to do something. This is the most cost-effective thing you can do. There's nothing better than this.
Frank Klesitz 15:46
Sounds good, so do you want to make it more cost-effective?
David Rosen 15:49
How can I do that?
Frank Klesitz 15:50
We have to get a lender on board because these buyers are probably dropping some serious cash on these loans. Now, the immediate thing that goes up is RESPA, right?
David Rosen 16:02
But we can also use lawyers.
Frank Klesitz 16:07
Yes, but you should co-advertise with a lender. Where they have proportional representation where you give them a shout out in your videos. Then we edit a Mortgage Minute into your videos and include them on your blog. And then ask them to contribute half. Now, you've effectively doubled your return investment because you cut your ad cost in half. The lender, before they pay you is going to want to know is this legal? Well, I got the paperwork to show that we have the proper third party evaluation done by a third party valuation company called M Link Solutions and it's all there.
David Rosen 16:49
I'm in because we do our monthly market updates and whereas I can't necessarily quote rates, if I had a lender like Citizens Bank, who's got a partnership with Douglas Elliman, my real estate brokerage, it could work. Or we've worked with Bank of America, Wells Fargo, I have a friend at HSBC, I've got friends everywhere.
Frank Klesitz 17:13
Yes and put a rule in place for all your buyers that before I work with you 100% of my buyers must be pre-qualified by my lender or a lender.
David Rosen 17:24
Yeah, and that's what we do.
Frank Klesitz 17:26
But you have to get them pre-qualified. So, there's definitely a relationship there and there are ways to do it where you're co-advertising. Not paying money for referral. And it's valued by a third-party where it's a legitimate true amount. It's not inflated. Which a lot of times they do like charging $50,000 a month for a thousand dollars' worth of office space. That doesn't work.
David Rosen 17:49
No, that's a non-issue.
Frank Klesitz 17:53
Good! Now, you also mentioned that you're doing some remarketing to the people that come to your website, right?
David Rosen 18:00
I'm under the impression that we do. I certainly see my videos all the time.
Frank Klesitz 18:05
It's likely that we are. Let me give you a little tip. There's a blog post I wrote called "The Number One Facebook Ad for Seller Lead Generation." I give you a script that is on point. We can boost your educational videos but let's also remarket your website traffic with a direct offer like a straight commercial. And the key is we optimize it for Facebook messages where it says, "message me if you want to sell your house." People will just click the message button and conversations will pop up of people interested in selling their home with you.
David Rosen 19:13
Let's do it, I am all in! It sounds good.
Frank Klesitz 19:17
Let's put that together. That's essentially at Vyral Marketing. We go through the build process. We talked about writing a good "why hire me video?" Like why in the world would anyone in the right mind hire you? You should probably have an answer for that. And we do, there's a script and then you turn that answer into a one or two-minute video. Then you remarket your website traffic with that. And since it's very clear, the copy is "do you need to sell your property in Manhattan. I'll sell it, message me" and then has a video explaining how you're going to do it.
David Rosen 19:56
I think that type of marketing times multiple opportunities has proven to be really effective. I think that so many people, whether they're brokers or in some other type of business, just really discount the emotional connection that people are looking for in their service providers. Take that ad campaign that's out now. "Just okay is not okay." I know Frank you don't have TV, news, telephone, etc. But just take my word for it.
Frank Klesitz 20:36
The inside joke is I haven't had a cell phone for five years and that's true. I got rid of it five years ago. That's another interview where you can interview me David.
David Rosen 20:51
When people see you, especially when they see you not just once or twice but six or seven times. They say "look, this guy is not only real, but he's approachable, he's not going to try to close me and also he's not going to bore me and waste my time by being misinformed or disengaged or afflicted." Sometimes you call brokers and their tone of voice basically says, "I hate you don't talk to me," literally. And, sometimes you are that broker because it's 6 pm and you just had three conversations in a row that were tough. But when you're putting video content out there people get to create the vision of you for themselves. That's the one that you want them to see, the best you. And you're always that person to them even if you're not always that person where you're sitting in your shoes at that moment.
Frank Klesitz 21:49
How long have you been a client, David?
David Rosen 21:51
I think three years or two and a half years.
Frank Klesitz 21:54
Let's call it 2.5. You've spent about $16,500, that's $550 a month, which is our fee. Which should be half that, right?
David Rosen 22:05
I also but I also have my engagement package at one point by upping my videos to weekly.
Frank Klesitz 22:13
So, you pay a little more for us to get out weekly?
David Rosen 22:16
I actually stepped it back, not because it wasn't working, but because I wasn't able to call all the opens. We had 2,000 every cycle and we're not really touching them. Well, what's the point?
Frank Klesitz 22:31
Let's factor in your travel costs. You're probably in about $20,000 bucks since you started.
David Rosen 22:39
I can't tell you the direct ROI, but I can tell you that...
Frank Klesitz 22:42
Just anecdotally, is it worth it?
David Rosen 22:46
My total spend including labor costs each of the years I've been in business for the last three years has been between 100 and 200 grand. That includes a salary of at least half that and marketing costs which are the other half of that. Events, video production, boosting, postcards, etc. It's the one thing that is the most meaningful to me, it's the money I'm most proud of. I love being creative in it. And, over the last three years, we've done about $4 million in gross commissions. So, part of that went to Uncle Sam, part of it went to the people keeping the lights on here, but some of you went to me. And I can promise you it was a multitude higher than 20 grand. A lot more.
Frank Klesitz 23:42
That is good! So, where can someone go to see all of your stuff?
David Rosen 23:44
TheDavidRosen.com has been organized by your team. So, they've segmented it into playlists. They can see my Real Estate Tips, my newest "Inside The Broker" studios series which has its own style. And also, my market updates which I published monthly.
Frank Klesitz 24:07
David, what advice do you have for somebody that is just looking to get started with us? Or they've signed up for us to do this and they're not seeing any results?
David Rosen 24:20
I really appreciate that question. Here are a few bits of advice. Advice bit number one; one time I was at a trade show, I'm sitting there, there are all these people around, and I'm literally heckling everyone who comes by. "Come see our thing, come take a flyer". The person who I am today, 10 years later, isn't aggressive in that way because it's not effective. The more that I was able to really embrace my authenticity. If you watch Brad Pitt on camera, he's never rah rah rah. Any actor, they're all so cool and the camera picks it up and you don't have to push it. People are looking for your authenticity, they're looking for your vulnerability, they're looking for moments of connection. I'm a pretty statuesque guy, Frank, you're a big guy. We don't need to pretend to be big personalities. We already are. So, if you're really demure, maybe you have to turn it up a notch. But most of us in this industry don't need to turn it on. We need to turn it back a lot of the time and I think that's where people mess up on camera. They have anxiety because they're trying too hard then they make a bad product.
Frank Klesitz 25:59
Yes, that's very insightful.
David Rosen 26:01
It takes practice.
Frank Klesitz 26:03
The authenticity you communicate this way of who you are should be true where you're not portraying to the world someone different than you are. It's great. What else?
David Rosen 26:12
So, if you think the person you're putting out there is the real you... It's something that my girlfriend said to me, she said "you're funny, why are you always so serious?" So, try to be loose. Ask people what they think about you, your videos, and get feedback. Be coachable, that's important. Frank is a genius, you know this stuff, get advice from people like you and use your scripts. Call your opens, that's where the money is. I just got a listing from an open on a cold email. Otherwise, that's the biggest one. And last but not least, it's a pillar of your business, it's not your whole business. So, if you just started and this is one of your pillars, this is a way to enhance your COI engagement. But you have to have a COI and you have to also have elements of your offerings that are otherwise interesting.
We have to add value. If you're not adding value in this market, you're going to be obsolete. It's not enough to just be cutting edge with your technology, you have to be cutting edge with your value proposition. I think that comes from empathizing with your clients and figuring out what makes you special when they engage with you. Then you have a road map to showcase that to other people who may not know you as well or may not know you at all so that they go from being strangers to being friends who refer you business.
Frank Klesitz 28:07
That's great. David, thank you! You're doing a great job and I'm proud to know you. I think I might be in New York later this year for the Radio and TV Expert Event. So, we have to get together. If you guys have any referrals and you have someone moving to Manhattan, send them to David and he'll make sure you have a good agent who'll actually get you paid, right?
David Rosen 28:32
100% we provide 2.5% referral checks all day long or something like that. And I would like to tell you, Frank, that I definitely showcase my arrangement with your company at the mastermind breakout I led at the Elite Retreat for the Tom Ferry organization two weeks ago. Hope you got a call or two, I told them all to drop my name. Again, you can't underestimate you know the details of this stuff and having a partner like you guys who specializes in it and also streamlines it and make sure I get my stuff out, it's invaluable. So, thank you
Frank Klesitz 29:17
David, thank you so much.