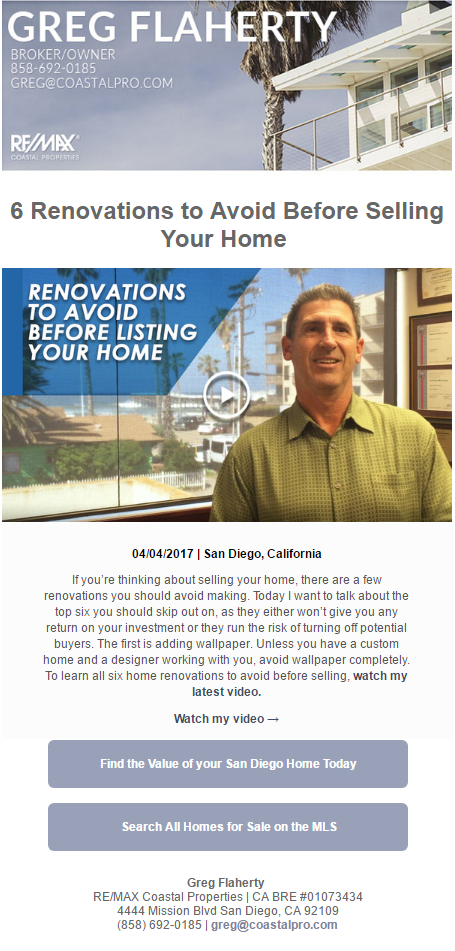 Congratulations to Vyral Client Greg Flaherty for achieving email of the week! Greg's email, "6 Renovations to Avoid Before Selling Your Home" generated a 24% open rate and a 7% click rate. We're all about educating and bringing value to your list of contacts and this is a great example of how to excite your client base in a unique way. Below you can find the 4 top performing emails after Greg's best performing email, along with some other client examples from last week. Enjoy!
Trevor Budny - The Health Benefits of Bone Broth
Troy Copeland - What Questions Do You Have About Real Estate?
Tom Miller - Did the Value of Your Polk County Home Just Go up?
Doug Elliott - Northern Virginia Real Estate Conditions Are Perfect

Dan Ihara - Explore This Amazing Hawaiian Vacation Condo
Ashley Carter - Things to Tackle If You're Updating
Renae Gibson - Baseball Season is Here!
Marjorie Dick Stuart - A Few Tips From Marjorie's Right-Sizing & Decluttering Seminar
Bob Guest - Be Our Guest at Our Upcoming Client Appreciation Party
Nick Kellar - Introducing 2 Key Players on the Atlas Premier Realty Team
Rob Spring - How Can You Make Your Offer Stand Out?
Andrea Manroe - 6 Questions That Answer "Should I Buy My First Home?"
Ryan Anderson - Photography Mistakes That Can Ruin a Home Sale
Sean Zanganeh - 3 Tips to Downsize Your Home Without Giving Up Your Lifestyle
Don Vallee - The Tucson Market Is Hot—And Only Getting Hotter
Marc Smith - 4 Reasons Why It's a Great Time to Sell in Orange County
Ken Pozek - Is Your Future Home Inside The Enclave?
Pehr Black - What's Happening in Today's Real Estate Market?
Gloria Buck - Baseball Season is Back!
Haro Setian - Introducing Our Awesome General Manager
Dave Knight - What You Need to Know About Home Inspections
Matt Fetick - Our Team's Success Is Because of You