We'd like to congratulate Vyral Client David Vanneste in the Twin Cities, MN for having the best performing topic this week. He achieved a 20% open rate and a 9% click rate.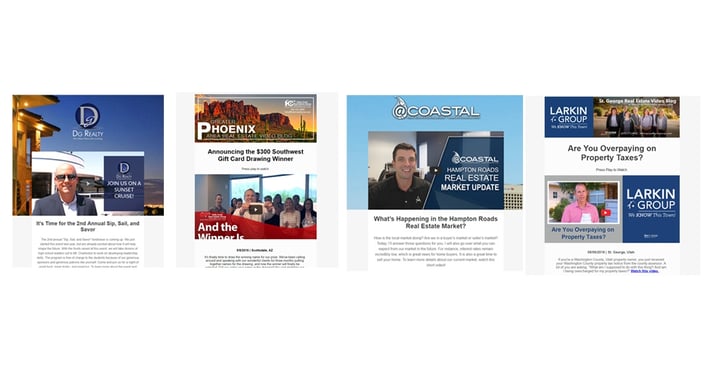 Below you can find the top 4 emails along with other examples of emails that were sent throughout the week.
Joe DiRaffaele - "It's Time for the 2nd Annual Sip, Sail, and Savor"
Kelly Cook - "Announcing the $300 Southwest Gift Card Drawing Winner"
Robbie McCarty - "What's Happening in the Hampton Roads Real Estate Market?"
Jeremy Larkin - "Are You Overpaying on Property Taxes?"
Blaine Moore - "Some Observations on New Construction in Reno"
Aaron Hendeon - "The One Question You Must Ask Every Real Estate Agent"
Marjorie Dick Stuart - "Use 'Under the Radar' Marketing to Find the Right Home"
Windy & Tracy - "Tips and Tricks for Buying a New Construction Home"
Stephanie Crawford - "Have You Checked Your Home Insurace Policy Lately?"

Ricky Aranda - "Tucson Business Spotlight Podcast: Dave Clarkson"
Billy Mervin - "How to Handle Mortgage Insurace as a Home Buyer"
Freeman Burns - "What You Need to Know About Buying a Home in North Carolina"
Patrick Woods - "6 Reasons Why Selling Your Home Alone Doesn't Work"
Josh Lioce - "How Low Appraisals Affect Buyers and Sellers"
Carson Lowry - "Current Market Conditions in Evansville"
John Teixeira - "Your End of Summer Market Update"
Sam Carratala - "What do MI and PMI Mean for You as a Buyer?"
Lenard Team - "Should You Renovate Your Long Island Home or Move On?"
Monique Walker- "The Waiting Period After a Short Sale"
Frank Valente - "4 Factors That Determine Your Buying Power"
Brett Sikora - "Is There a Perfect Time to List Your Home?"
Curt Buchanan - "What Happens After the Agreement Is Signed"
Tina Caul - "How to Respond to Low Appraisals in the Raleigh Market"
Sandy Eagon - "Be a Savvy Investor by Using a Tax Deferred Exchange"
Andy Green - "The Importance of Expert Negotiation"
Andy Green (recruiting) - "Exercise Your Real Estate Game at the Prospecting Gym"
Kath Toth - "My Home Didn't Sell. Now What?"
Greg Willis - "What Should You Look for in a Real Estate Agent?"
Damon Gettier - "Real Estate Agents vs. Realtors"
Rick Bowal - "The Most Common Regrets of Home Sellers"
Danilo Cardona - "How to Request an Emergency Extension to Stop Your Foreclosure Sale"
Nathan Clark - "Your Rhode Island Home Won't Sell if You Don't Show It"
Greg McDaniel - "The Key to Relieving Seller Stress"
Joshua Stern - "Which Updates Won't Add Value to Your Home?"
Lenny LaRocca - "Tips for Living in Your L.A. Home While Selling"
Ken Pozek - "Our Fall Client Appreciation Event"
Spring Bengtzen - "Don't Sabotage Your Home Purchase"
Vergis Eiland - "How to Win a Bidding War in Chicago"
Craig Akers - "Bano's Top 3 Back to School Tips"
Lancashire - "A Step-by-Step Guide to Smoking Brisket"
AJ Mida - "A Perfect Storm Is Brewing in the Real Estate Market"
GoBundance - "How GoBundance Inspires Rob Coldwell to Hit All 5 Pillars in Life Hard"
Matt Freda - "Why the Orlando Market Is So Strong Right Now"
OJ Rodriguez - "Expert Prospecting Tips"
Glenda Williamson - "Do Open Houses Still Work for Central Illinois Sellers?"
Derek Bauer - "The Perfect Online Tool for Homeowners"
Shannon Rollings - "Win Tickets to the 2016 Country Kicks 99 Guitar Pull"
April Stephens - "The 3 Most Ridiculous Home Selling Myths"
Susa Heller - "Pros and Cons of Agent Accompanied Showings"
Donna Johnston - "The Different Kinds of Agencies in a Real Estate Transaction"
Dan Holt - "Tips for Springfield Home Buyers"
Joe Reitzug - "Neighborhood Spotlight: Modern Villages in Hillsborough"
Marti Hampton - "Should You Go the 'For Sale By Owner' Route?"
Brayden Bengtzen - "Tips for Utah Buyers in Multiple Offer Situations"