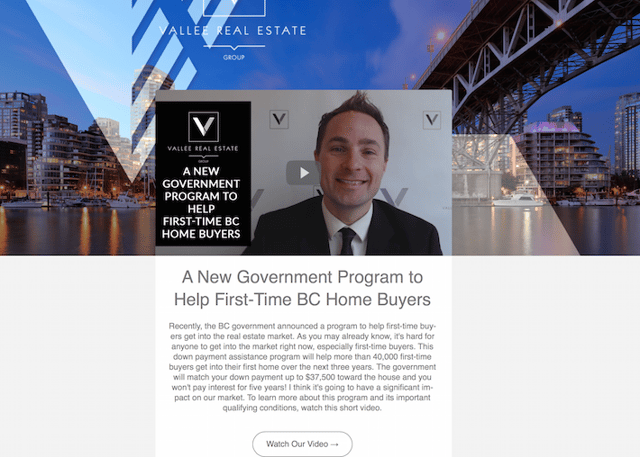 Congratulations to Vyral Client Eric Vallee for achieving email of the week! Eric's email "A New Goverment Program to Help First-Time BC Home Buyers" generated a 24% open rate and a 3% click rate. We are all about educating and bringing value to your list of contacts and this is a great topic to help educate first-time BC home buyers. Below you can find the 4 top performing emails after Eric's best performing email, along with other client examples from last week. Enjoy!
Dale Ross - "Do You Need To Correct Code Violations?"
Nick Kellar - "What's Happening in the Baltimore & Carroll County Markets?"
Brandon Montemayor - "How to Prepare for the Market in 2017"
Adam Butler - "A Quick Press Conference"
Martin Millner - "4 Compelling Reasons to List Your Home This Winter"
Jeff Adler - "How to Make the Buying Process Less Stressful"
Maggie Harris - "Is the McAllen Real Estate Market Favoring Buyers or Sellers?"
Andy Green - "Why All the Fuss About Interest Rates?"
Heidi & Billy Phong - "Why Is Buying Financially Smarter Than Renting?"
Sarita Dua - "What Kind of Content Would You Like to See?"
Chad Schwendeman - "How Has the Outcome of the Election Affected Our Market?"
Robbie McCarty - "My Predictions for the 2017 Real Estate Market"
Gina Giampietro - "How Does the Pittsburgh Market Look Heading Into 2017?"
Troy Hansford - "Preparing You Home for Apring Plain Text"
Mario Romero "Make Learning Fun With the Children's Museum of Phoenix"
Susan Heller - "Is Accepting a Contingent Offer the Right Move?"

Valerie Hunter Kelly - "What Questions Should You Ask a Realtor Before Hiring Them?"

Kathy Moore - "What Are The Keys To Succesful Buisness Planning?"

Damon Gettier Recruiting - "Why Is Education So Important To Real Estate Agents?"