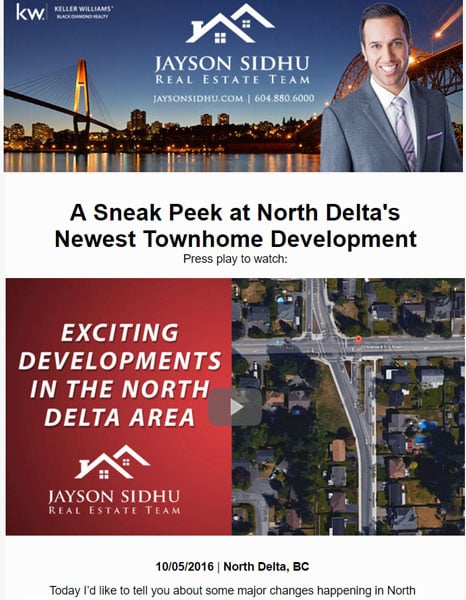 For the email of the week, Vyral Client Jayson Sidhu came out on top with incredible numbers for his lead report — a 30% open rate and a 13% click rate. These numbers are absolutely fantastic and generated a lot of leads for Jayson and his team. Jayson's topic for this email was "A Sneak Peek at North Delta's Newest Townhome Development."
Below you can find the top 4 emails following Jayson's best performing email, along with other client examples from last week. Enjoy!
Frank Agahi - "Are We Heading for a Crash?"
David Vanneste - "Just Sold on Turtle Lake"
Duke Kimhan - "How Our Eviction Guarantee Works"
Tina Caul - "The Top 5 Things Buyers Forget to Do"
Shawn Kriewaldt - "Don't Neglect the Garage When Selling"
Phil Belonger - "What's Happening in the Fall Real Estate Market?"
Joe Reitzug - "Why the Fall Is a Great Time to Buy a Home"
Amanda Howard - "The Reason Interest Rates Are Near Historic Lows"
Rhonda Sher - "Tools to Enhance Your LinkedIn Profile"
Jeff Quintin - "5 Reasons That Explain Why Homes Don't Sell"
Ian Lobas - "Mistakes to Avoid When Selling"
Lars Hedenborg - "75 Ways to Prepare Your Home for the Market"
Gina Giampietro - "What Are Your Municipality Requirements?"
Lance Woodley - "How to Handle a Due Diligence Clause as a Home Seller"
Paul Herrick - "What's the Matter With Contingent Offers?"
Debbie Spaulder - "Why Are Schools So Important to Home Buyers?"
Debbie Spaulder (careers) - "5 Ways to Maximize Your Morning Productivity"
Glenda Williamson - "Answering Some Common Questions About Real Estate Taxes"
Ricky Aranda - "A Great New Loan Program for Home Buyers"
Nathanson Brothers - "What You Need to Know About Zestimates"
Jeff Ryder - "See Red Rocks Canyon, Win a Gift Card"
Robbie McCarty - "Will the Election Impact our Market?"
John Teixeira - "Why Mortgage Rates Are So Low Right Now"
Brandon Montemayor - "Why Are Real Estate Trusts So Important?"
Windy Ruffini and Traci Farrell - "What to Expect From the Fall Real Estate Market"
Jodie Osofsky - "7 Things That Don't Increase the Value of Your Home"
Dan Rochon (recruiting) - "Effectively Managing Your Time as an Agent"
Ryan Sanford - "Meet Our Buyer's Agent, Jo Lewis"
Chris Snow - "The Pros and Cons of New Construction"
Monique Walker - "What Your Loan Officer Should Be Able to Tell You"
Jayson Sidhu - "A Sneak Peek at North Delta's Newest Townhome Development"
Frank Valente - "Tips for Hiring the Right Realtor"
Jason Morris - "How to Re-Enter the Market the Right Way"
John Pollock - "Introducing Investor Peace University"
Josh Lioce - "The 4 Worst Pieces of Advice Sellers Usually Get"
Patrick Woods - "Start Preparing for the New Year Now"
Aaron Hendon - "If Hope is Not a Strategy Why Use it?"
Joe DiRaffaele - "The Professional Difference Between Real Estate Agents"
Danny Burks - "What to Look for When Designing a Rental Property"
Sandy Eagon - "How Our Buyer Shrunk Her Home and Evaporated Her Mortgage Payment"
Lee Garland - "Moving to Canada? We Can Help You"
Deja Lett - "The 5 Home Upgrades With the Best ROI"
Jennifer Goldman - "3 Tips for Using Technology to Increase Productivity"
Josh Stern - "Do You Want to Buy a Fixer-Upper?"
Brett Kelly - "How to Pick the Best Offer on Your Home"
Marc Smith - "3 Questions You Should Ask Before Buying a Home"
Sam Carratala - "3 Cost-Effective Home Security Tips"
Lenny LaRocca - "Common Real Estate Tax Deductions"
Tiffany Johannes - "How a Seller Should Handle a Contingent Offer"
Bo Winn - "How Do You Find Your Home's True Value?"
Art Lickunas - "How Do Home Appraisals Work?"
Jason Daniels - "Are Zestimates Correct?"
OJ Rodriguez - "Why We Meet Every Morning to Work on Sales Skills"
Andy Green - "How Do Real Estate Market Cycles Work?"
Andy Green (careers) - "What 1 Thing Can Improve Your Business?"
Danilo Cardona - "5 Questions to Ask Before Listing"
Jason Penrose - "Our Home Page Has a New Look"
The Mountain Coast Group - "The Mountain Coast Group — Same Team, New Name!"
The Ames Group - "The 30-Second Rule All Home Sellers Should Know"
AJ Mida - "Simple Ways You Can Prep Your Home for a Home Inspection"
Shannon Rollings - "A Quick Look at the Magnolia Glen Subdivision"
Todd Martin - "Preparing Your Home for Fall and Winter"
Chip Glennon - "What Online Listings Don't Tell You"