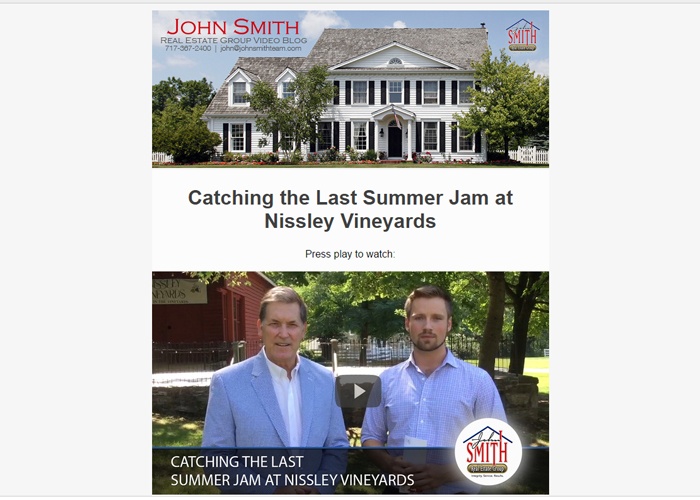 We'd like to congratulate Vyral Client John Smith in Elizabethtown, PA for a having the best performing topic this week, achieving a 21% open rate and a 4% click rate.
Patrick Southern - "Exclusive: Dixon Leasing Partners with Patrick Southern"
Eric Burch - "Is the Buying Season Almost Over?"
Jeff Cook - "Why Now Is the Time to Sell Your Charleston Home"
Hunter Reynolds - "The 3 Answers to Seek in a Charleston House Hunt"
John Stevenson - "What Is the Due Diligence Period?"
Kevin Smith - "What's the First Step to Buying a Home?"
Lee Garland - "The Good Old Days of Real Estate"
Jesse Herfel - "Should You Sell Your Home During an Election Year?"
Robert Mack - "How to Make Real Estate Exciting"
Joan Pratt - "5 Home Inspection Myths"
Jeff Mistretta - "Is It Too Late to Move into Your Desired School District?"
Gary Raze - "The Timeline of Closing a Home"
Dan Ellison - "5 Steps to Win a Bidding War in the Sacramento Area"
Cory Meyer - "Now Is a Great Time to Be in the California Real Estate Market"
Brett Kelly - "5 Mistakes People Make When Trying to Sell Their Home"
Kelly Fischer - "Taking in Life's Unexpected Gifts"
Ferzoco Group - "Jersey Shore Market Update for 2016"
Lancashire Realty Group - "Why Fall Is Actually a Great Time to Sell Your Home"
Scott Sachs - "The Impact of Brexit on the D.C. Real Estate Market"
Justin Havre - "What You Need to Know About the Calgary Market"
Phil Belonger - "We Help You Get Under Contract in Multiple Offer Situations"
The McNamee Team - "Improving Your Strategy After Your Home Expires"
Kevin McCarthy - "An Up-Close Look at Downtown Austin Condos"
Danilo Cardona - "These Credit Mistakes Could Cost You Your Home"
Erin Caraway - "Quick and Easy Tips to Add Value Through Curb Appeal"
Jodie Osofsky - "Why You Need Professional Photography to Sell in Salt Lake City"
Dan Jones - "What Makes Zestimates Inaccurate?"
John Smith - "Catching the Last Summer Jam at Nissley Vineyards"
Clayton Gits - "What's the Current State of Richmond Real Estate?"
Will Cook - "The Best Time to Enter the Real Estate Market"
Sean Hellmann - "July 2016 Albuquerque Real Estate Market Update"
Charlotte Mabry - "How Due Diligence Helps Buyers and Sellers"
Forth Hoyt - "What Keeps Clients Coming Back to The Hoyt Group"
Stephanie Evelo - "Learn How You Can Join Our Growing Team"
Alan Kushmakov - "3 Tips for Getting More Appointments"
Matt Barker - "How Contingencies Protect Twin Cities Home Buyers"
Sean Quinn - "Finding Newer Ways to Get Your Home Sold Right"