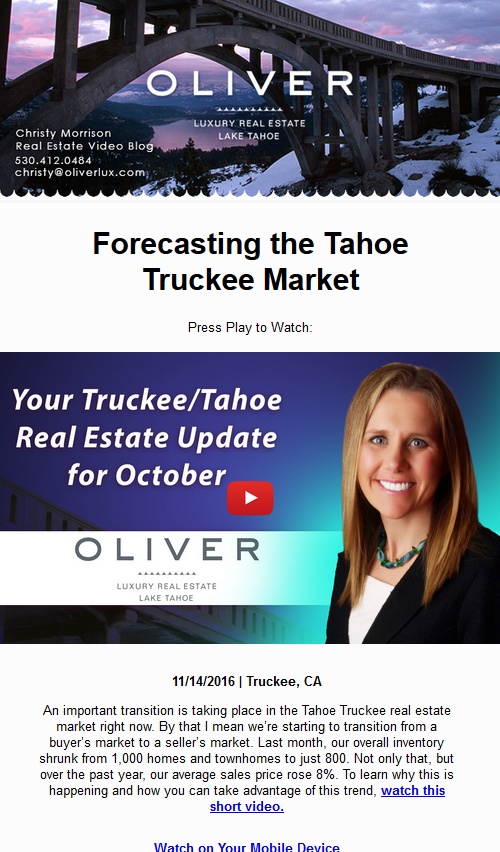 Congratulations to Vyral Client Christy Morrison for snagging email of the week! Christy's email topic "Forecasting the Tahoe Truckee Market" generated a 23% open rate and a 4% click rate. Below you can find the other 4 top performing emails after Christy's best performing email, along with other client examples from last week. Enjoy!
Rob Kittle - "What Does the Market Look Like in Fort Collins?"
Dan Ihara - "How Do We Help Seniors?"
Brandon Montemayor - "Meet Our Fantastic Real Estate Team"
John Stevenson - "Introducing Our New Brokerage Location"
AJ Mida - "Remodeling Costs vs. Remodeling Value"
Dan Holt - "Why Is Fall a Great Time to Buy a Springfield Home?"
Joan Pratt - "Client Appreciation Events Are Coming up Soon"
Linda Chu - "1Easy Way to Make a Strong Offer in a Seller's Market"
Don Vallee - "Buying a Home May Be Cheaper Than Renting One"
John Mikesh - "ROOST™ Real Estate: Pie Time"
Kevin Yoder - "What to Expect from Real Estate in the Aftermath of the Election"
Scott Neal - "Is Our Market Hotter Than It's Ever Been?"
Laura Kombrink - "What Happens During the Home Inspection Process?"
Patrick Woods - "Should You Buy a Home During the Holidays?"
Windy Ruffini & Traci Mayes Farrell - "What Can You Gain By Transferring Your Tax Basis in California?"
Matt Durbin - "How Is Trump's Election Going to Impact the Real Estate Market?"
Scott Sachs - "The Importance of a Vendor Network"
Jayson Sidhu - "North Delta Market Update: October 2016"
Durwin Cheung - "5 Tips to Protect Your Home While on Vacation"
Lisa Blake - "Talk to a Realtor Before Visiting a New Build"
Shawna Brooks - "How to Win in a Multiple Offer Situation"
Tiffani Robin - "Home Inspections You Shouldn't Skip"
Andrew Ford - "Making the Most of a Winter Sale"
Gina Giampietro - "What Goes Into Buying Your First Investment Property?"
Dale Ross - "How to Market a Vacant Home"
Jennifer Cowan - "Check Out Our List of Wonderful Vendors: Part 1"
Sam Carratala - "Answering Common Questions Home Buyers Have About Credit"
Team Freda -"2 Reasons to List Your Home This Fall"
Damon Gettier - "What's Our Secret to GettingNew Clients?"
Carson Lowry - "Why Do You Need a Pre-Approval Letter?"
Josh Lioce - "How Can You Successfully Sell Your Home in the Fall or Winter?"
Kathy Fissori - "Why Fall Is a Great Time to Buy a Home"

Ryan Bieber - "How Can You Get Top Dollar for Your Home?"
Dan Rochon - "Are You Hiring Talent or Non-Talent?"
McNamee Team - "3 Things to Know Before Buying Homeowners Insurance"
Mike Putnam - "A Quick 4th Quarter Market Update"
Dan Hooke - "What Do You Need to Know About Home Inspections?"
Nancy Seraphin - "The Importance of Gratitude"
Kevin Langan - "What Should You Know Before Refinancing?"
Brad Atkins - "What Does This Department of Labor Regulation Mean for You?"
Eric Burch - "3 Books That Will Change Your Life Today"
Matt Templeton - "What Should You Consider Before Choosing a New Office?"
Matt Templeton - "We Can Connect You to Some of the Best Lenders in Albuquerque"
Mountain Coast Group - "How Realtors Determine the Value of Your Home"
Ricky Aranda - "Why Do Some Real Estate Transactions Fail?"
Frank Valente - "What Is Your Home's Worth in Today's Market?"
Lenard Team - "We'll Go the Extra Mile to Help Our Clients"
Chad Hauer - "Should We Be Worried About a Bubble?"
Jeremy Sisemore - "5 Benefits of Using Search Firms to Fill an Important Role"
Mike Beacom - "How Do Pre-Inspections Benefit Buyers & Sellers?"
Andy Leung - "Don't Forget About Our Pumpkin Pie Giveaway"
Joe Corbisiero - "Donald Trump Is Our Next President. Now What?"
Jason Huerkamp - "What You Can Expect to Spend on a Fixer-Upper"
Frank Del Rio - "4 Demands to Make to Your Real Estate Agent"
DiBello Group - "6 Essential Tips for Selling a Home With Pets"
Susan Heller - "Should You Sell Your Home Now or Wait Until Next Year?"