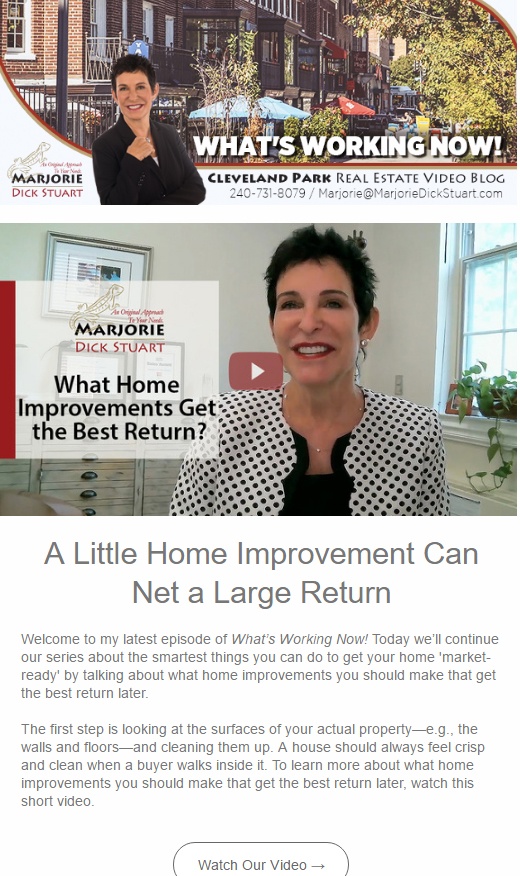 Congratulations to Vyral Client Marjorie Dick Stuart for achieving email of the week! Marjorie's email topic "A Little Home Improvement Can Net a Large Return" generated a 19% open rate and a 4% click rate. Below you can find the 4 top performing emails after Marjorie's best performing email, along with other client examples from last week. Enjoy!
The Consigliori - "What Is The Goldilocks Principle?"
Bill McCoy - "Wishing You a Happy Thanksgiving"
Vergis Eiland - "Welcome to the South Loop of Chicago"
David Wyher - "An Inside Look at Our Sales Team"
Bill Black - "One Shortcut Can Create a Huge Headache"
Adrienne Lally - "Our Homeless Keiki Thank You"
Andy Sachs - "Listing My Home in the Winter, Huh?"
Caralee (Stellar Realty) - "A Quick Tour of the Sellwood Neighborhood"
Ian Lobas - "How to Connect With Millennial Home Buyers"
Thomas Scott - "What Is the Taxpayer Bill of Rights? (Part I)"
Sean Zanganeh - "The 3 Biggest Mistakes Home Sellers Make"
Chad Schwendeman - "Happy Holidays"
Saul Z - "Are Flood Zones Worth the Discount?"
Chad & Dustin Griffith - "What Is Happening in the Denver Real Estate Market?"
Jodie Osofsky - "Join Us for Cookies & Cocoa With Santa"
Valerie Hunter Kelley - "The Latest Clarksville Market Statistics"
Kirk Simmon - "What You Need to Know About Lock Boxes"
Ruby Henderson - "4 Pricing Pitfalls Sellers Should Look Out For"
Dan Rochon - "How Can You Take Advantage of the Current Interest Rates?"
Rick Bowal - "Help Us Help You"
Darin Triolo - "What Makes the Holidays a Great Time to Buy a Home?"
Jim Griffin - "Look Out for These Extra Costs When Buying a Home"
Maria Hoffman - "Might the Holidays be the Perfect Time to List your Home?"