We'd like to congratulate Vyral Client Jason Huerkamp in the Twin Cities, MN for having the best performing topic this week, achieving a 27% open rate and a 7% click rate.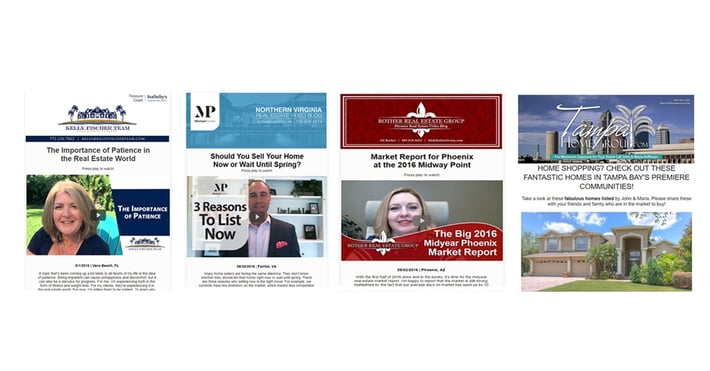 Below you can find the top 4 emails along with other examples of emails that were sent throughout the week.
Maria Hoffman - "Home Shopping? Check Out These Fantastic Homes in Tampa Bay's Premiere Communities!"
Kelly Fischer - "The Importance of Patience in the Real Estate World"
Jill Rother - "Market Report for Phoenix at the 2016 Midway Point"
Mike Putnam - "Should You Sell Your Home Now or Wait Until Spring?"
Scott Himelstein - "How a Cluttered Garage Can Affect a Home Sale"
Jeff Adler - "The 3 Traits to Look for in a Home Inspector"
Mack Humphrey - "How to Make the Home Buying Process Less Stressful"
Lance Woodley - "How the Woodley Team beats Columbia Market Averages"
Chris Snow - "Hiring a Buyer's Agent Is a No-Brainer"
Searcy Team "Should You Keep Renting, or Buy a House?"
Jennifer Goldman - "3 Ways to Work Effectively with an Outsourced Provider"
Andy Sachs - "When Will Connecticut Home Values Go up?"
Chris Kanotz - "How to Increase Your Productivity and Improve Your Life"
Paul Arguenta - "Announcing My New Real Estate Video Blog"
Jeffrey Chubb - "Should You Rent or Buy Your Home?"
Todd Martin - "4 Easy Ways to Maintain Your Louisville Home's Value"
Black Clover Fitness - "Warming Up Is Key to Injury Prevention"
Jeff Cook - "Your Charleston Home's Value Has Probably Risen"
Kevin Smith -"Is a Reverse Mortgage Right for You?"
Robert Mack - "Can I have a Moment of Your Time Today?"
Eric Crumbaker - "Meet the CG Realtors Team: Travis Tickel"
Chad Griffith - "We're Giving Away an iPad to a Lucky Client"
Shannon Rollings - "A Quick Tour of the Mount Vintage Plantation Area"
Sean Quinn - "Help Us Bring Awareness to a Cause That's Close to Us"