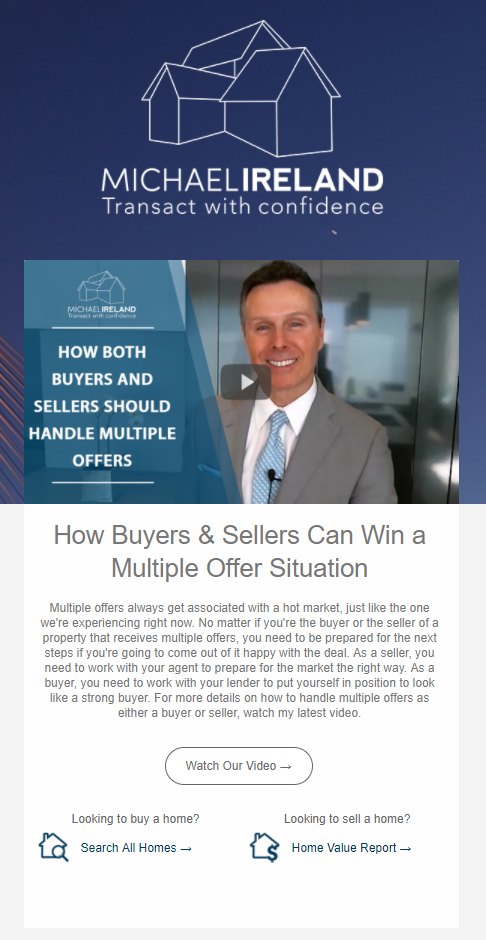 Congratulations to Vyral Client Michael Ireland for achieving email of the week! Michael's email, "How Buyers & Sellers Can Win a Multiple Offer Situation" generated a 29.72% open rate and a 5.32% click rate. We're all about educating and bringing value to your list of contacts and this is a great example of how to excite your client base in a unique way. Below you can find the top 4 performing emails after Michael's best performing email, along with some other client examples from last week. Enjoy!
Tina Caul - Friends and Clients
Casey Cooke - Short Sales Are Making a Comeback
Ken Pozek - You're Invited to Our 2nd Annual Client Appreciation Movie Event
Dan Ihara - We Appreciate Your Business, We Hope You Had Fun!
Brian Hammond - What's the Difference Between Home Inspections & Appraisals?
Ryan Anderson - How Do We Know When We're at the Market Peak?
Lance Woodley - Looking to Start a Career in Real Estate?
Sean Williams - 4 Tips to Be a More Earth-Friendly Neighbor in Denver
Doug Herdahl - Why I Joined eXp Realty & Why You Should Think About Joining Too
Anastasia Riley - What Makes Title Insurance So Important to Homeowners?
Troy Hansford - Call Ironwood Earthcare to Protect Your Trees This Summer
Rob Kittle - Friends and Clients
Kevin Langan - 3 Things to Remember About Zillow's Zestimates
Windy Ruffini - How to Sell a Property With Renters
Sandie Hea - BUYING A HOME? Step #1 is ...
Mike Roth - Can a Home Warranty Help Sell Your House?
Aaron Hendon - The Pros and Cons of Investing in Airbnb
Jan Leasure - You Don't Need a Down Payment
Jack Lehr - Foreclosures, Short Sales, and Traditional Transactions
Dr. Q - Attack Life, Don't Let Life Attack You
Kelly Cook - What Are the 10 Hottest Home Improvement Trends of 2017?