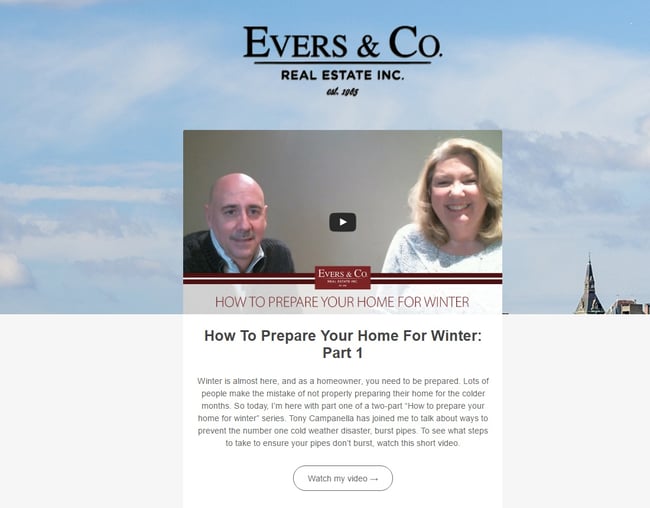 Congratulations to Vyral Client Kathi Kershaw for achieving email of the week! Kathi's email "How To Prepare Your Home For Winter: Part 1" generated a 23% open rate and a 3% click rate. We are all about educating and bringing value to your list of contacts and this is a great topic to help educate homeowners. Below you can find the 4 top performing emails after Kathi's best performing email, along with other client examples from last week. Enjoy!
Christy Morrison - "Your 2016 Tahoe-Truckee Real Estate Market Wrap Up"
Maria Hoffman - "2016 Market Wrap Up & 2017 Predictions"
David Wyher - "5 Tips to Help Get Your Business Ready for 2017"
Alfie McFadden - "How to Use Rental Properties to Increase Your Net Worth"
Tina Caul - "Happy New Year"
Jodie Osofsky - "Don't Get Caught in This Wire Fraud Scheme"
Dan Rochon - "Can Staging Increase Your Home's Profit?"
Dan Rochon - "The Key to Prospecting Success"
Tiffani Robin - "5 Ways to Get Ahead as a New Construction Buyer "
Rita Driver - "What's the First Step to Home Buying?"
Spencer Hasch - "5 Tips for Keeping Your Home Safe While on Vacation"
Denise Swick - "What 5 Major Shifts Will Take Place in Our Market in 2017?"
Jeff Searcy - "10 Things That May Turn Buyers Away"
Joshua Stern - "2016 Wasatch Front Market Report"
Scott Himelstein - "Why Are Home Warranties Important for Buyers?"

Darin Triolo - "Thanks for Being Part of Our Success in 2016"
Pazi D - "Thank You for an Amazing Year!"
Mark Gellman - "Happy Holidays from The Gellman Team"
Greg Tran - "What Are the Benefits of Investing in Real Estate?"
Robert Dekanski - "Why Do You Need a Buyer's Agent?"