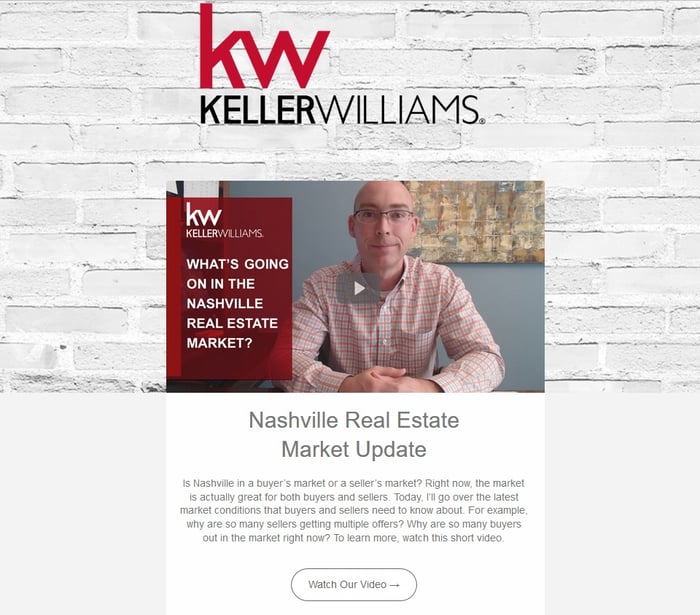 Congratulations to Vyral Client Brian Hammond for achieving email of the week! Brian's email topic "Nashville Real Estate Market Update" generated a 28% open rate and a 8% click rate. Market updates are always a topic of interest for those within your sphere! Below you can find the 4 top performing emails after Brian's best performing email, along with other client examples from last week. Enjoy!
Eric Vallee - "You're Invited to Our Client Appreciation Event"
Dale Ross - "Why Am I Paying a Property Tax Certificate?"
Scott Himelstein - "How Do Recent Rate Hikes Impact Buyers and Sellers?"
John Fagan - "Using Prop 60 to Your Advantage"
Jennifer Smith - "How Do You Find a Home in Your Dream Neighborhood?"
Lenny LaRocca - "10 Reasons Why It's Smart to Sell During the Holidays"
Durwin Cheung - "Join Us at Our Upcoming Holiday Party"
Jana and Jason DeLong - "Can Video Help Sell Your Home?"
Tom Nickley - "What Makes Orlando a Great Place to Live?"
Dan Rochon - "How James Oxley Can Help With Your Real Estate Needs"
Dan Rochon - "Introducing Anthony Howard, Our Newest Agent"
David Huffaker - "How Will the Real Estate Market Change After the Election?"
Dee & Tar Reid - "Is Fall the Right Time to Make a Home Sale?"
Matt Durbin - "6 Reasons Why Winter Is the Best Time to Sell Your Home"
Linda Chu - "How Can You Save Money During the Selling Process?"
William Bustos - "5 Tips to Sell and Stage Your Home During the Fall"
David Robinson - "How Can You Keep Your Home Safe During Your Holiday Vacation?"
Pazi D - "Is It Too Late to Sell Your Home This Year?"
Belladonna Riso - "Why Sell Your Home During the Holidays?"
Duke Kimhan - "How Our Move Out Addendum Benefits Us and Our Tenants"
Joshua Stern - "The Top 6 Reasons to Sell Your Home During the Holidays"
Denise Swick - "What You Need to Know About Mortgages and Interest Rates"
Lisa Treu - "The Top 2 Lessons From the Thrive Conference"
Jeff Quintin - "What Should You Be Wary of When It Comes to Online Home Searches?"
Charleston Homes - "Is Your Home Ready for Winter Weather?"
Jason Huerkamp - "Meet Santa and Have a Drink on Us!"
Gina Giampietro - "What Are the Best Ways to Prep Your Home for Winter?"
John Teixeira - "What the Future Holds for Interest Rates"
Jennifer Cowan - "You May Be the Lucky Winner of Our Monthly Drawing..."
Steven Rosado - "Have You Seen Our Brand-New App?"
Dan Rochon - "You're Invited to Our 4th Annual Toys for Trees Event"
Chris Colgan - "Our Market Forecast for 2017"
John Mikesh - "What Is the True Value of Your Real Estate?"
Dave Janis - "Why Does It Pay to Have an Expert Negotiator?"
Brian Lessinger - "How to Cut 8 Years Off Your Mortgage"
Freeman Burns - "Are You on Camera When Looking at Homes?"
Tiffani Robin - "Is Winter A Good Time To List?"
Kurt Duffeck - "See What FloorScapes Austin Can Do for Your Floors"
Cristina Dougherty - "The First Things to Do in a Home Purchase"
Andrea Manroe - "How Do Mello Roos Taxes Work?"
Andrew Ford - "5 Questions You Need to Ask Yourself Before Buying a Home"
Spencer Hasch - "Energy & Maintenance Savings: Part 2"
Shawna Brooks - "How to Get Your Offer Accepted"
Tom Nickley - "How Do Free Drinks and Poinsettias Sound?"
Brayden Bengtzen - "The Benefits of Putting Your Home on the Market Now"
Carson Lowry - "Newburgh Celebrates Christmas Is Almost Here"
Jeff Smith - "How to Use Real Estate for Retirement"
Josh Lioce - "Is the Time Right to Stop Renting and Buy a House?"
Nancy Seraphin - "Marketing Tips for New Construction"
Dave Hooke - "7 Questions to Ask Before Hiring an Agent"
Eric Burch - "Why Winter Is a Great Time to Sell Your Home"
Matt Templeton - "How to Perfect Your Lead Follow-Up Process"
Dar Walden - "Why Is Winter a Great Time to Sell a House?"
Peterson Goff - "Why Are the Holidays a Good Time to Buy a Home?"