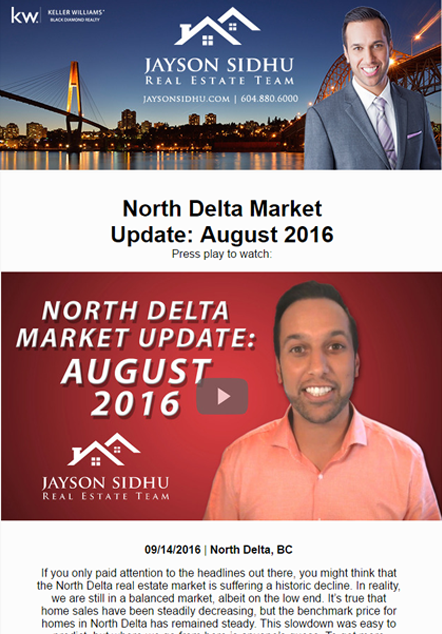 We're excited to share these fantastic open-click numbers from Vyral Client, Jayson Sidhu of North Delta, BC. Jason had the best performing email of the week with a 30% open rate and a 7% click rate.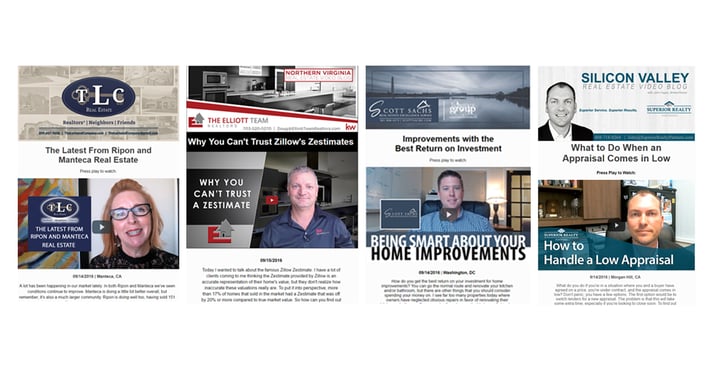 Below you can find the top 4 emails following Jason's, along with other client examples.
Doug Elliot - "Why You Can't Trust Zillow's Zestimates"
John Fagen - "What to Do When an Appraisal Comes in Low"
Lori Adams - "The Latest From Ripon and Manteca Real Estate"
Scott Sachs - "Improvements with the Best Return on Investments"
Gary Raze - "5 Tips to Keep Your Home Safe While You're Away"

Damon Gettier: "Prepare Your Roanoke Home for Listing Photos"
Mike Tchobanian - "How Professional Photos Can Help Sell Your Home"
Jaon Pratt - "How to Buy a Home After Bankruptcy or Foreclosure"
Matt Durbin - "Gauging the Washington County Market"
Phil Belonger - "How Can Appraisals Affect Your Denver Home Sale"
Jeff Mistrette - "How to Determine Home Values with Data on Long Island"
Mike Duggal - "3 Reasons Why Now Is a Great Time to Downsize"
Bob Sokoler - "Shoulder You Be Buying or Selling in the Louisville Market"
Jan Leasure - "Why You Should Negotiate a Closing Cost Credit"
Saul Z - "The Chicagoland Real Estate Market: August 2016 vs. August 2015"
Kevin Yoder - "Which Offer Is the Best for You?"
Dan Rochon (recruiting) - "Preparing Your Business for the Upcoming Shift"
Art Lickunas - "What's Happening in the Current Market?"
Bo Winn - "6 Signs That It's Time to Sell Your Raleigh Home"
Jason Penrose - "Are We Headed towards Another Market Crash?"
Peter MacIntyre - "The Importance of Professional Photos"
Jose Morales - "Top Tips for Investing in Southern California Real Estate"
Debbie Spaulder - "Home Maintenance Tips for Bucks and Montgomery County"
Kurt Duffeck - "What's Happening in the Austin Metro?"
Lisa Blake - "Your Home Doesn't Need a Full Rehab to Sell"
Spencer Hasch - "Your San Antonio Listing Expired. Now What?"
Andy Sachs - "Why Connecticut Isn't in the Top 10"
Mike Rager - "Tips to Find the Best Buyer's Agent"
Tom Scott - "How to Handle an Audit Notice"
Spencer Janke - "What Happens During Your Due Diligence Period?"
Nathanson Brothers - "South Florida Market Update"
Jack Barry - "Renting vs. Buying a Philadelphia Home in 2016"
Jerimiah Taylor - "What You Need to Know About DocuSign"
Aaron Rian - "Why Fall Is Still a Great Time to Sell on the West Coast"
Ruby Henderson - "Discussing Aging in Place with Valerie Jurik"
Jana & Jason DeLong - "Our App Connects You with Great Service Providers"
Tom Nickley - "Why It's the Perfect Time to Buy in Orlando"
Debbie Spaulder (career) - "How to Get a Life by Design"
Joe Mendoza - "The Key to Selling a Tenant-Occupied Property"
Chris Snow - "How to Sell Faster Than Your Neighbors"
Jeff Quintin - "How to Defeat Buyer's Remorse"
Martin Millner - "Don't Skip Out on Professional Photos When Selling"
Jodie Osofsky - "5 Home Selling Regrets and How to Avoid Them"
Jeff Ryder - "Increase the Value of Your Home with This Quick Tip"
Justin Udy - "The Craft of Real Estate"
Searcy Team - "We're in for a Record-Setting 2016"
Chris Kanotz - "Why the 80-20 Rule is Gone"
Shannon Rollings - "Cost-Free Tips When Preparing Your Home for Sale"
Carlos Gutierrez - "3 Ways to Find the Right Realtor for You"
Paul Argueta - "A Snapshot of the Local Real Estate Market"
Jeffrey Chubb - "Building Wealth Through Home Ownership"
Lisa Treu - "See My Latest Endorsement from Real Estate Guru Barbara Corcoran"
Tom Daves - "5 Most Common Mistakes Home Buyers Make"
Damon Gettier - "How to Reach Millenial Home Buyers"
Patrick Woods (recruiting) - "Benefits of Joining a Real Estate Team"
Allen Johnson - "Tips for Maximizing the Value of Your Home"
Jeremy Higgens - "Throwing It Back: Some Timeless Advice for Buyers"
Matt Fettick - "Maintaining Your Heating/Cooling Systems"
Jon Carbutti - "How Do Professional Home Staging Companies Work?"
Mountain Coast Group - "The Latest Market Statistics for Grand Junction"
Dave Janis - "Why Is a Pre-Qualification Letter Important?"
Jill Rother - "Be Prepared for the Phoenix Real Estate Market Shift"
Kevin McCarthy - "How Real Estate Can Help Save for Your Children's Education"
McNamee Real Estate Team - "Why Is Selling Without an Agent a Bad Idea?"
Mike Duggal - "Do For Sale Signs Still Work?"
Sam Dodd - "Why We Use Professional Photos to Sell Homes"
Steve Schwab - "What If the First Home You See Is the One?"
Jason Daniels - "What You Can Do if Your Appraisal Comes Back Low"
Andy Richardson - "The Best Way to Approach a Home Purchase"
Haro Setian - "Knowing About Closing Costs and Down Payments"
Shawn Culhane - "Maintaining Your Heating/Cooling Systems"
Paul Herrick - "Look to Neighborhood Trends for True Values"
Misty Soldwisch - "Don't Be Caught off Guard by a Major Cost When Selling Your Home"
YJWJ (success) - "Sharing My Passion of Coaching and Training"
Paul Brouillette - "Should You Hire a Real Estate Team or an Individual Agent?"