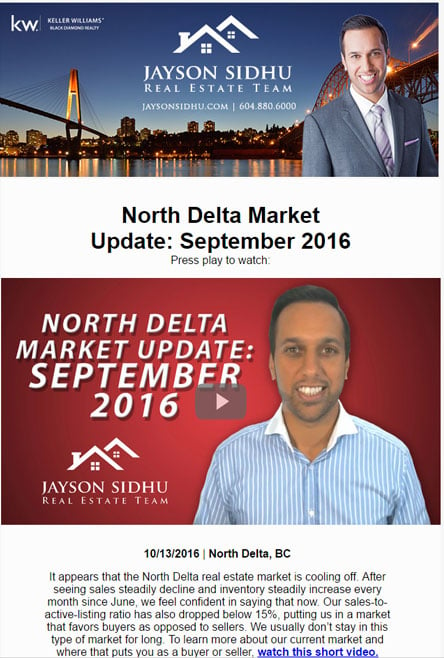 Jayson Sidhu is back again this week with the email of the week! His email, "North Delta Market Update: September 2016," generated a 26% open rate and a 6% click rate. Once again, these are fantastic numbers for Jason. Below you can find the top 4 emails following Jayson's best performing email, along with other client examples from last week. Enjoy!
Bill Black - "Do Well Landscaped Homes Sell for More Money?"
Hal Sweasey - "What We Saw in Real Estate Last Quarter"
Jeremy Larkin - "I'm In a Real Estate Bidding War, Now What?"
Marjorie Dick Stuart - "Which Home Improvements Should You Make For Best Return?"
Spalding Pyron - "How to Spark a Home Bidding War"
Ryan Smith - "5 Important Things to Know About Home Inspectors"
Laura Kombrink - "A First-Hand Walkthrough of the Home Buying Process"
Brayden Bengtzen - "Home Loan Options for Utah Home Buyers"
Kris Lindahl - "Save the Date for Our Great Pumpkin Giveaway"
Thomas Elrod - "The 3 Benefits of Offering a Home Warranty"
Jason Bramblet - "How First-Time Home Buyers Can Get $15,000 Free for a Home"
James Torrence - "Join the Largest Real Estate Company in the World"
Mike Beacom - "How Covenants Affect Omaha Homeowners"
Chad Schwendeman - "What to Keep in Mind When Buying a Fixer-Upper"
Andy Leung - "Preparing Your Home for Showings in the Fall"
Lori Adams - "Preparing and Planning to Buy Your First Home"
Dave Auffarth - "Why Is It a Great Time to Sell in Chicago?"
Saul Zenkevicius - "5 Tips for Selling a Smaller Chicago Home"
Dan Holt - "What to Expect from Your Springfield Home Search"
John Herman - "What Real Foundation Issues Look Like"
Clayton Gits - "Why Owning a Home is Cheaper Than Renting"
Sean Hellmann - "The Pros and Cons of Evaporative Cooling"
Patrick Woods - "3 Mistakes to Avoid When Buying"
Betsy Sarcone -"Announcing the Fall Events Lineup"
Frank Del Rio - "Your Latest Real Estate Market Update"
O'Neill Team - "Is Fall the Right Sesaon to Sell My Home?"
Donna Johnston - "The Benefits of Staging Your Home When It's Occupied"
Jeff Mistretta - "3 Inexpensive Ways to Update Your Long Island Home"
Joe Mendoza - "Getting the Most from Your Open House"
Joy Daniels - "The Key to Having a Safe AND Spooky Halloween"
Doug Leugers - "Unveiling the Useppa Island Club"
Chip Hodgkins - "Navigating the Central New York Housing Market"
Mario Romero - "A Great Organization That Deserves Help"
Erik Brown - "How to Find the Best Lender for Your Needs"
Cory Meyer - "Announcing Some Big Changes for Our Team"
Belladonna Riso - "Are You Living in a Haunted House?"
Brian Lessinger - "Why Fall Is a Great Time for Real Estate"
Dan Ellison - "Don't Skip These 5 Inspections When Buying"
Dave Janis - "A New IKEA IS Coming to Town"
Linda Chu - "Smart Home Improvements With the Best ROI"
Scott Lander - "Help Cornerstone Mission Help Others"
Derek Bauer - "What Buyers Shouldn't Say During Home Showings"
Martin Millner - "Appraised Value vs. Market Value"
Steve Schwab - "Why Are Transaction Timelines Longer in the Portland Area?"
Sean Quinn - "How I Help Buyers Find a Home"
Carson Lowry - "7 Tips to Prepare Your Home For Winter"
April Stephens - "Fall Cleaning and Home Staging Tips"
Jenna May - "Get Your Home Ready to Sell With These 3 Tips"
Team Ruby - "Taking a Look at Activity in the Triangle Market"
Ryan & Brian Team - "The Best Ways to Invest in Real Estate: Part 1"
Daniel Beer - "Funding College Through Real Estate Investment"
Lisa Treu - "Saving Thousands of Dollars on Property Taxes"
Searcy Team - "Your Source for New Construction Information"
Team Lally - "Team Lally's 11th Annual Client Event"
Dan Hamilton - "Should You Sell Your Home During an Election Year?"
Greg McDaniel - "Fun in the Bay: Halloween 2016 Edition"
Spencer Janke - "Find Out What the Flipping Process Is Really Like"
Torey Severino - "Paying Off Your Mortgage Fast in Southern California"
The Adler Home Team - "Why You Shouldn't Overprice Your Home"
Vergis Eiland - "4 Ways to Make Your Luxury Home Stand Out"
Kelly Cook - "Answering Some Common Distressed Real Estate Questions"
Kurt Duffeck - "How to Know What to Offer on a Home"
Sandy Eagon - "Donate to Your Local Food Bank This Fall"
Mark Gellman - "The Gellman Team Market Update and Timing of Selling"
Lias Burridge - "Meet Buyer Agent Melissa Clark"
Peter MacIntyre - "Low Rates Make Now a Great Time to Buy in Lansing"
Andrew Lamb - "Your Best Bet for Movers in Northern California"
Erik Winegarden - "How to Prepare Your Home for the Market"
Scott Futa - "5 Ways to Prepare Your Home for Fall"
David Humes - "October Market Report"
Christy Kimbrel - "Tips for Flipping a Twin Cities House"
Will Cook - "Why Mortgage Interest Rates Are Still Low"
Kevin Smith - "What Market Trends Have We Been Seeing Lately?"
Bill McCoy - "What to Know About the Lee's Summit Commercial Market?"
Dave Silva - "Is Now a Good Time to Buy a House?"
Charlotte Mabry - "Inheriting a House With a Mortgage"
Kelly Fischer Team - "Why Passion Is Important in Life & Real Estate"
Jim Griffin Team - "How to Sell Your Home By Year's End"
Lisa Ray - "How Has Real Estate Changed in 30 Years?"
Dan Rochon - "Why Does Selling in the Winter Make Sense?"
Spencer Hasch - "What to Consider WHen shifting from Renting to Buying"
Steve Prewitt - "Is Owning a Home Cheaper Than Renting One?"