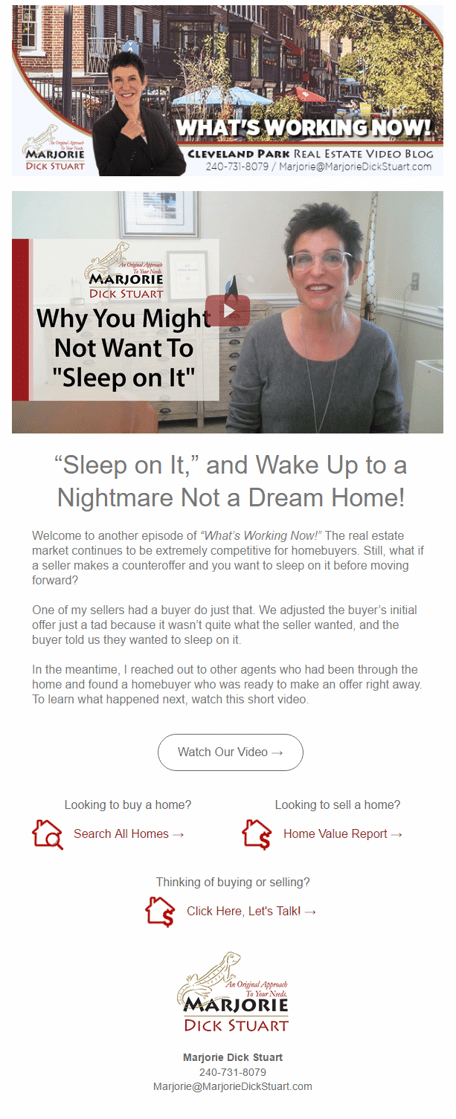 Congratulations to Vyral Client Marjorie Dick Stuart for achieving email of the week! Marjorie's email, "'Sleep on It,' and Wake Up to a Nightmare Not a Dream Home!" generated a 19% open rate and a 2% click rate. We're all about educating and bringing value to your list of contacts and this is a great example of how to excite your client base in a unique way. Below you can find the 4 top performing emails after Marjorie's best performing email, along with some other client examples from last week. Enjoy!
Kathi Kershaw - Using Airbnb With Investment Properties
Christal Johnson - Townhome Sales Are up 13% in Northern VA, Find out Why!
Monica Benavides - Explaining the Minimum Requirements of Getting Pre-Approved
Rob Kittle - Do These New Financing Regulations Affect You?
Joe DiRaffaele - So You Want to Buy a Home. What's Next?
Ty Leon-Guerrero - A Few Quick Updates on the Real Estate Market
Troy Hansford - What the Hail Is Going on Here?
Dr. Q - Hacking Your Health: How to Lose Weight With Your Friends
Jeff Adler - What to Know Before Investing in an Airbnb Property
Lance Woodley - How We Can Help You Buy or Sell Anywhere in the Country
Jack Lehr - Renting vs. Buying a Home—Which Is Better?
Robbie McCarty - An Update on Inventory Levels in Our Market
Saul Zenkevicius - Does Selling or Renting Make More Sense?
Michael Perna - The Low Down on Radon & Radon Test - Courtesy of the Perna Team
Doug Leugers - Is Southwest Florida in a Housing Bubble?
Tami Holmes - Why Get an Appraisal Done on Your Home When You First List It?