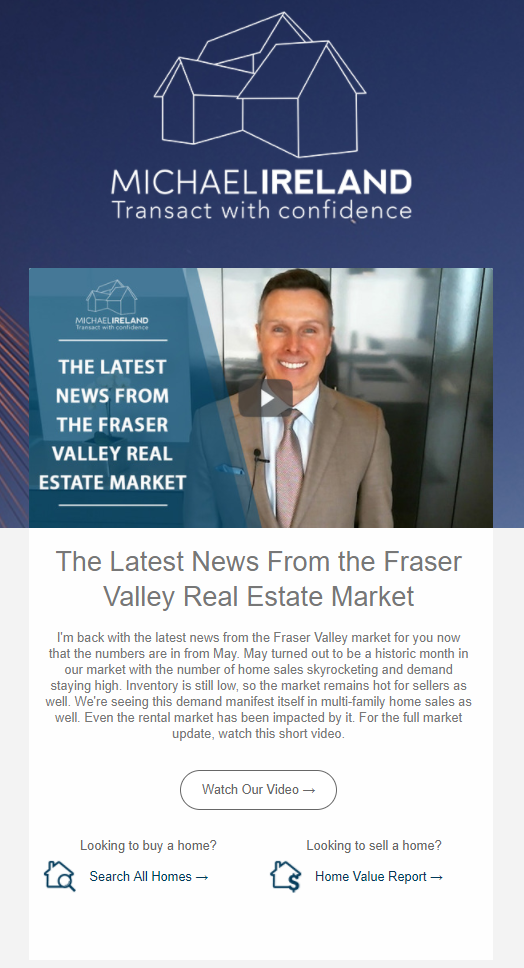 Congratulations to Vyral Client Michael Ireland for achieving email of the week! Michael's email, "The Latest News From the Fraser Valley Real Estate Market" generated a 32.65% open rate and a 7.24% click rate. We're all about educating and bringing value to your list of contacts and this is a great example of how to excite your client base in a unique way. Below you can find the top 4 performing emails after Michael's best performing email, along with some other client examples from last week. Enjoy!
Scott Hollinger - Can You Really Add Value to Your Home Before It Hits the Market?
Ryan Hummel - You're Invited to Our Summer Cookout Series Workshop
Trudy Coler - 3 Tips to Help You Downsize
Adam Moshofsky - Friends and Clients
Gretchen Karr - Will Inventory Shortages Slow Down Our Market?
Gene Agustin - Dissecting the Escrow Reconciliation Process
Marjorie Dick Stuart - Escalation Clauses: The Good, the Bad, and the Ugly
Aaron Hendon - Don't Trust Zillow When It Comes to Home Value
Sandie Hea - 6 Month Market Recap for the St. Louis Area
Troy Copeland - 5 Common Mistakes Many Home Sellers Make
Doug Herdahl - Why Owner's Title Policies Are So Important
Kevni Langan - Join Us for a Day at the Movies
Shawn Luong - Locating a Great Investment Property
OK Hogan - These 3 Tips Will Help You Start the Downsizing Process
Windy Ruffini - Examining Some of the Other Costs of Homeownership
Rob Spring - How Do Fannie Mae's Recent Changes Affect Those With Student Debt?
Renae Gibson - 3 Things Every First-Time Homebuyer Should Know
Stephanie Evelo - 7 Questions Every Agent Should Ask in Multiple Offer Situations
Rare Properties - Debunking 5 Myths Believed by First-Time Homebuyers