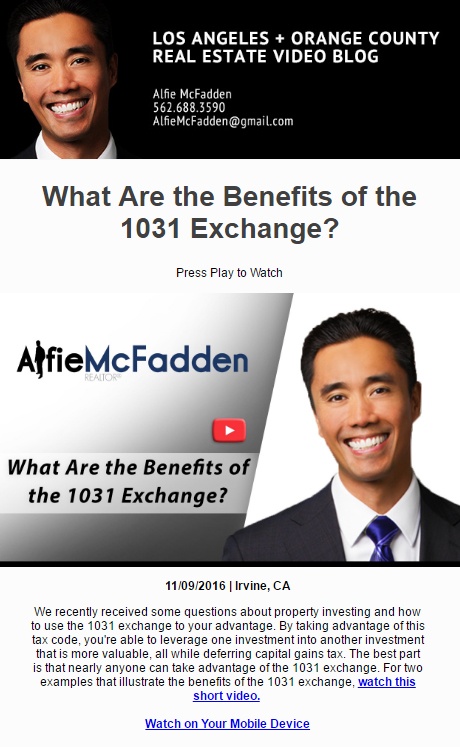 Congratulations to Vyral Client Alfie McFadden for snagging email of the week! Alfies's email topic "What Are the Benefits of the 1031 Exchange?" generated a 23% open rate and a 3% click rate. Below you can find the other 4 top performing emails after Alfie's best performing email, along with other client examples from last week. Enjoy!
Bill Black - "You Need a Contractor You Can Trust"
Brian Lessinger - "Selling Your Home Now vs. Waiting Until Next Year"
Sean Zanganeh - "How the Fall Market Impacts Your San Diego Home"
Vergis Eiland - "What Are the Benefits of Selling Now?"
Jason Daniels - "Want a Free Ticket to the Upcoming Dave Ramsey Event?"
Dave Friedman - "Pie-ing and Selling in the Charleston Marketplace"
REH Real Estate - "3 Qualities of a Great Realtor"
Belladonna Riso - "What Does the Future Hold for the Utah Market?"
Andrew Duncan - "Why Real Estate Signs Work"
John Herman - "How to Handle Radon Gas in Your Home"
Patrick Collins - "What's Happening in the Colorado Springs Market?"
Craig Akers - "Phoenix Homeowner Hacks--the First in a Series"
Pazi D - "Is Atlanta in a Buyer's or Seller's Market?"
Spencer Hasch - "Energy & Maintenance Savings: Part 1"
Don Mowery - "3 Major Mistakes Buyers Make"
Valerie Hunter Kelly - "What Are Your Options After a Low Appraisal?"
Marti Hampton - "5 Signs That It's Time to Sell Your Home"
Chip Hodgkins - "What You Need to Know About OCC"
Spring Bengtzen - "DIY Gone Wrong? Check out Our App"
Jim Griffin - "How to Effectively Market Your Home"
Jeff Cook - "You're Invited to Our Annual Jeff Cook Real Estate Pie Giveaway!"
Marc Smith - "How Do Home Warranties Work?"
John Fagan - "Should You Host an Open House?"
Jeremy Larkin - "Help Us Feed 200 Families This Thanksgiving!"
Greg Tran - "How to Make a Great Impression on Austin Buyers"
Sandie Hea - "How Do Short Sales Work?"
Steph Evelo - "What Happens When Your Home Doesn't Appraise?"
Dan Rochon - "Maximizing Your Home's Value When Selling"
JP Pirtle - "WE NEED AGENTS FOR OUR NEW OFFICE!"
Greg McDaniel - "Should You Hire a Friend or Relative When Buying or Selling?"
Denise Swick - "What Kind of Financing Do You Qualify for?"
Stellar Realty Portland - "How Does Housing Inventory Affect Your Home's Value?"
Gary Raze - "What Really Happens During a Home Inspection?"
Shawn Kriewaldt - "What Do You Do When Water Comes in the Basement?"
Mike Duggal - "Should You List Your Home During the Fall?"
Donna Johnston - "The Benefits of Working With a Real Estate Team"
Danny Burks - "The Hidden Advantages of Selling Your Home Over the Holidays"
Andy Green - "Are Home Price Increases Finally Slowing in Portland?"
Andy Green - "Why a Vacation Should Be in Your Business Plan"
Sandy Eagon - "How Working With Our Team Benefits You"
Kathy Toth - "Should You Be Worried About Radon in Your Home?"
Kyle Whissel - "Are Open Houses a Good Way to Market a Home?"
Art Lickunas - "We Have a Great Opportunity for You"
Jason Morris - "What's Happening in the Fall Market?"
Jeff Smith - "Happy Thanksgiving, We Have a Gift For You"
Jodie Osofsky - "What's Happening in the Salt Lake City Market?"
Maria Hoffman - "How Can You Increase Your Tampa Home's Value?"
Rick Bowal - "The Obvious Choice for Real Estate in the Lower Mainland"
Joe Mendoza - "Preparing Your Home for the San Diego Market"
Lisa Burridge - "Why Are Home Inspections Important?"
Steve Schwab - "Don't Kill Your Home Deal With This Mistake"
Jana and Jason DeLong - "Why Our Certified Pre-Owned Program Works"
Sam Dodd - "How Lenders Determine Mortgage Qualification"
Jeremy Herman - "Another Great Perk of Being in Our VIP Program"
Dee Reid - "Why Should You Consider Buying Now?"
Freeman Burns - "Down Payment Assistance Programs for Home Buyers"
Dar Walden - "3 Questions to Ask Before Buying a Home"
Amy Smits - "It's a Smart Time to Sell in Frisco"
Diane Cardano - "Secret Strategies to Making Your Real Estate Great Again"
Pamala Spivey - "What Should You Know Before Getting a Home Loan?"
Misty Soldwisch - "What Do Realtor Service Fees Cover?"
Joy Daniels - "3 Tips for Organizing Your Garage"
Cristina Dougherty - "3 Winning Tips for Buyers in Multiple Offer Situations"
Jason Daniels - "You're Invited to Our Thanksgiving Pie Party"
Derek Bauer - "A Testimonial On Selling A Home For Top Dollar"