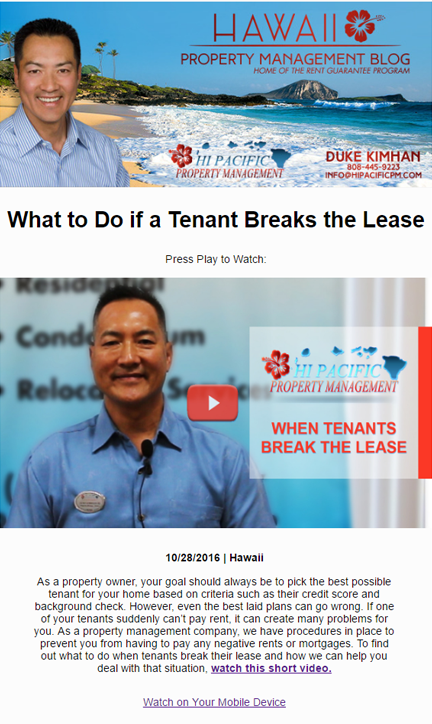 Congratulations to Vyral Client Duke Kimhan for achieving the email of the week! Duke's email topic "What to Do if A Tenant Breaks the Lease" generated a 25% open rate and a 6% click rate. Below you can find the top 4 emails following Duke's best performing email, along with other client examples from last week. Enjoy!
Jimmie Jack Fishing - "The Highlights of Jimmie Jack's 2016 Summer Fishing Season"
Rossy Guzman - "Announcing the Launch of Our New Video Blog"
Kelly Fischer Team - "How a 'Kestimate' Can Help You Find Your Home Value"
John Fagan - "What to Expect From the Fall Real Estate Market"
Dee & Tar Reid - "Charlotte Market Snapshot"
The Anderson Group - "You're Invited to Our Annual Halloween Party"
Michael Perna - "10% off Your Furnace Check up, Cleaning & More"
Damon Gettier - "What You Need to Know About Inspections"
Saul Zenkevicius - "Upsizing Into Your Next Home While Selling Your Current One"
Jodie Osofksy - "Buy What Fits Your Lifestyle"
Marjorie Dick Stuart - "Tips for Buying & Selling a Home at the Same Time"
Kevin Yoder - "5.5 Reasons To Sell Your Home This Fall"
Property Up - "Should You List Now or Wait Until Spring?"
Aj Mida - "What Separates Us from Other Teams?"
Dan Holt - "Why Fall and Winter Are Great Times to Sell"
Greg McDaniel - "The Latest Trends for Homeowners"
Michael Rager - "The Keller Williams Core Values"
Griffith Home Team - "What's Going on in the Denver Real Estate Market?"
Triolo Realty Group - "How to Handle a Lowball Offer on Your Home"
Superior Realty Partners - "What to Expect From the Fall Real Estate Market"
Lancashire Group - "Save Money on Your Property Taxes"
Shawn Kriewaldt - "Home Renovations That Yield the Highest Return"
AJ Mida Recruiting - "What Does Your Best Look Like?"
Justin Havre - "Barbara Corcoran Says to Choose Us in Calgary"
Gary Raze - "Lane County September Market Update"
Kevin Wood - "How Landscaping Affects Your Home's Value"
Texas Real Estate Savings - "4 Expert Tips for Grandbury Home Buyers"
Spencer Hasch - "3 Questions Every Buyer Should Ask Themselves"
Lisa Blake - "How Do Interest Rates Impact Buyers & Sellers?"
Christine Browning - "3 Ways Home Sellers Sabotage Their Own Sale"
Monica Benavides Team - "Check Out Sand Castle Days 2016 on South Padre Island"
Todd Martin - "Staging Your Bathroom on a Budget"
Thomas Scott - "Fake Tax Notices and Other Scams: Part II"
Andy Sachs - "Our Newest Technological Innovation"
Denise Swick - "How Credit Scores Impact Your Home Purchase"
Chip Glennon - "Targeting Millenial Home Buyers"
Shannon Rollings - "Join Us This Weekend at the Bags for Badges Event"
Fissori Team - "San Luis Obispo Market Snapshot"
Long Island Real Estate Video Blog - "What Is a CMA & Why Do You Need One?"
Joe Mendoza - "What Happens After your Listing Expires?"
Steve Prewitt - "A Market Snapshot Heading Into the 4th Quarter of 2016"
Kathy Toth - "What Thermal Imaging Can Tell You About a Home"
Sandy Eagon - "What Do Golf and real Estate Have in Common"
Ken Pozek - "Why Work With Our Team?"
Diane Cardano - "Before & After Photos That Show the Effects of Staging"
Amy Smits - "Why Was the 3rd Quarter So Strong?"
David Robinson - "Every Great Seller's Market Has Its End"
Cristina Dougherty - "Answering Your Real Estate Questions"
Martin Millner - "5 Ways to Ruin Your Bucks County Home Sale"
Steve Schwab - "The Current Health of the Portland Market"
Susan Heller - "Should You Get an Appraisal"
The Jenna May Team - "Our First Annual Pumpkin Giveaway"
The Home Smiths Team - "Your Denver Market Update for This Fall"
David Bowen - "What Is the Waiting Period After a Short Sale?"
Lisa Ray - "Should You Sell Your Home in the Spring or Fall?"
Patrick Woods - "5 Ways to Start a Bidding War on Your Home"
Tom Daves - "5 Reasons to Buy a Sacramento Home This Fall"
Lias Treu - "Come Be a Santa's Helper With Us"
Black Clover Fitness - "How to Tell Whether You're Hurt or Injured"
Ryan & Brian Team - "Single-Family Investments vs. Multi-Family Investments: Part II"