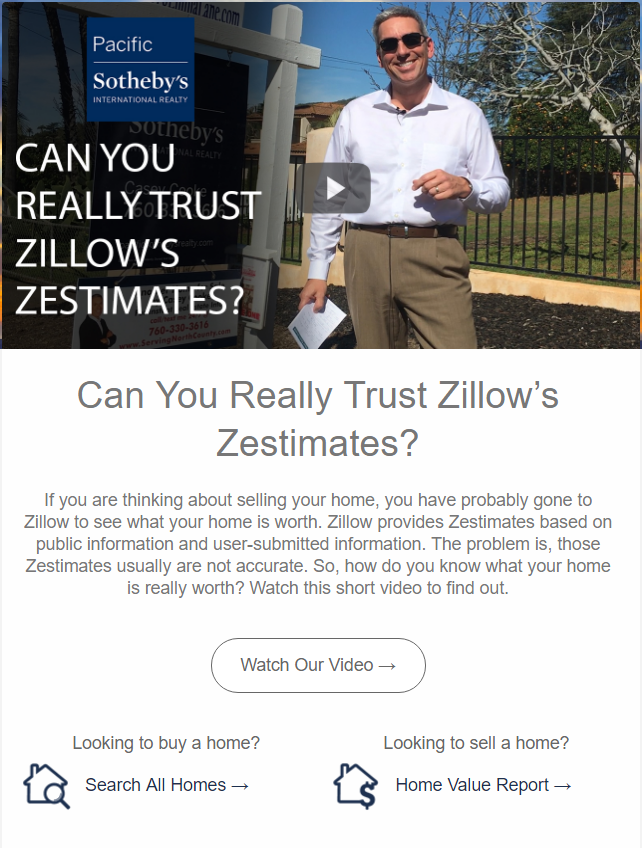 Congratulations to Vyral Client Casey Cooke for achieving email of the week! Casey's email, "Can You Really Trust Zillow's Zestimates?" generated a 27% open rate and a 6% click rate. We're all about educating and bringing value to your list of contacts and this is a great example of how to excite your client base in a unique way. Below you can find the 4 top performing emails after Casey's best performing email, along with other client examples from last week. Enjoy!
Greg Flaherty - Are We in the Middle of Another Housing Bubble?
Tiffany Johannes - Join Us for a Special Showing of Beauty and the Beast!
Matt Templeton - Why Do New Agents Choose Keller Williams Urban Dallas?
Rene Ahmad - Assignment Sales Are Just Another Area of Our Expertise
Donny Coram - How Accurate Are Zestimates?
Brent Downing - Don't Make These Common Home Selling Mistakes
Shawn Kriewaldt - Your Offer Got Accepted - Now What?
Scott English - The Benefits of Homeownership: Part II
Forth Hoyt - Experience Sacramento Events Newsletter
Lorie Gould - Be Careful if You Have This Type of Roof
Monique Walker - The True Story About the Post-Election Phoenix Market
Debbie Spaulder - Is Now the Time to Get Off of the Fence?
John Stevenson - Some Easy Credit Tips to Remember
Joe Ferzoco -These Questions Will Help You Find the Right Agent
Sharon Stevens -How Can We Get You From Contract to Close?
Alan Kushmakov - Do You Want to Learn How to Go From Zero to $20 Mil in Production?
Shawna Brooks - We Have 5 Amazing New Listings Coming on the Market
Tiffany Holtz - An Exciting New Tool for Home Sellers
Jennifer Wehner - Examining Our Statewide Market With Another Expert
Jesse Herfel - How Keller Williams Helps Agents Tap Into Their Potential
Kevin Smith - A Handy Program for Savvy Buyers
Jessica Sanders - Are You Investing in Quality Data?
Dan Ihara - What Makes Our Team Different?
Frank Valente - 4 Clever Ways to Get Your Home Sold This Spring
Marty Stebben - What Are the 3 Keys of Home Inspections?
Chamberlain Group - Did You Sell Your House After 2015?
Breanne Steen - Ventura County Market Update
Robert Dekanski - What Should You Do If Your Home Tests High for Radon Gas?
Greg Tran - How Do You Know If Your House Is Priced Fairly?
Dan Rochon - Why Use a Reverse Mortgage?
Eric Burch - Why We've Teamed Up With eXp Realty
Durwin Cheung - What Should You Look for in a Multiple Offer Situation?
Rita Driver - What Can Sellers Expect During the Closing Process?
Dar Walden - How to Keep Your Home Safe While You're Away
Peterson Goff - Smart Repairs and Improvements for Home Sellers to Make
Chris Weilacker - The Hidden Costs of Homeownership
Maggie Harris - The Key to Pricing Correctly
Chris Myers - How to Own a Vacation Home and Have Someone Else Pay the Mortgage
John Teixeira - How New Tax Rules Could Affect the Mansfield Market
Gina Giampietro - Advice for Pittsburgh Real Estate Investors
Don Vallee - How to Maximize Your Home's Sale Price While Minimizing Costs
Jana & Jason DeLong - What Do Rising Interest Rates Mean for You?
Sarita Dua - Is Smart Technology Making Us Stupid?
Christine Browning - Tax Tips for Homebuyers and Sellers
Martin Millner - 6 Home Staging Tips to Get Your Home Market-Ready
Tim Majka - Should You Have Your Home in a Trust?
Jeff Cook - What 5 Statistics Define the Charleston Real Estate Market?
Sandy Eagon - 7 Tips for New Homeowners
Gloria Buck - Friends
Kevin Clancy - Why Is Prospecting the Key to Real Estate Success?
Renae Gibson - Friends
John Fagan - What Do Low Inventory and Rising Rates Mean for Our Market?
Marjorie Dick Stuart - How to Deal With Buyer Expectations During Contract Negotiations
Eric Vallee - How to Ensure Your Offer Beats the Rest
Brian Hammond - 5 Things to Avoid for a Successful Sale in 2017
Bob Guest - You're Invited to Our Client Appreciation Party!
Cristina Dougherty - Learn About the Latest Market Trends & a Great New Loan Program
Christy Morrison - When Is the Best Time to Sell Your Home in the Mountains?
Kevin and Amy Smits - Spring Events in the Mountains This Year
Kevin Yoder - Is Now a Good Time for a Real Estate Career?