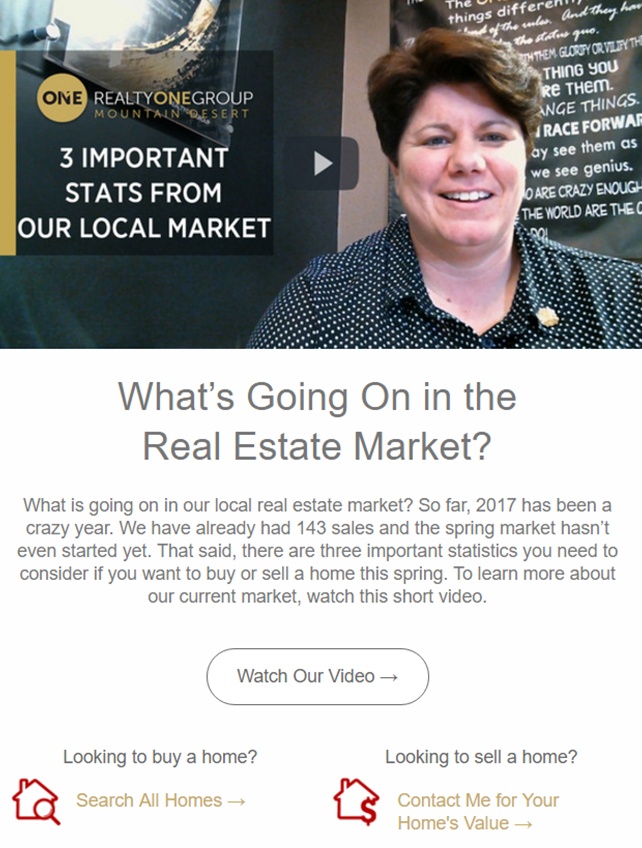 Congratulations to Vyral Client Holly Mabery for achieving email of the week! Holly's email, "What's Going On in the Real Estate Market?" generated a 32% open rate and a 12% click rate. We're all about educating and bringing value to your list of contacts and this is a great example of how to excite your client base in a unique way. Below you can find the 4 top performing emails after Holly's best performing email, along with some other client examples from last week. Enjoy!
Ashley Carter - Breaking News: Interest Rates to Increase
Gene Agustin - Why Did I Receive a Supplemental Tax Bill?
Neil Cowan - Important News About Mortgage Interest Rates
Michael Ireland - The Benefits of Buying a Home with Us
Sohail Real Estate - Why the Market Is So Strong This Year
Ruby Miranda-Saunders - The Pros and Cons of Building a Home Addition
Clayton Gits - How Does the Richmond Market Relate to the U.S. Market?
Mary Peacock - Keep Your Credit Clean With These Tips
Deja Lett - You Don't Want to Miss Two Brothers Pizzeria and Deli
Alan Kushmakov - Do You Want to Learn How to Go From Zero to $20 Mil in Production?
Jenna Harris-Hernandez - What Can We Learn From the DFW 2016 Market?
Paul Brouillette - The True Pros and Cons of Homeownership
Will Cook - How Reliable Are Online Home Value Estimates?
Brad Atkins - 3 Tips for Using Social Media to Grow Your Business
Deldi Ortegon - 5 Habits for a Successful Home Purchase
Lee Tessier - Are You Paying Cash? The Importance of Home Financing in Today's Market
Lenny LaRocca - What Are the Latest Trends in Flooring?
Andy Richardson - A Few Things for First-Time Homebuyers to Know
Joshua Stern - How We Do Things at The Stern Team
Tom Nickley - Here's How We Do Things Differently
Jason Huerkamp - Pitfalls to Avoid When Buying New Construction
Saul Zenkevicius - 3 Key Stats to Focus on in the Chicago Market
Shawn Culhane - The Key to Pricing Your Austin Home for the Highest Net Profit
Billy & Heidi Phong - The Benefits of Hiring a Buyer's Agent
Jon Carbutti -Kind Words From Danny Lyons About Carbutti & Co.