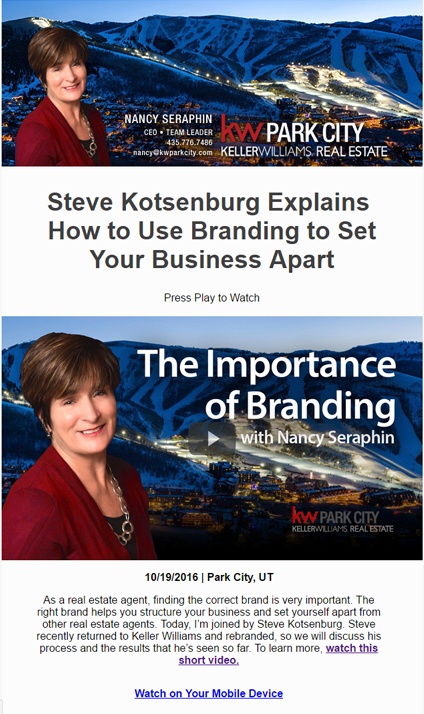 This week's email of the week is from Nancy Seraphin, where she sits down with Steve Kotsenburg to discuss the importance of branding in real estate. Her video, "Steve Kotsenburg Explains How to Use Branding to Set Your Business Apart" had an open rate of 28% and a click rate of 6%. Below you can find the top 4 emails following Nancy's best performing email, along with other client examples from last week. Enjoy!
Ian Lobas - "Can You Trust Zillow's Zestimates?"
Dan Ihara - "How Much Tax Are You Paying on Your Investment Property?"
David Vanneste - "Tour This Stunning Big Lake Home Inside and Out"
Shannon Rollings - "See What's Happening in Woodside Plantation"
Brad Officer - "Can Open Houses Still Work?"
Gina Giampietro - "Why Loyalty Is Important in Real Estate"
Don Vallee - "What the Dodd-Frank Act Means to Buyers & Sellers"
Mack Humphrey - "The Importance of Title Insurace"
Jason Secor - "Can You Sell a Home During Fall or Winter?'
Kevin Jimeno - "Keeping Costs Low and Profits High on Rehabs"
Spring Bengtzen - "Why Is Now a Great Time to Buy a Home?"
Amanda Howard - "The Benefits of Custom Building a Home"
Hunter Reynolds - "How the Upcoming Housing Market Shift Affects You"
Lee Yousef - "Should You Sell Your Calgary Home in the Fall?"
Jeff Cohn - "Where Home Sellers Go Wrong"
Melida Potts - "Don't Be Fooled by Discount Brokers"
Andy Richardson - "4 Reasons Fall Is a Great Time to Sell Your Home"
Dave Friedman - "How Do Buyers Know If a Home Is Priced Fairly?"
Heidi Phong - "3 Reasons to Get Pre-Approved"
Tara Limbird - "Outsell Your Neighbors With These 4 Tips"
Team Lally - "Getting to Know Brooks Bowman"
Kirk Simmon - "You Received a Lowball Offer. Now What?"
Josh Lioce - "What Should You Do With a Lowball Offer?"
Nancy Seraphin - "How to Use Branding to Set Your Business Apart"
Adam Butler - "How Does It Feel to Be Debt-Free?"
Brandon Montemayor - "The Benefits of Working With a Buyer's Agent"
Sam Carratla - "Why is Fall a Great Time to Sell?"
Tiffany Johannes - "Why Isn't Your Offer Getting Accepted?"
Jason Huerkamp - "Should You Get Pre-Approved or Pre-Qualified?"
Craig Akers - "The Top 10 Tips for Remodeling Your Home"
Rick Bowal - "Announcing Our New Website"
Focus Real Estate Team - "Brexit's Effect on Our Real Estate Market"
Chris Snow - "3 Items That Should Be on Your Home Buying Checklist"
Lisa Treu - "The 3 Types of People You Need in Your Life"
Rhonda Sher - "How to Effectively Send Messages on LinkedIn"
Scott Sachs - "Check Out This Newly Remodeled Townhouse"
Monique Walker - "Join Us on November 5th to Help the World's Poor"
Mike Putnam - "3 Reasons to Sell Your Home Now"
The McNamee Team - "Enter to Win a Yeti Cooler"
Joshua Stern - "How We Sold an Expired Listing in Less Than 2 Weeks"
Chris Colgan - "Waiting Periods After Short Sales and Foreclosures"
Maria Hoffman - "4th Quarter Tampa Bay Market Update"
Jim Griffin - "We Need More Sellers"
Jeff Cook - "Help Us Rebuild Charleston"
Sarita Dua - "Tips for Protecting Your Home This Holiday Season"
Doug Elliott - "The Benefits of Selling During the Holidays"
Tiffani Robin - "10 Signs It's Time to Make a Move"
Sam Dodd - "Questions to Ask Yourself Before Buying a Home"
Aaron Rian - "Are We in a Buyer's Market or a Seller's Market?"
Dave Hooke - "4 Tips to Help You Win the Home You Want"
Maverick Real Estate Group - "The Truth About Real Estate Teams"
Kevin Langan - "What Are the Benefits and Drawbacks of an HOA?"
Nathanson Bros - "How Professional Photos Help Sell Your Home"
Jose Morales - "Getting Your Education Outside of School"
Nean & Neal - "We Are Looking for Agents to Join Our Team"
Thomas Elrod - "Introducing Our Field Coordinator"
Frank Valente - "Getting Pre-Approved for a Home Loan"
Jill Rother - "How to Select a Property Management Company"
Brian Gubernick - "3 Reasons Fall Is a Great Time to Sell Your Home"
Eric Burch - "Knowing How to Handle Due Diligence in Jonesboro"
Deldi Ortegon - "2 Unique Opportunities for Sellers in the Fall"
Chris Colgan - "Why All New Agents Need to Prospect"
Aaron Hendon - "Food Tours Seattle: XXX Rootbeer Drive In"
Tim Majka - "We Are Imagine Reality!"
Lee Tessier - "How to Buy and Sell a Home Simultaneously"
Jack Bataoel - "Why You Can't Trust Zillow's Home Valutations"
Jeremy Higgins - "The Importance of Marketing Your Home"
Danny Burks - "Don't Let Investments Flush Your Money Down the Toilet"
Nick Leyendecker - "Trees for Toys 2016 - Celebrating 15 Years of Giving"
The Pazi Group - "Welcome to My New Video Blog"
Scott Futa - "Should You Rent Your Home Out or Sell It?"
Jason Morris - "How to Get an Agent to Buy Your Listings"
Enrique Medellin - "The Difference Between Listing Agents and Buyer's Agents"
Chad Hauer - "Pierce County 3rd Quarter Market Update"
Brett Sikora - "The Benefits of Buying an Off-Market Property"
Jeremy Sisemore - "The Secret to Writin Good Job Descriptions"
Tiffany Lachnidt - "Why Didn't Your Home Sell?"
Andrea Manroe - "Breaking Down the Credit Repair Process"
Bob Guest - "How Drone Photography Can Get Your Home More Exposure"
David Wyher - "Your New Real Estate Resource"
Scott Neal - "Who Should You Take Real Estate Advice From?"
Valerie Hunter-Kelly - "Why Home Inspections Are So Important"
Charleston Homes - "Why Winterize Your Sprinkler System Now?"
Cathy Naiser - "Investing in Real Estate to Pay for College"