#VyralMarketingShow – Episode 2 - In this week's show you'll see how simple color correction in Adobe Premiere made our first episode look so much better, we discuss the best way to call - or hire someone to call - the people who watch your videos to start business conversations, and how you too can use YouTube Live (previously Google Hangout) or Facebook Live for 2-way live stream interviews with the upcoming new Blue Jeans plug in (https://www.bluejeans.com/site/facebo...). Guests Andrew Alix at Vyral Marketing and Matt Johnson with PursuingResults.com join us to offer their expert insight.
2:58min - Josh Lioce asks, "As a busy team leader who is in the daily grind, how do you set the time and stay accountable for following up with leads from our reports? If you delegate that to somebody on your team, how to you systemitize that follow up?"
10:38min - Nick Sakkis asks, "I'm already implementing the Vyral Marketing video email program, I want to take it to the next level and use Facebook Live and YouTube Live. What are some best practices or tips on when and how to use these tools? Additionaly, will Vyral be using Facebook and YouTube Live now that Google Hangouts are no longer available?"
SHOW NOTES
Be sure to take advantage of all of the perks of having a Vyral Marketing video editor. We can go in and color correct footage so it has more depth and pop. Check out the before and after images of Episode 1 of the #VyralMarketingShow.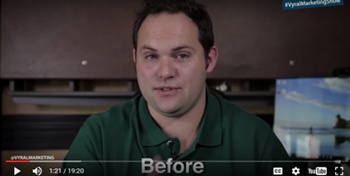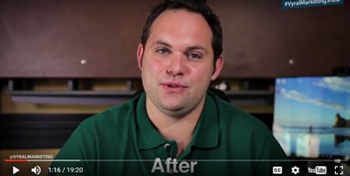 Today, you'll learn how to use Facebook Live to create a two-way interaction as well as the best way to call people who watch your videos to get business. You'll also learn how to use color correction in your videos to make them look as good as possible when sending them to your database.
-To start, we're answering a question from one of our great clients, Josh Lioce, a team leader at a real estate brokerage, who asked how to set the time and be accountable for following up with the leads he received from the Vyral Marketing system, and how to systematize or delegate this lead follow-up.
Proactively following up with the people who engage with your content and know who you are is where the benefit is. It's where you can spark some business. Finding the time to make these calls is a problem any business owner faces, and it starts with getting up earlier in the morning to make that time.
Remember, these are the most important phone calls to make because they are the people who actively engage with your content and know who you are. We send you a lead report of the people who clicked and engaged with your content within a few days of the email, and these are the first people you should call. We highlight the high-priority leads on your report; the people who opened your email and watched your video.
How should you reach out to these people? No matter your business, you should be asking for feedback. It's always important to ask how you can make your content more helpful and which topics clients want to learn more about. You want to start the conversation by finding out how you can be helpful and bring value to them.
When it comes to language and scripts, we'll provide you with what to say on your updated lead report. This will help you move through the contacts you're reaching out to quickly and easily. The language we send is helpful for any business asking for feedback.
You must reach out to these contacts multiple times. We block off five attempts on the sheet that we send--this might be a lot for your industry, but you always want to reach out three times or more.
Finally, how can you delegate these calls? It could be your executive assistant, calling assistant, or even concierge. Nothing should change in the script other than the fact that they will say "Josh wanted me to call you..." or "Josh wanted to let you know..."
The slight change to the script would sound like this: "Hi Bob, this is Frank. I'm calling on behalf of Josh, who is a team leader here at Keller Williams Realty. I understand you subscribe to the video that Josh sends out. Josh just wanted me to say thank you, and he wanted to know if there are any questions he could answer for you in an upcoming video. Do you have any questions about sales or marketing or transactions that he could answer? I'll pass it along."
Josh looked great in his submitted video question. Look and sound just as good by using our recommended webcam - the Logitech C920.
-Our next question comes from Nick Sakkis in Tampa. He's curious about taking the Vyral Marketing plan to the next level with Facebook Live and YouTube Live, because he thinks they're both underutilized.
Live video and streaming is all the rage right now, so how can you leverage this for your business? You can absolutely use these channels for a live interview in addition to your recorded and edited Vyral Marketing videos; the challenge is the technology to pull it off. Google Hangouts still exists, but they are now integrated through YouTube.
You can start a live event simply by going to the back end of your YouTube account and clicking the 'New live event' button in the top right corner of the page. You can give the event a title and description, as well as select the date and time. You can go live instantly, too, if you want. You'll get a YouTube share link that you can send out, and of course, the video records to YouTube for later use.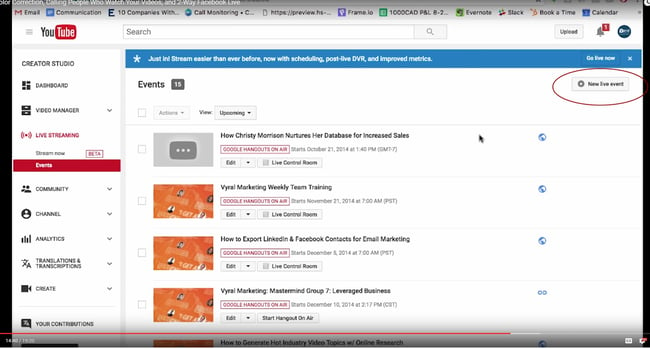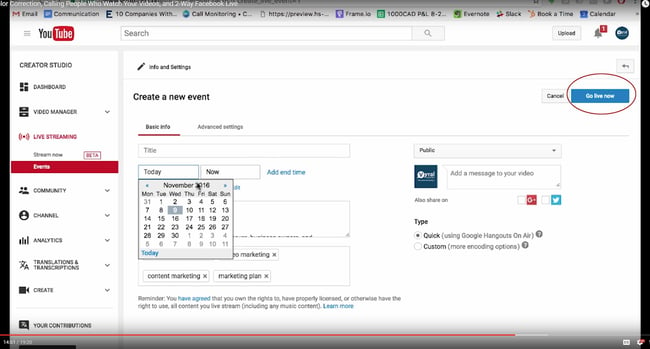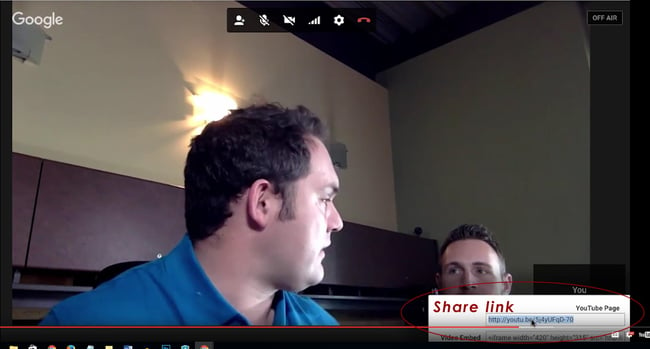 What about Facebook Live? The YouTube stream doesn't go to Facebook Live. Facebook only lets you broadcast 'one to many,' meaning you can't have a two-way conversation or interview. However, a company called BlueJeans lets you link up video conferences with Facebook Live integration. It's a lot like setting up a Google Hangout with as many people as you want on the inside of the broadcast, and when you go live, you can broadcast to any groups on Facebook.
We think doing your Vyral Marketing interview videos live will not only be more natural, we think it's the way the future is going. As the BlueJeans integration becomes available, we'll keep you updated via your Vyral Marketing Specialist.
Check out the BlueJeans trial registration: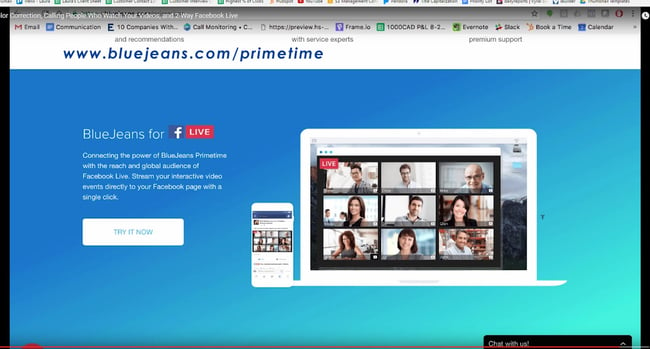 -Remember, if you submit a question that we answer on the Vyral Marketing Show, we'll send you a $25 gift card.
----------
ABOUT #VyralMarketingShow
Our show mission is to help our clients - business owners, professionals, and entrepreneurs - reduce the pain of growing their business by attracting new clients and customers with personal, authentic content (videos, blog posts, podcasts, and more) that helps people. We talk execution and implementation.
Join us as we update you on what's new at Vyral Marketing, answer your submitted questions, and share the best marketing tips working for our clients. Tweet #VyralMarketingShow or mention us on social media @VyralMarketing with your question. If we answer your question on the show, we'll send you a $25 gift card!
Join our VIP List (Weekly e-Newsletter): http://hubs.ly/H05kWH20
SUBSCRIBE ON iTUNES: https://itunes.apple.com/us/podcast/v...
YouTube Playlist of All Episodes: https://www.youtube.com/playlist?list...
----------
ABOUT Vyral Marketing

Vyral Marketing helps entrepreneurs, business owners, and professionals reduce the pain of growing their business by attracting customers and clients with personal, authentic web videos that help people. It all starts by better communicating with your #1 business asset - your customer and prospect database. We do all the work for you. We interview you on an HD webcam and then do all the editing, writing, optimization, and promotion work for you so you position yourself as the expert to attract business, not chase it. Get a copy of the official video marketing plan we recommend for all our clients and see pricing, how it works, FAQ's, reviews, examples, and more at http://www.getvyral.com
*Spelling correction, Andrew Alex should be Andrew Alix within the video