#VyralMarketingShow – Episode 3 - You'll see pictures from our Cancun Real Estate Mastermind, we answer the question "How do I maximize my Vyral Marketing ROI?" (i.e. How do you get the best business results sending videos to your database?), and you'll see an example landing page we use that generates a 35% conversion rate for an ebook - with our insight why it works so well - so you can apply the principles to your landing page designs.
2:09min - Susan Heller - "So Frank, how do I maximize my ROI when working with the Vyral Marketing plan?"
11:13min - A simple landing page design example you can model
SHOW NOTES
Check out photos from this year's Real Estate Mastermind from 1:28-1:35! Our Mastermind event focuses on bringing clients from the same industry together to share and create new ideas.
In this episode Susan Heller asks, "How do I maximize my ROI when working with the Vyral Marketing plan?"
To answer that question, there are six key points:
1. Mindset. Don't create content that is "salesy." Aim to provide advice and educational content. If you answer questions that are commonly asked, you will fulfill a need, and if you are helping your clients, they will help you. Ask yourself if someone would pay to receive your content. If your videos fall within this standard you are on the right track.
2. Target Market. While quantity over quality can work for a database, we recommend finding those contacts that are within a target market. Find which areas of town have the highest turnover. Cross reference that with the highest price points and you'll find the sweet spot where turnover and commission meet.
3. Reconnect. Pull all your contacts together and send out a simple text email apologizing for not staying in touch. Invite them to unsubscribe from your mailing list, and that way, you have set yourself up with a database that is more likely to connect with the content you will be sending out in the future. These remaining contacts may be able to refer you into your target market as well.
4. Ask for Emails. In face-to-face situations, simply ask for an email address so you can add them to your database. You know if these individuals are in your target market or can refer you to someone that is.
5. Publish Q & A Videos: Follow the Vyral program and send out two question and answers videos a month.
6. Call Your Database: Call the people you know. They may help grow your database if you stay engaged and maintain the relationship that you have with them.
For more valuable information on how to most effectively work your database, check out this webinar featuring Frank Klesitz and Hoss Pratt: How to Get More Commissions From Your Database for Real Estate Agents
Check out Episode 2 of the #VyralMarketingShow for more tips on calling people who watch your videos: Color Correction, Calling People Who Watch Your Videos, & 2-Way Facebook Live
Next, we explore the best tools and strategies you can use to design an effective landing page. Feel free to visit one of our landing pages at http://thedatabasereset.com/. This particular page was designed using unbounce and it has a 35% conversion rate.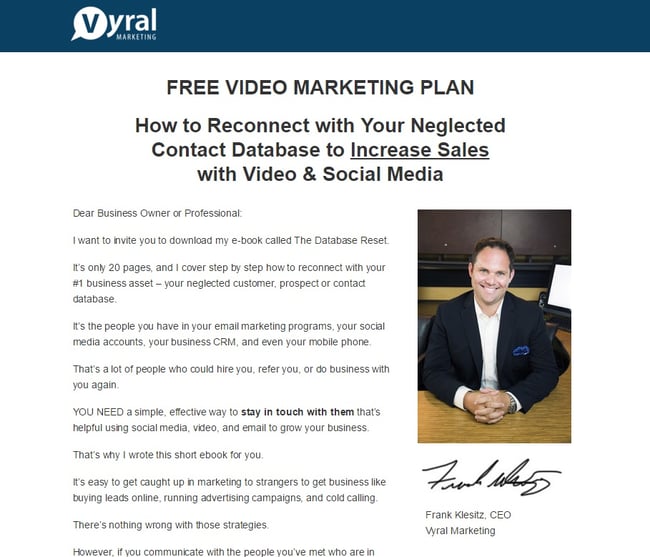 Follow these simple guidelines when creating a landing page:
You have a header that contains your logo and uses your brand colors.
You have a pre-headline or "offer" that states, as clearly as possible, what an individual will get for handing over their contact information (Free Video Marketing Plan).
The headline is the most important part of the landing page. It should contain pain avoidance wording (How to Reconnect with your Neglected Contact Database to Increase Sales with Video & Social Media) and also illustrate a benefit that comes with avoiding that pain. You can use Google to find good headline formulas as well.
A good test of your offer and headline is asking yourself, "Would someone still opt-in if the only content on this page were the offer and headline?" If the answer is yes, you're ready to put together copy.
The body copy is all about the message. Don't get caught up in the design, focus on your message. Here are a few simple rules:
Personalize your message, write it in first person. Say "you" as many times as you can. It feels ridiculous, but you need to speak to the person you are sending your message to.
Get to the point. Invite them to get your offer right away and go from there. Follow a format that illustrates a problem and how you can help solve it.
Whenever you mention a benefit, bold your font. Create a secondary reading path that draws the reader in.
Write in short paragraphs. Many people look at email or websites on their mobile device. You don't want five or six sentence paragraphs making your message hard to read. Limit yourself to one or two sentences per paragraph.
Your overall message should be, "I feel your pain and I want to help you resolve it."
Don't get caught up playing with design and remember to focus on the heart of the copy and your message. Once you do that, it makes everything so much easier and you'll find yourself generating more leads and opt-ins for things like webinars, e-books, or free consultations.
Read The Gary Halbert Letters and learn even more about personalized, direct marketing.
If you have a question you'd like us to answer, we want to answer it! Tweet #VyralMarketingShow or mention us on social media @VyralMarketing with your question. If we answer your question on the show, we'll send you a $25 gift card!
----------
ABOUT #VyralMarketingShow
Our show mission is to help our clients - business owners, professionals, and entrepreneurs - reduce the pain of growing their business by attracting new clients and customers with personal, authentic content (videos, blog posts, podcasts, and more) that helps people. We talk execution and implementation.
Join us as we update you on what's new at Vyral Marketing, answer your submitted questions, and share the best marketing tips working for our clients. Tweet #VyralMarketingShow or mention us on social media @VyralMarketing with your question. If we answer your question on the show, we'll send you a $25 gift card!
Join our VIP List (Weekly e-Newsletter): http://hubs.ly/H05kWH20
SUBSCRIBE ON iTUNES: https://itunes.apple.com/us/podcast/v...
YouTube Playlist of All Episodes: https://www.youtube.com/playlist?list...
----------
ABOUT Vyral Marketing

Vyral Marketing helps entrepreneurs, business owners, and professionals reduce the pain of growing their business by attracting customers and clients with personal, authentic web videos that help people. It all starts by better communicating with your #1 business asset - your customer and prospect database. We do all the work for you. We interview you on an HD webcam and then do all the editing, writing, optimization, and promotion work for you so you position yourself as the expert to attract business, not chase it. Get a copy of the official video marketing plan we recommend for all our clients and see pricing, how it works, FAQ's, reviews, examples, and more at http://www.getvyral.com