SUMMARY: You'll learn how to read a simple script into a microphone so you don't have to be on camera. A voiceover is the best way to record a video when you must be 100% on message. Voiceovers work best for sales and promotional videos. Simply send us photos or footage. We'll add in music and the voiceover. We can record the voiceover for you (once we agree on the script) or you can record it using your computer. In this episode, you'll see how real estate clients taking my upcoming recruiting class to launch Jan 8th are creating videos to sell tickets to upcoming training events. I use the Yeti microphone, with the levels set correctly, to read a client's script into recording software (Audacity). This way you can see how it works to record your own voiceover. Remember, we can record the voiceover for you so there's no work required of you. This is available to all clients. If you want to make a promotional video, and you don't want to be on camera, this episode is for you.
Need to stay in better touch?
Download the video marketing plan we recommend.
This episode was produced (shot and edited) by Vyral Marketing Apprentice Peter McDonald. Have feedback on how we can make the show better? Also, do you have a marketing question where you'd like to be scheduled as a LIVE call-in guest to ask it? Email Peter with your feedback on the show or with your marketing question for Frank and get a $5 Amazon Gift Card.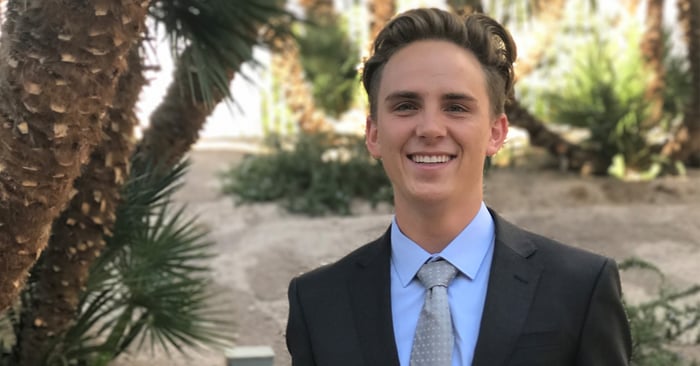 The article below to summarize the episode was written by Vyral Marketing Apprentice Sandy North. Want better articles? Get a $5 Amazon gift card if you email her with feedback on how future articles can be better for you.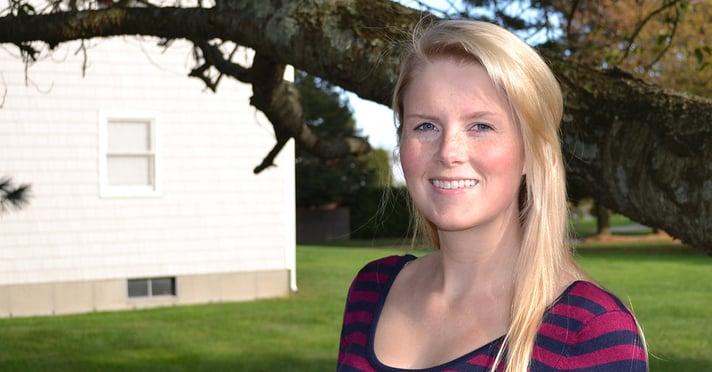 Voice overs are wonderful when you are tasked with delivering a message that is very structured and on point.
When delivering a message on camera it can be difficult staying directly on script without a teleprompter. This is where you may want to use a voice over. If you have a very structured message that you need to deliver sometimes it's best to use this short cut. This way you are not reading a script on camera.
If you are promoting an event, instead of just writing a description on Facebook or Eventbrite, why not take it a step further? You can create a cool trailer with content of either video or images and just add a voiceover. This can be done quickly and with minimal effort and it will make your promotion much more intriguing. Voice overs are typically used for some sort of promotional video for an event, or perhaps a "why hire me" video, where you highlight the benefits of paying for your specific services.
So to do so, you need a script. You want to keep it short but on message. The average rate of speech is somewhere between 110-150 words per minute. Typically, the slower you speak the better. This allows people to absorb your message and have ample time to process it. The script example mentioned in the show, is about 220 words.
In this episode, Frank records a voiceover for Vyral client Justin Udy. Justin is a Real Estate professional who is looking to recruit other Real Estate professionals to build his team.
Currently we are working with Justin to create his call to action that will be used in all of his recruiting material, or rather, his agent training material. He would ideally like to have the event held in his office. So, this is inviting these agents to his event:
"Are you ready to take your business to the next level? Are you a Real Estate Agent that wants to sell more homes? Are you looking to make 2018 your best year ever? Well you're invited to attend our next training, to get laser focused on what you need to do to get results. You will learn how our Real Estate Business works, And you'll get an exact copy of the business plan we follow to sell hundreds of homes. This plan will show you how we generate 200 buyer and seller leads every month, and we also have a stream of referrals. You'll learn all of the software, tools, and apps that we use for results too. We're going to give away all of our strategies and systems for you to use in your business. No matter if you're new to the business or an experienced Real Estate agent, I invite you to attend our upcoming event. Like I said, you'll leave with a full business plan to implement the systems and strategies you need to increase your income, get more done in less time, and manage your sanity from to the ups and downs of real estate. So you can enjoy consistent and predictable income with peace of mind and free time. See you at the event!"
Equipment
When it comes to microphones, you have several options.
But here are two:
A USB headset with an attached microphone. Or if you prefer a higher quality of equipment we recommend the Yeti Microphone.
There is nothing wrong with using a basic USB microphone to record this voice over. You just plug it into the computer and BOOM you're half way there. If you do use a USB microphone/headset, make sure you position the mic where you do not get your breathing in the recording. Position the mic slightly above your nose.
If you prefer better audio quality we recommend you check out the Yeti Mic. We keep ours suspended from an arm to ensure that it doesn't pick up any unnecessary vibrations by sitting directly on the table.
While recording on the Yeti, you want to record very close and off to the side so you are talking across the microphone, not into it.
Pro Tip: You have the option to add what's called a Pop Filter to the Yeti Mic. The Pop Filter ensures that when you pronounce your P's you don't get the extra air into the mic. The Pop Filter is about $6 and you just put it over the microphone.
The voiceover recorded in this episode will be lined up and connected to the promotional video for Justin Udy's event. Justin will be sending us the footage he wants to include in his promo, and we will then strip the footage of its original audio and add this voiceover to it. Then we will add some music and it will result in an awesome promotional video to get people to his event.
We recommend using Audacity. Which is a free audio recording software. Check it out at audacityteam.org.
How to Record a Voiceover Using Audacity
Step 1: Set up your Microphone
Plug in your microphone. And Select the microphone you'd like to use on the left-hand side at the second drop down menu option.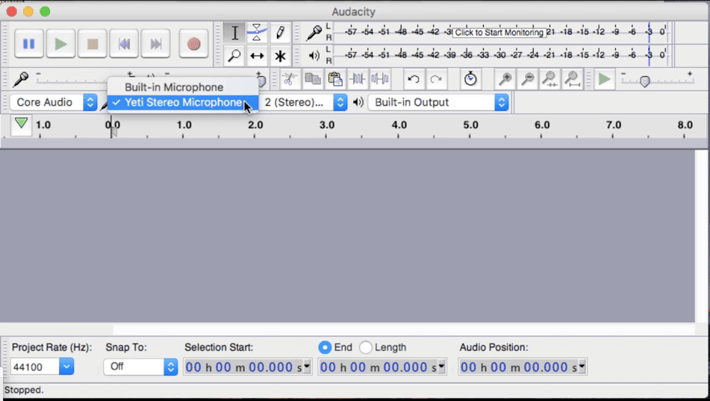 Step 2: Adjust the Gain Levels
Bring the microphone gain levels all the way up. Gain is the amount of energy or input that goes into the microphone.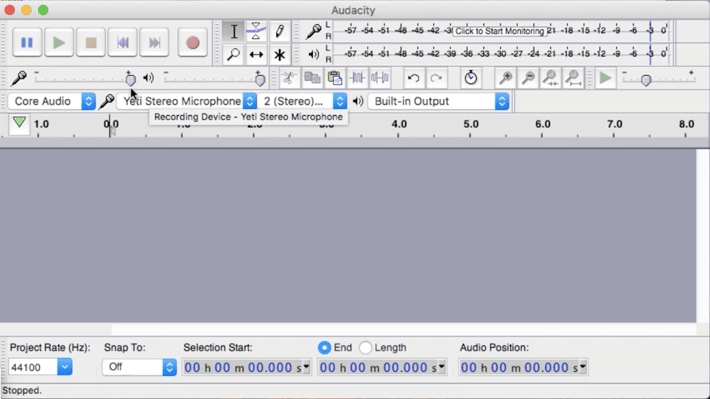 Yeti Microphone: There is a gain knob on the back. Go ahead and turn that all the way up. And on Audacity, where the microphone icon is on the left hand side - drag that level all the way to the top.
USB Microphone: Just use the gain level adjuster on Audacity which again is located next to the microphone icon on the left hand side. Bring the Gain level to maximum value.
Step 3: Test the Microphone
Hit record. Say a few words, then stop and listen.
Step 4: Check Gain Level
Play the test audio and look at the meter in the right hand corner. While the recording is playing be mindful of the colors and the levels you are hitting. You want to be in the -12 to -6 range for both volume and gain. If you are hitting the red this means you need to turn the gain down.
Yeti Microphone: Start by turning down the gain level on the actual microphone. If you still find yourself hitting the red zone then move on to adjusting the gain level on Audacity.
USB Microphone: Adjust the gain accordingly on Audacity.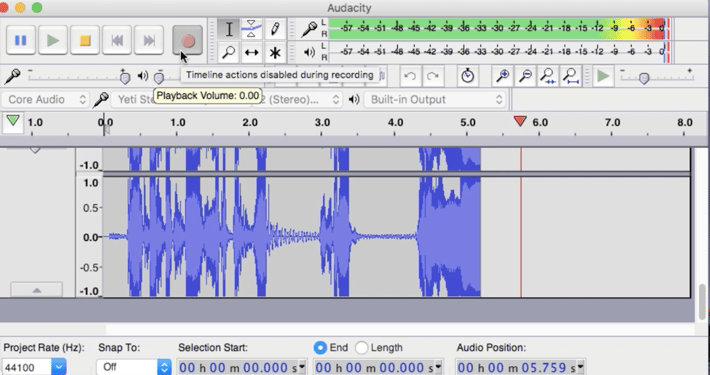 Step 5: Record
Once you are satisfied with your gain levels, you can move on to recording your voice over. Take it nice and slow and be sure to articulate so your listeners can absorb the information.
Step 6: Listen
Ensure that you are fully satisfied with your recording. Re-record if necessary.
Step 7: Save
Click file, then save. There you have your audio file
Finished Product
When it comes to the finished product of the promotional trailer, there should be 3 layers. There should be music, audio, and the footage.
For the music, we recommend using premiumbeat.com and searching for royalty free music. The next layer would be, in this case, the voiceover. Then, finally the footage. Whether it be video or photos, just some type of visual.
Client Example
This is Brian Gubernick's promotional video he used for his event.
We recorded some footage for him, and Frank recorded the audio for him. All this is, is footage and a voice over. These are very painless to make and have.
So if you're looking to do a voice over for one of your videos, write yourself a script. Take your computer and some sort of microphone and record! Do a diligent job of reading your script and stay at a good pace. We challenge you to stay at 110 words per minute.
If you are a client here at Vyral and you'd like us to record a voiceover for you, or write a script for a promotional video or any type of message you'd like to get out there, just let us know. We would be more than happy to help. We will get you on the phone with one of our specialists and we will help you craft a script with some good copy writing principles. If you don't have time to do the voice over we can take care of it for you. We have an abundance of equipment here to use to your advantage. All you have to do is send in the footage or photos you'd like to pair with the voice over and we will take care of the rest.
This is an extra service we provide for our clients at no additional cost.
New Service Alert:
Starting this January, Vyral Marketing will be rolling out its very own curriculum! Specifically, on the topic of recruiting. If you'd like to learn more about how to find top talent for your industry we are going to show you how to do so!
There will be three class times per week offered and there are 8 openings per class. The semesters will be 6 months long. The first enrollment is January 8th, 2018 followed by the next opportunity to enroll in July. If you'd like to learn more, email Frank Klesitz at Frank@getvyral.com.