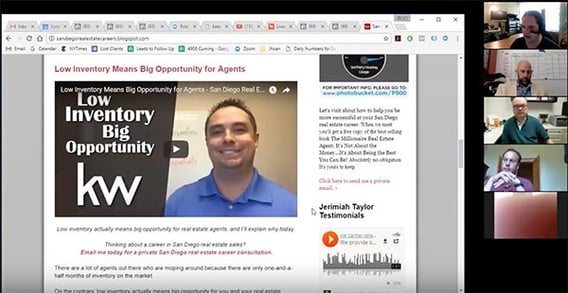 Clients and friends,
Last Wednesday, I started a small consulting group for owners of real estate brokerages and their recruiters.

I meet with them weekly in a small group (5-8 people) via video conference to help them implement our video marketing plan at a high level to advance their agent recruiting efforts.

In 2018 I'm putting together additional, highly-structured six month consulting groups if you want extra advice and support from me, my co-founder John, and other senior talent here.

Let me know if you have interest in this. We'll have one track for people who need help recruiting, another for building a co-marketing program, a track to master your database marketing, and other helpful tracks that solve problems.

This will be offered across all client industries - mortgage, fitness training, recruiting, wealth management, and more.

We'd meet every week as a small group for six months, after a one day initial meeting in San Diego, with a monthly private call - all to implement the Vyral Marketing Plan for your particular needs at the highest level.

In this case, I'm taking a handful of Keller Williams regional owners, directors, market center owners (operating partners), and recruiters (team leaders) through our core marketing plan to improve their results attracting successful real estate agents to their office.

There is an in-depth six month syllabus I wrote delivered over 24 sessions with homework each week.


At some point in your business, you'll need to hire people to help you.
If you're in real estate, you'll need real estate agents. If you're a CPA, you'll need CPA's. The same goes if you're a personal fitness trainer - you'll need them for your studio.

One of the best ways to recruit proven talent to work with you is to call up others in your profession, ask if they would like a free subscription to your business newsletter, and then send them advice to help them make more money, get more clients, and leverage their success.
This is how people get to know, like and trust you. The offer is to simply meet with you or attend one of your team meetings.
I'm helping these Keller Williams leaders publish two business coaching videos a month, host a live monthly webinar with an agent about their success, and live stream their office meetings.
If you're a client, our team handles all this execution for you. Here's how it works.
All the content is optimized to get found online, promoted to active real estate agents in your area on Facebook, and sent to your house email list of agents and recruits.
I want to share the first email (template to be personalized) these real estate leaders will send to all their agents and recruits this week.
This will give you a better idea of the philosophy behind great recruiting marketing…
FROM: Your Name
SUBJECT: New business coaching videos
KW Agents and friends,
I wanted to let you know I'm starting a new real estate business newsletter.
It's about the "business" of real estate so you can improve your lead-generation, appointment setting, listing presentations, service, referrals, hiring, leadership skills, and much more.
Over the years, I've been super fortunate to attend events and talk to top producing agents to learn about the mindset, skills, and leverage needed to make money.
In fact much of the insight I've learned from you, too.
So, if you're thinking about getting into the business, you're new to real estate, or you're currently a real estate agent I think you'll see value from my newsletter.
I plan on answering a question of yours every two weeks on video.
There will also be a written summary. I'll post the video on Facebook, email it to you, and it's also going up on an iTunes podcast so you can watch/listen that way, too.
Further, I'm going to hold one live webinar a month to interview a successful agent in our office, or any office for that matter, to find out what's working now to sell homes.
Would you be interested if I also "live streamed" our office trainings, too?
The bottom line is I want to fully leverage technology for you at the highest level to solve your problems. I know the top problems are lead generation, hiring your first assistant, and overcoming the fear of talking to new people.
Please email me with your questions - I will answer them in an upcoming video. I really want this to be a two-way conversation with the goal of growing your business.
Now, I know you're getting this email out of the blue. If you're not interested in my upcoming newsletter, that's okay. Just unsubscribe below and you won't get them. No hard feelings.
Otherwise, follow me on Facebook here: (Facebook link)
I'm going to post the videos, webinars, and someday live stream our office events for you there. You'll also get notified twice a month about what's new to your email address.
Your first coaching video to be released soon is on the "Top 6 Lead Sources For Listings" with further videos going deeper into each pillar. This is what we'll spend our time on during our first 90 days together.
Need more personalized advice? You can also book a time with me anytime for a free coaching call.
I will meet with anyone thinking about a new career in real estate, including current agents with another brokerage. My first priority, however, is always for our current KW agents.
When we meet you'll also get a copy of the Millionaire Real Estate Agent book which many of the systems and models we discuss are based.
Call me at _______________ or reply to this email to visit.
With that, I'm excited to do a better job of staying in touch with you.
You're going to love this newsletter. I want to turn a camera on all the great things happening in our market center(s).
Stay tuned! I shoot your first business coaching video this week.
- Your Name
If you'd like help with any of this, just email me directly if you're a client.
You can also request a free strategy call and take a 30-day no risk test drive of our done-for-you service if you're thinking about working with us.
Let me know, too, if you're interested in joining a structured consulting group.
What problem would you like to solve in your business with our marketing?
With that, have a great weekend!

Frank Klesitz, CEO
Vyral Marketing