Real estate clients and friends,
I wrote you this week on how to adjust your communication with your database due to the Coronavirus outbreak. I highly suggest you read it.
I'm of the opinion all your communication with your database for the next few months will be entirely Coronavirus related (home prices, staying safe at showings, reassuring people, providing local real estate facts, being the calming voice, etc).
With that, as we all try to figure out what's going to happen with this disease, people still need to buy and sell homes. It's my goal you still get that business.
With your permission, I'd like to give you a great marketing tip this week you can use to find people who want to sell their home with cold, outbound email.
We just wrapped up the module on "How to Build Your Seller Lead Database" in my Masterclass this week.
I covered in this module how to get seller leads into your database in the first place, in addition to staying in better touch with your past clients and sphere (of course).
Here's what we covered these past 5 weeks together:
Lesson #1: Exporting likely to sell county records with phone numbers
Lesson #2: Generate inbound calls from personal direct mail
Lesson #3: Identify leads with a telemarketing assistant
Lesson #4: Get inbound messages with FB Messenger ads
Lesson #5: Automate outbound, cold email marketing to homeowners
I want to give you a brief overview of Lesson #5 today.
There are two specific lists I want you to think about.
Your archives of old, dead past leads
A purchased mailing list of homeowners likely to sell their home
One of the fastest ways to spike inexpensive opportunities is to send a short, personal email to each of your old leas to revive them.
I know some of you have thousands of these. Even tens of thousands.
Export all your old/dead/archived leads from your CRM, scrub them through Neverbounce.com so it's clean, and send this personal email message to each…
FROM: Your Name
SUBJECT: Quick question
Are you still interested in buying or selling a home in (area)?
Your name
You want to use a service like Woodpecker to automate this for you. It will send the emails one by one through your Gmail or Outlook account instead of doing it manually.
Your email should be a personal, one-to-one email through your Outlook or Gmail account on a separate domain (very important to reduce spam hits on your main domain).
You'll get plenty of responses and opportunities to work.
It's just so simple and effective we forget about doing this at all.
Add the reactivated opportunities to your database on the Vyral Marketing Plan. Set appointments with the hot ones!
I covered the details of this strategy in class. A shout out to Dean Jackson for this strategy.
Onward to the next way to maximize generating seller leads with cold, outbound email....
I want you to purchase a list of homeowners who are likely to sell their home. You can append email addresses to the property records with DataFinder or TowerData.
Make sure, again, to scrub your purchased emails through NeverBounce to make sure they are legit and deliverable.
Load the emails up into a service like Woodpecker and send out a message like this:
FROM: Your assistant
SUBJECT: <Property Address>
Hey <First Name> -
Would you be interested in selling <property address>?
I'm with a local real estate office on 144th and Maple down the street and there's a lot of demand for your home. Prices are up 30%.
Would you be open to accepting offers on your home? I can likely get you plenty.
Your Name
Of course, personalize the above message for you. It's just a template to get you started. Ideally it comes from your assistant, too. (more on this in class)
This is a popular strategy from the Predicable Revenue system (great book by the way).
Send out 100 of these prospecting emails a day. Automatically. That's 3,000 homeowners a month who get this email. It adds up fast.
Homeowners will start conversations with you every day. It's a great way to build your database that's low-cost and less painful than cold-calling, compared to other advertising methods.
There are important details to make sure this works, which I teach in class.
Here are the results from a recent outbound email seller lead-generation campaign: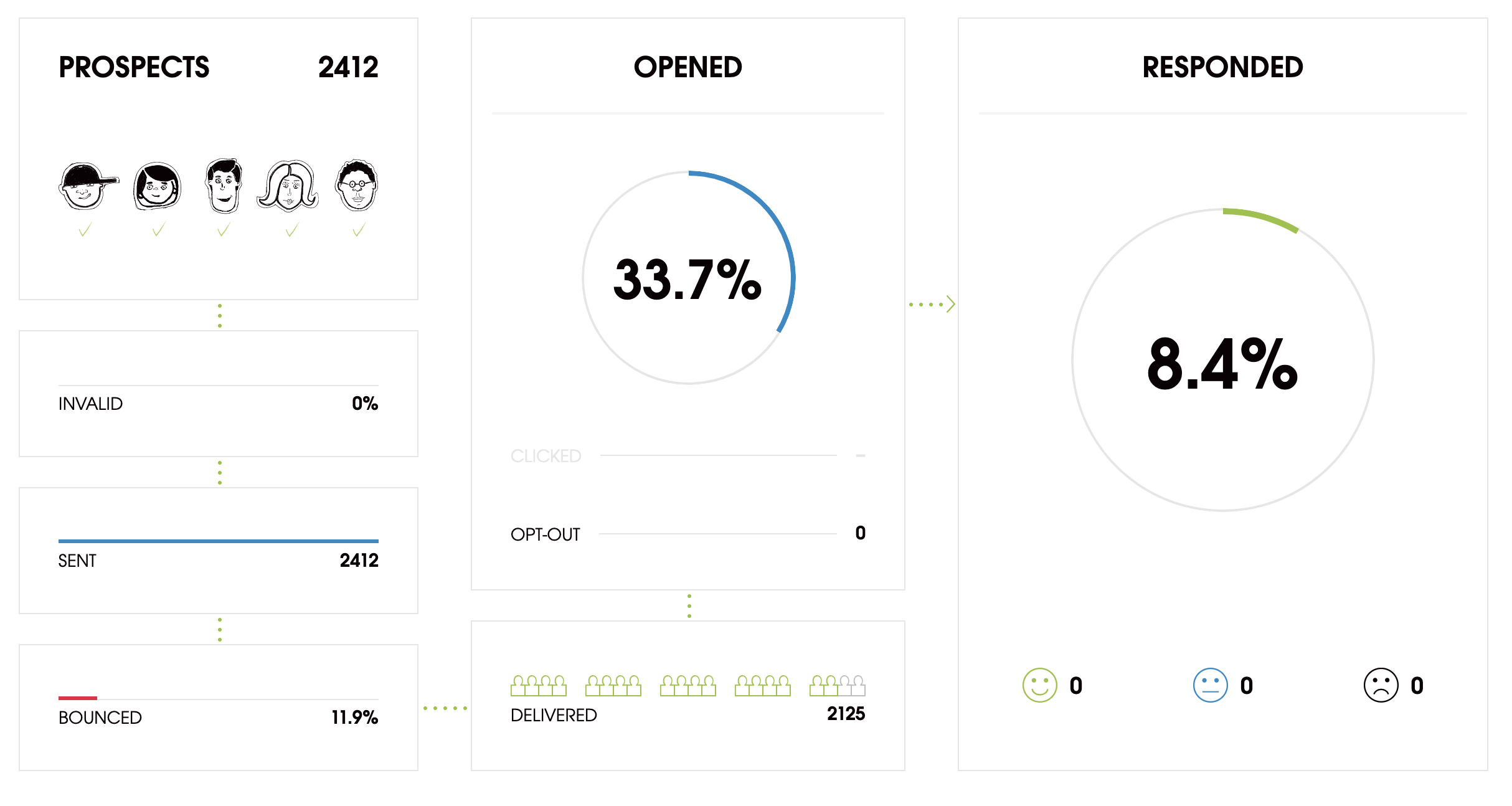 They made roughly $20,000 with a $200 investment.
They sent 100 emails out a day for about one month to a list of 2,412 homeowners. 715 homeowners opened them (33.7%), 178 replied (8.4%), 24 are nurtures, 6 appointments were set and 2 contracts got signed. I'll assume the revenue is $10,000 at closing, based on their area.
Total cost was $168 for the emails ($0.07 a record), $40 a month for Woodpecker, and $6 a month for the Google Suite domain. Not bad, eh?
The real profit comes from all the nurtures that convert into deals with our video marketing plan and proactive phone call follow up.
Let me know if you'd like to attend a class for free. Email john@getvyral.com. He will get you invited into the next class to see if you like it.
Class is every Monday at 12pm PST on Zoom. It's for real estate professionals only.
It's a 6-month course with 24 lessons. You can enroll anytime in addition to our core service.
Here are the details: https://www.getvyral.com/masterclass
You can attend one lesson for free at any time.
Here are the lessons for the current module on creating videos people want to watch:
Lesson #1: Picking the best topics to engage homeowners
Lesson #2: Writing an effective Q&A video script that's authentic
Lesson #3: Shooting a video that looks and sounds great
Lesson #4: Optimize your YouTube videos (SEO) to get found
If you would like to join us for a free class, let my business partner john@getvyral.com know.
I'd love to have you!
Stay safe and keep your database informed with all that's going on.
Sincerely,
Frank Klesitz, CEO
Vyral Marketing