Top 10 Takeaways from Caleb Pearson
1) Stay in front of your database
By staying in front of your database you are giving yourself multiple opportunities for repeat business and referrals.
Caleb states, "We were at a point where we were doing over 100 deals a year, we were high speed and super high volume and weren't staying in touch with the client anymore. It was pretty much how do we get them in and out the door as fast as we can. Then we started seeing, one not staying in touch with the past clients, those are free deals. Any referrals from past clients are easy deals. They're not interviewing 4-5 people, they listen to you, they trust you. So we weren't cracking into that database as much as we should have. So, we needed some sort of tool that would stay in touch and stay in front of past clients."
2) Continually work your database and sphere
By utilizing your number one business asset, you are able to gain peace of mind. The relationships you build and maintain pay off in a major way.
Caleb explains, "Just doing what we do, chasing these for sale by owners and the expired, I mean it's brutal, and doing it for 4 or 5 years you realize there's an easier way. If you work your sphere and your database a lot harder, those are just much easier deals. They're easier people to work with, more fun to work with, you work with people you enjoy working with a lot more. It's a whole 'nother place of mind where you have a more enjoyable lifestyle as well. It wears you down over time. Our whole culture is call, call, call, call, and it's still that way. But it's also nice to have that supplement of getting a few deals a month that just fall in your lap vs. chasing and hunting all day long every day."
3) Identify what works early
The earlier you can do the trial and error process the faster you can get to success. Caleb shares what he has found after being in real estate for 5 years. He has learned that Vyral works, and hiring a coach is the way to go.
He states, "We don't do radio, we don't do TV, we don't do billboards. So we don't have a whole lot of inbound leads they're more internet leads. We're getting profitable now. I've done the whole 'chase every shiny object' in real estate. I've bought every piece of software, every dialer, every lead source. Vyral works."
He recommends, "If anyone asks, I think the key to success is hire a coach early on. Because it's so easy to go into an office, you go into a big RE/MAX or a big Keller Williams and you've got 5 people in the office that are super productive than the other 100 don't do anything. It's easy to pick up bad habits early on in your career. So, I would hire an expensive coach. I really would spend the money on education early.
4) Buying leads is unnecessary
When you find yourself making time for calls each day, it becomes less necessary to buy leads. Those that you call Caleb has found are more profitable vs. the ones you buy.
Caleb asserts, "We've got like 50-60,000 leads in the database (from daily calling) that these guys call on (work the leads that they generate). If they have hammered them and hammered them, I'll go in and buy 10,000 leads and load them in there for them but I don't buy leads very often."
5) Discipline is key
When it comes to building a team, Caleb likes to build from the ground up. He does not hire anyone with previous experience in real estate. When they are new to the industry it is easier to keep the regime of culture and discipline Caleb upholds.
He proclaims, "We just like discipline, that's the key. We haven't hired anyone with any real estate experience because they've all got bad habits."
6) Reconnect
Here at Vyral, we are firm believers in reconnecting with past clients and mending relationships that have been neglected. By reconnecting with your database, you will find that repeat business can be a result.
Caleb notes, "It revives (Vyral), It has brought clients back to life that I thought weren't happy after the transaction is over and they came back to us."
7) Little time, big payoff
There is an infinite amount of value in staying in front of your database. With Vyral you spend very little time doing the work it requires, we handle it for you.
Caleb reported, "Just the videos and the quality of the videos, I can't tell you how many of my clients will shoot me a quick message back and say 'hey, cool video', 'love seeing your videos' 'good seeing your face' it just keeps you in front of them."
"It takes me like 10 minutes to put out a good quality video, because y'all do all the cutting and editing. I mean it's simple."
8) Calling is the foundation of the business
Caleb runs a tight ship when it comes to schedule. A lot of the team's time goes into phone prospecting.
He shares, "All of our guys get in, in the morning at 7 am. They train from 7-7:45, on the phones at 8:00. So I do training every morning for about 45 minutes with all my guys. Usually about 8 at a time. 5 inside sales guys then we have a couple of agents that come in as well. We cut leads off if you show up at 7:01 or 7:02. There is always skill training that you can go over. So these guys are good on the phone. The inside sales guys make about 250-300 dials a day depending on who they're calling. Then all of my agents make at least 100 dials a day too. So the whole team is just a culture of calling."
9) Be ruthless, keep going
When it comes to real estate, fear should not be in the equation. Rejection will happen and it is inevitable.
Caleb believes, "You can't be good at real estate, period, if you've got call reluctance, if you've got fear of failure. You'll never really excel."
10) Leading creates a motivated team
Caleb leads his team by doing. Not telling. In leading by example Caleb is able to create a fantastic office culture. Motivation never runs dry here.
Caleb discusses, "I think it starts from the top. I've always done it. That's how I got my business started. Then the next guy came in and saw that was how I had success. Everybody that comes in just knows to get on the phones at 8 am, you call from at least 8-10 am, even if you're just an agent on the team. It has just leaked all the way through the team. Nobody stays and lasts on the team if they don't call."
He confessed, "They see me in there with them and they see me take an ass whopping on the phone, and I mean everybody does. It can be brutal, some days you can have a good day and some days everybody could tell you to shove it. It's a culture thing. One ear, out the other, on to the next call."
Download Caleb's Video Marketing Plan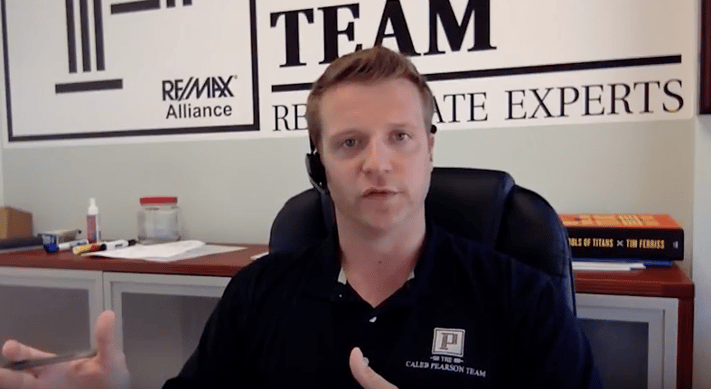 Caleb is a real estate agent in Charleston, SC who was given a phone book five years ago to get clients by a 25 year veteran in the industry.
He has sold 675 homes to date in his career, 219 of these homes sold in 2016.
Caleb is strong on the phone, with most of his business coming from expired listings, FSBO's, and "a good amount from my sphere and social media."

He's smart and building a database of homeowners who ask him to call back when they plan to sell within two years.
With all the people he talks to everyday, he needed a consistent way to stay in touch to earn the highest return on his time.
"I had a client who I thought was mad at me from a transaction long ago. He called me from my videos to list his $400k property. He also referred me to his dad who is buying a $600k home!", says Caleb.
"That's a million in volume to pay for Vyral for the next five years."
I want you to get the same results.
You'll learn how Caleb is building his database, what he sends them to say in touch, and how he follows up with the engaged people in his email list to set appointments and earn referrals.
You'll also see examples of his marketing so you can model what he does for results.
Get a free copy of the video marketing plan Caleb implements to stay in better touch with his database on the homepage of www.getvyral.com.
If you want to get more business from your database, or you're a Vyral client who wants to improve your results, this interview is for you.
Frank Klesitz, CEO
Vyral Marketing
Caleb's Marketing Examples
Example YouTube Video (watch all Caleb's videos)
Example Video Email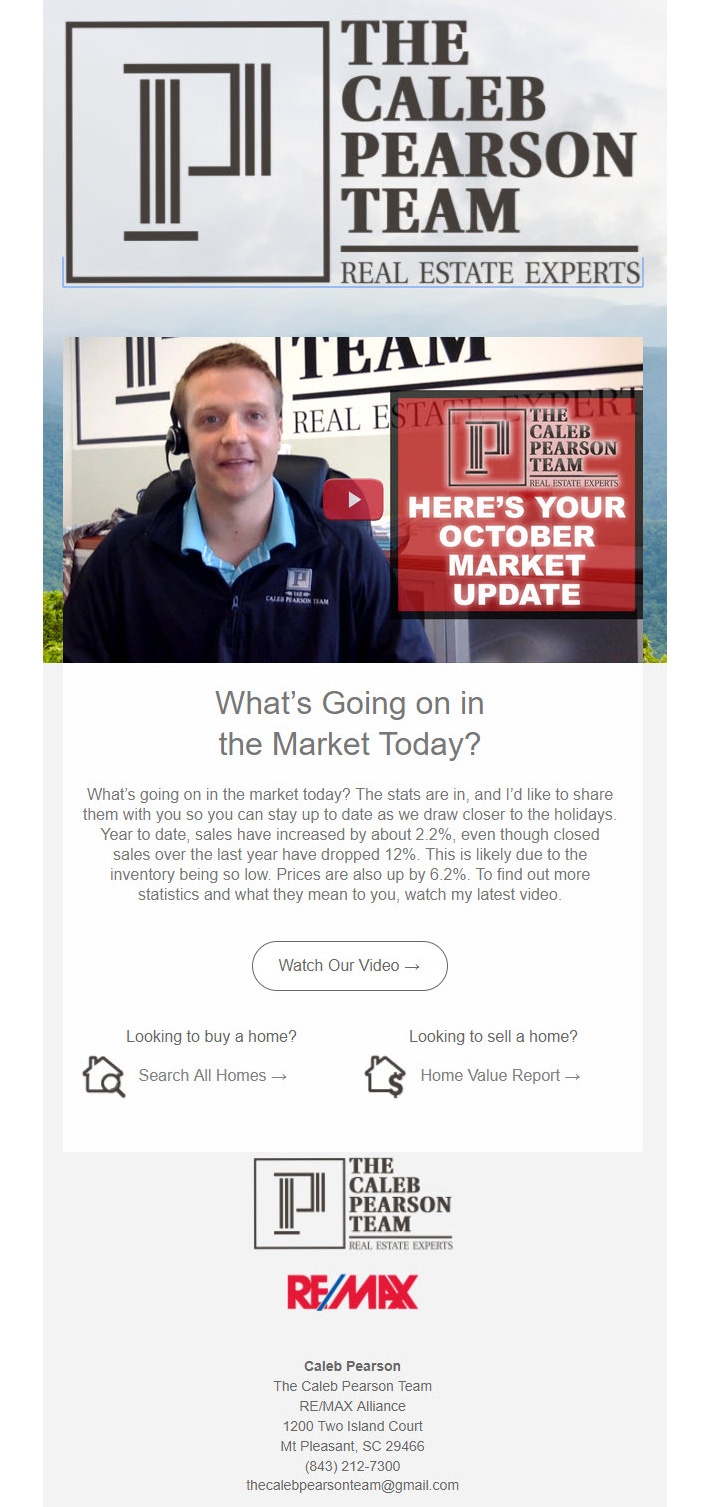 Example Facebook Post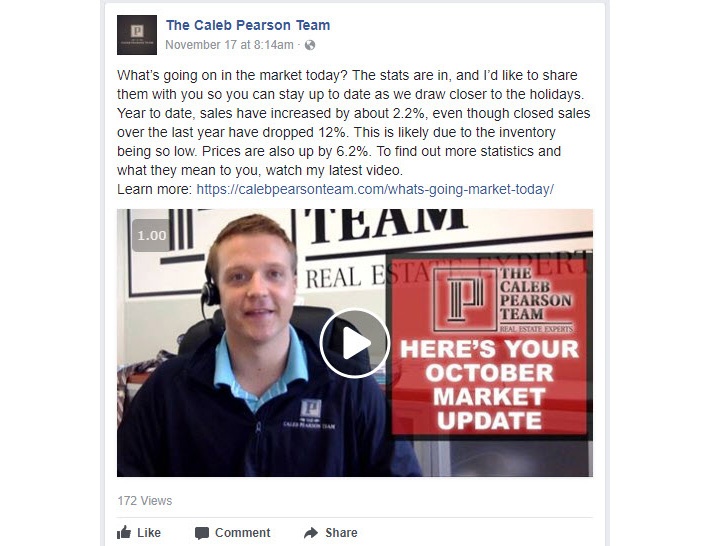 Example YouTube Channel