You'll learn how to put your videos on Facebook so people actually watch, comment, and share.
Have a marketing question? Email frank@getvyral.com. I will answer it. If we pick your question to publish you'll get a free marketing book shipped right to you.
Q: Greg, a real estate agent in Phoenix asks, "How do I get a better response and engagement on Facebook?"
A: Thank you for your question, Greg! I'm going to ship you a free copy of the Ultimate Sales Letter by my mentor Dan Kennedy. This taught me how to sell in print.
Now, first of all - this may come as a surprise - but I do not like Facebook. If your business comes mostly from Facebook you're in trouble. Keep in mind they are in "toll-position". You are on their platform. It can be regulated and taken away from you anytime. These platforms (and lead providers) who control the brand and data will put professional services providers who are not careful on the road to serfdom.
From a business standpoint, most "engagement" on Facebook is generally low quality. Case in point, we had 356 comments on this post a client of ours wrote for their group. We followed up with a FB message and/or researched their email with a Google search. Only a handful got back to us. Most said they were not interested! And, this is trying to give our service away to people who requested us to contact them! Engagement does not mean a quality response. These individuals have not spent any time with us online, likely don't know or trust us, and do not have any idea who we are (more on that later....)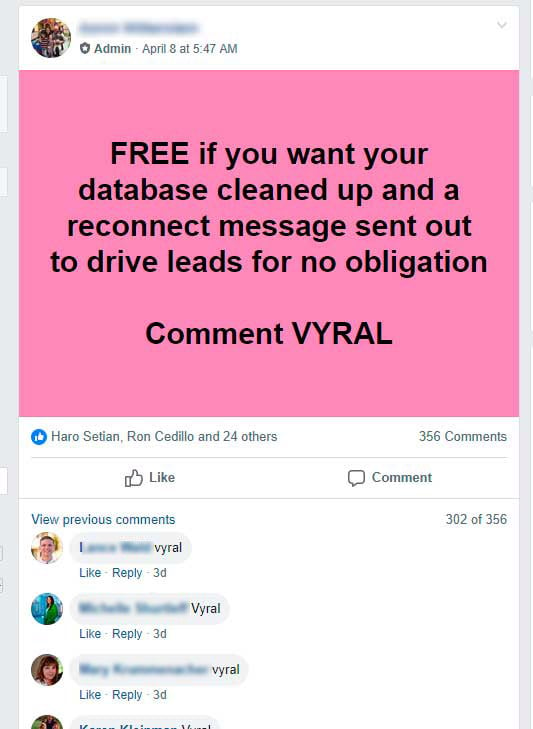 Here's my response I wrote on the thread since I found this outcome just fascinating...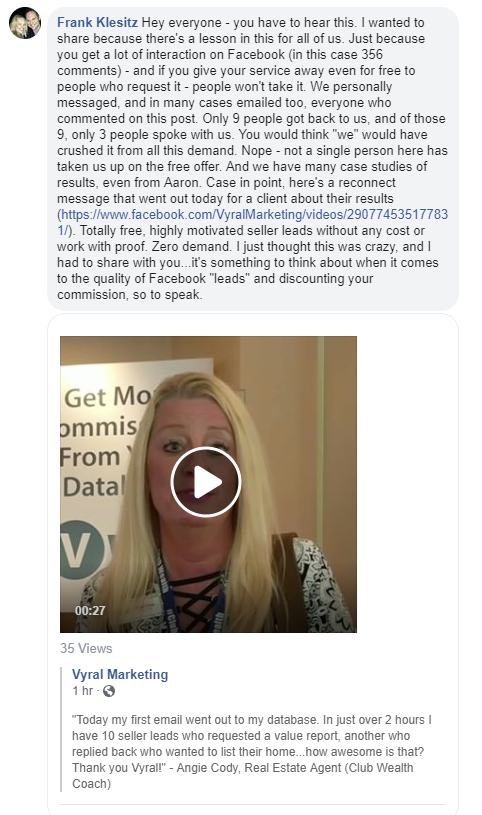 (We just generated 21 seller leads yesterday for a real estate client with the direct offer email I sent our friends in real estate last week. These are people who want an offer on their home, not "free value report" leads. We recommend a direct offer to your database four times a year, it's included in our marketing plan).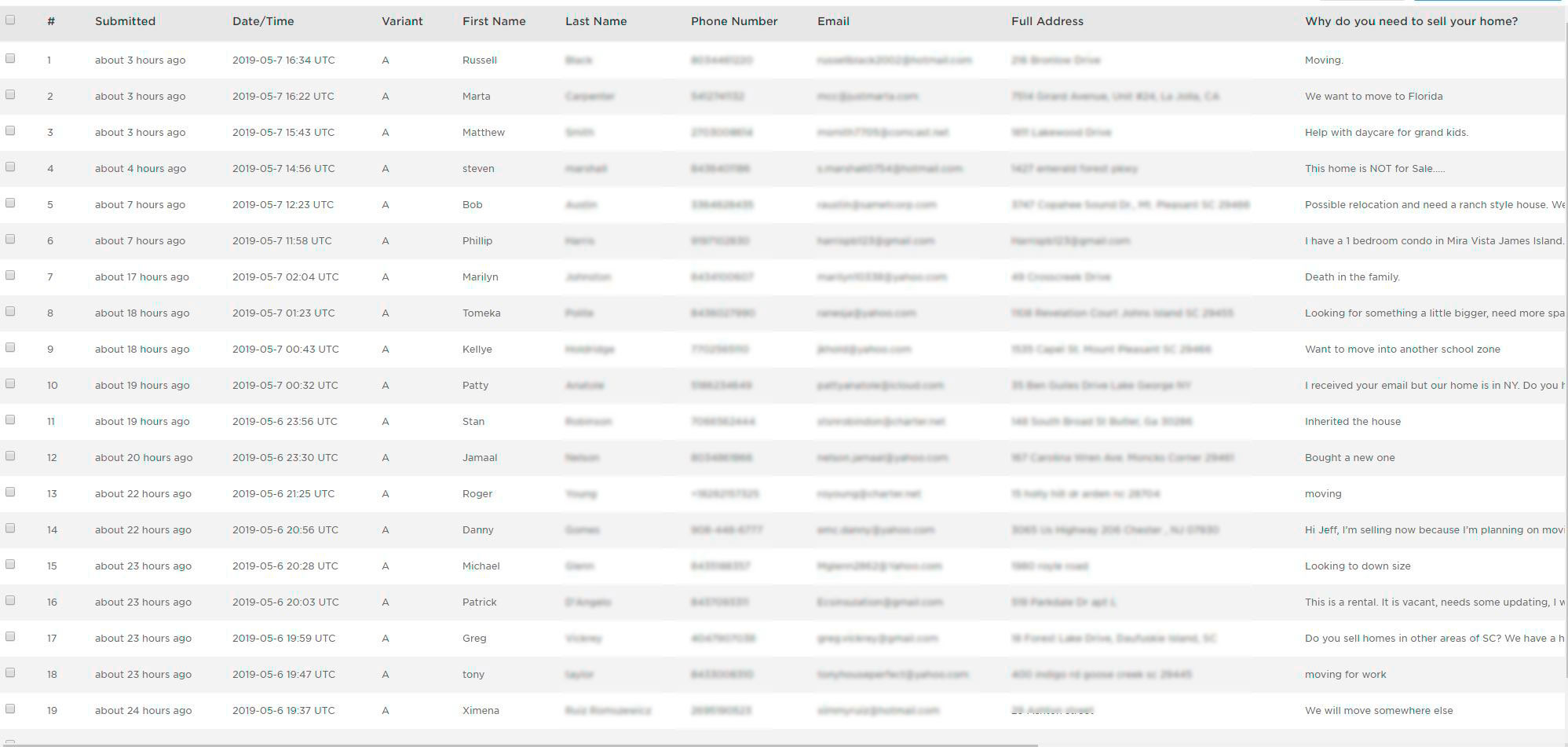 Reach (the number of people who actually see your Facebook post) is also at an all-time low. It's very likely only a few people will see your video on your business page if you don't put money into it.
Here are some slides of the keynote from the latest Traffic and Conversion Summit. You can watch the whole keynote about what's going on with Facebook and digital marketing here.
Your organic reach (without giving FB money) is an abysmal 0.5% of your fans on your Business page, on average: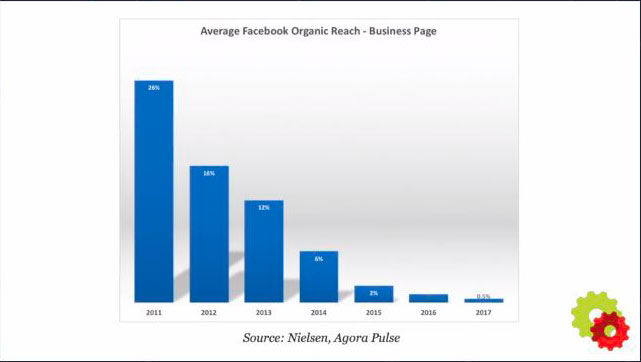 You also have the Facebook cost-per-click going up (read the chart right to left):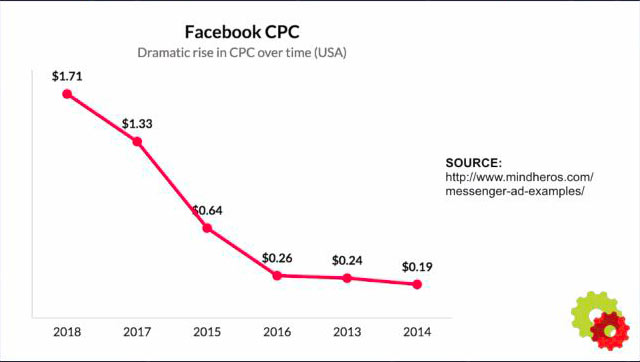 Facebook keeps raising their ad prices to feed revenue since user growth is slowed: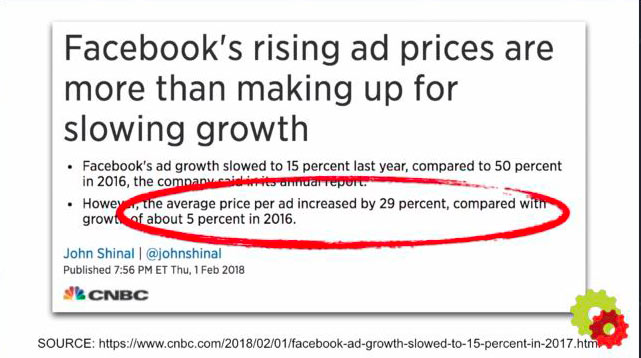 And pretty much everyone knows Facebook isn't what it used to be, and it's getting worse...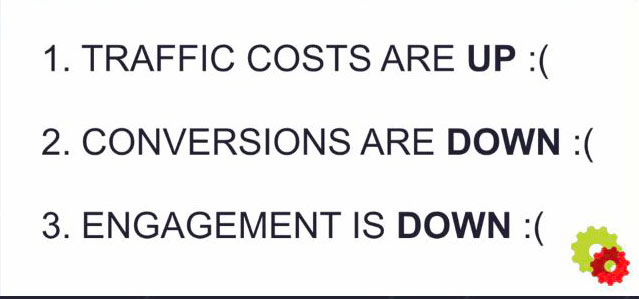 I recommend, rather, you double down on gathering emails, phone numbers, and USPS mailing addresses to stay in touch. Those are "platforms", so to speak, you control.
Now, this does not mean Facebook shouldn't be a part of your strategy.
It's part of our Vyral Marketing Plan but in a very precise and focused way. There are still lots of eyeballs on Facebook and it is a great complementary media to your database marketing plan.
How do you get more engagement and response from Facebook?
Here's your answer:
You only need a few of the right people to spend time with you - who buy from you - to make it worth it. You want a few people who go DEEP with you, not a lot of people who "skim".
The #1 key metric of results is how much time people spend with you online.
The more time they spend with you, the more they will likely trust you, and the more likely they will contact you or respond positively when you contact them.
Our best clients at Vyral Marketing come from those who spend hours reading our blog and watching our videos - it's a very small niche.
Here's how you can get better engagement and response:
First, you want to take your entire contact list of emails and upload it to Facebook as a custom audience. That way you can advertise your videos to people who already know, like, and trust you.
You'll get better response and engagement advertising your videos to people who know you instead of strangers.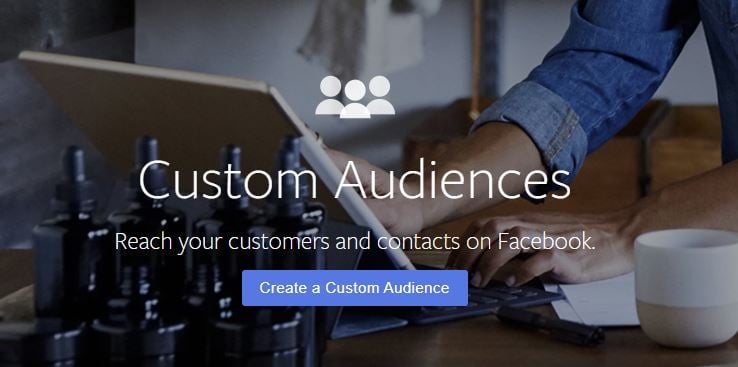 Second, you want to boost your videos for $5-10 (depending on the size of your audience) so the people in your database actually see it. You want your video to show up on their news feed a few times a week. Change the video you boost to them 2x a month to keep it relevant.
Third, your videos should answer a question people in your database commonly ask. It needs to get right to the point. You can model how I made my video here - this is the video structure we teach our clients at Vyral Marketing to succeed with their videos.
The bottom line to your question?
Advertising your helpful Q&A videos to the people in your current database is where you should start to get more engagement and response. It's also the least expensive.
We do all this for you at Vyral Marketing. This is our core video marketing plan.
We boost your videos to your email contact database on Facebook, and soon we're researching what it will look like to do that for you on LinkedIn, too.
If you have any questions about getting more business from your database, request a strategy call below:
You can also download our Official Video Marketing Plan we recommend to get more business from your database. It's what we implement for all our clients: