Jennie Wolek Top 5 Takeaways
1) Vyral saves time:
If you are new to creating videos, it isn't necessarily easy to just start. Once Jennie recognized there was a solution, she was able to save herself time.
"I remember seeing Frank on stage and he was with a mega agent, showing how easy it was to make a quick video and share it with your database. After that, I wanted to implement video in my business. I am not a techy person and, I was spending time making a video. When you are not used to making videos it's very uncomfortable. I talk with agents all the time that say they would rather poke their eye out than watch themselves on video. I encourage them to practice and do it over and over again, because it becomes more natural over time. I was making really bad videos, they were horrible, and I personally was trying to edit them. Oh, my gosh, such a waste of time! I did not have the technology, tools or the skills to do it. Finally, I was like wait a minute, the investment with you guys (Vyral) per month is the cost of a part-time assistant or a marketing manager or somebody that would solve this need for me. I easily saw it as an investment."
2) Create demand:
By answering FAQs, you already know there is a demand for your answers. Paying attention to what content gets results is important. You want as many people as possible to engage and spend time getting to know you as an expert in your field.
"Another big one that you guys helped me with was when you have a question that is asked over and over again by buyers and sellers, take that question and shoot a quick video. People love that stuff because they're probably thinking it anyway. It's also coming from contribution and they feel like you're the expert."
"A lot of the videos I made were generic market update videos. The cool thing about what Vyral does for me, and all of their clients, is after the videos are sent, in a short period of time a follow-up email is sent that tells us what kind of response it got, how many views it got and who clicked through it. I am always looking at that to see how well that content did. So those have evolved over time. In my personal opinion when I talk about the real estate market and what's going on people really don't care about it. I find that people like anything about what is going on in the community or food. You know personal stuff, including your cute dog or kid it really does work."
3)

Video is an excellent alternative:
Not everyone has time to meet a ton of people every single day and still run a business. By taking time to create these short videos you can put yourself out there to mass quantities.
"First off, I think video has helped increase business in my market because I am personable and real, I think that is why everyone should use video. My natural behavioral style is, I like to be liked. I would watch if it's posted on Facebook and nobody's noticing it, clicking on it or liking it, why not? What can I do that will get more attention? The more that gets spread the more people we get to help and that fuels back to the passion of why I got into this business in the first place, to give back to my community and help more people."
4)

Referrals go a long way:
One of Jennie's keys to success is how much she focuses on referrals, whether it be from featuring someone on her videos, using her agent database, or her past clients.
"A referral based business is the best business. When you get to work with buyers and sellers who are personally referred to you it's easier, they're nicer, you don't have to work as hard. I mean of course you still show up and perform at your best but it's just an easier way of doing business. I knew early on that I was not a hard-core prospector. So, I owned it and said if that's not me then I need to master me."
"It's been amazing, again it's coming from contribution and of course you just ask for one piece of business over the year but naturally they're going to share your name more than that."
5) You can have more than 1 database:
Jennie has a database of fellow real estate agents from different cities. You may have a client in your database that is relocating to a different area of the state. By keeping this database, she creates more referrals for herself and others.
"I started in Norman Oklahoma and for about four years I was in real estate there. Norman was a small town and a very tight-knit community agents from different companies were all friends. When I decided to move back home to Tulsa to be near my family, I learned that in order to receive any relocation referrals, I had to also give outbound referrals. So that's where I learned how to have a realtor database and a network of people of friends and family outside of your city."
Download Jennie's Video Marketing Plan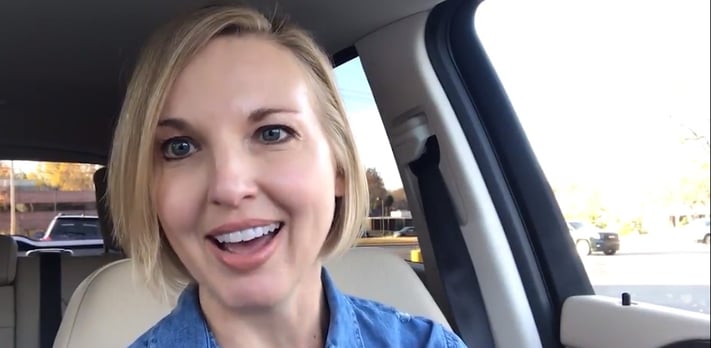 Learn how Jennie Wolek started publishing now 40+ videos to real estate agents to build her team and increase her agent referral business.
This year 28% of her $600k in earned GCI came from real estate agents to her Tulsa, Oklahoma market.
Jennie has sold real estate for 17 years and since 2010 she has sold 570 homes. She has already sold 102 homes this year at an average price point of $180,000.
You'll learn how 70% of her business comes from her past clients, people she knows, and from agent referrals. Her best videos are about business, success, and lifestyle oriented topics.
"My best videos are the ones NOT real estate related," she says. "Before [Vyral Marketing], I was not doing anything to stay in touch because I didn't have the techy skills to edit videos, send the videos, and monitor the results. I view the [Vyral] investment every month like a part time marketing assistant."
Both the people in her database, and her database segment of real estate agents, receive regular, helpful videos from her consistently. We recommend two a month to each audience.
"[My database] is my business. We are properly categorized and purposefully market to our METS, SOI and agents." Jennie has 4,218 people who know her and 1,569 agents in her database.
The focus of this interview is not only how she publishes buyer and seller oriented videos to get listings, but also how she plans to expand across the Midwest (and continue to earn agent referrals) with her second real estate agent oriented business video blog.
The call to action is to send her a referral or join her team.
"Video has helped me to become the local expert, it shows that I'm a real person," says Jennie.
"I believe it gives a perception of success. My production has continued to increase since I started using Vyral. I'm being consistent with making and sending videos. I use video as leverage. Listing appointments are shorter and we are already perceived as a professional before we get there. It helps us stand out from the crowd."
P.S. If you are interested in recruiting or building an audience of real estate agents, I'm teaching a real estate recruiting class starting January 8th that's limited to 24 students. The entire cost will be covered by advertisers who sponsor your content.
Jennie's Marketing Examples
Example Video Email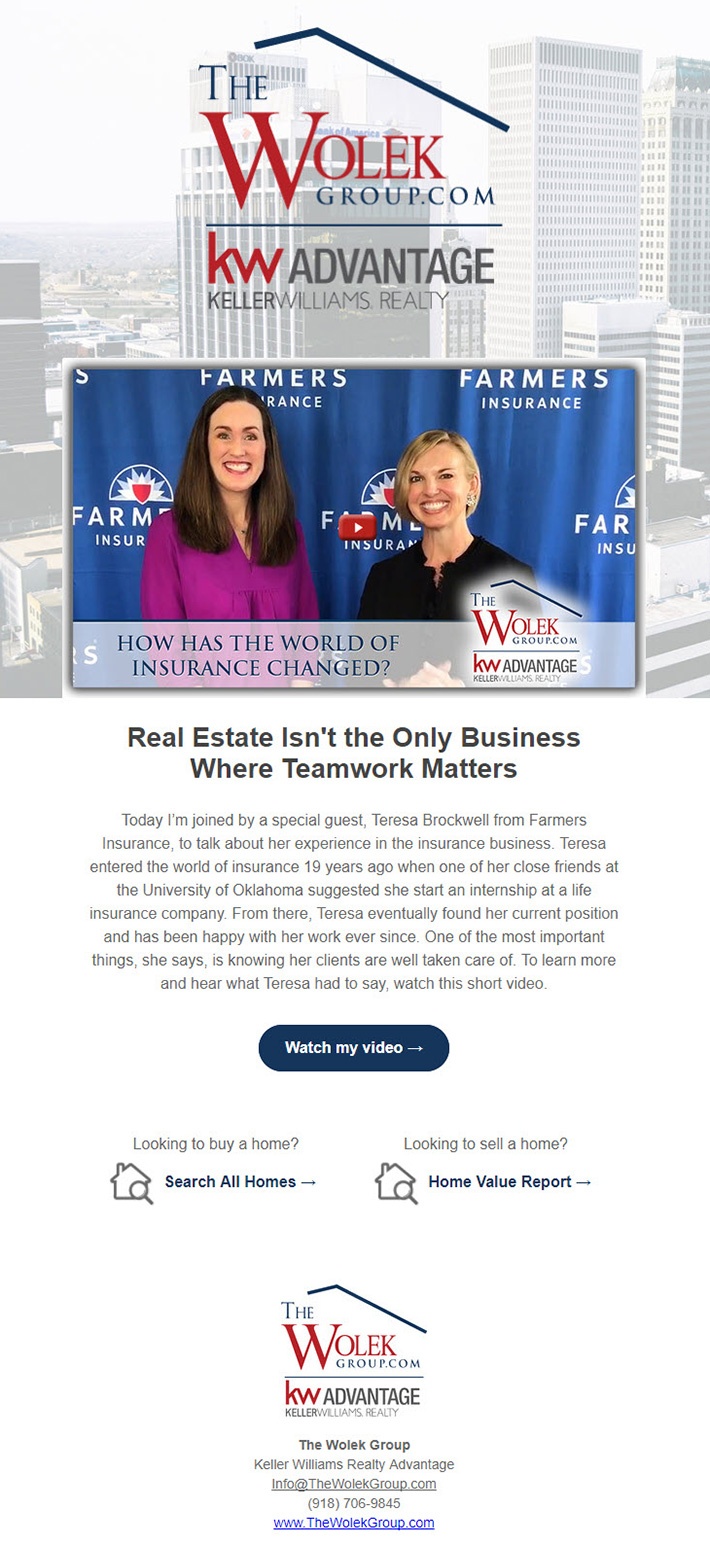 Example Facebook Post

Example YouTube Channel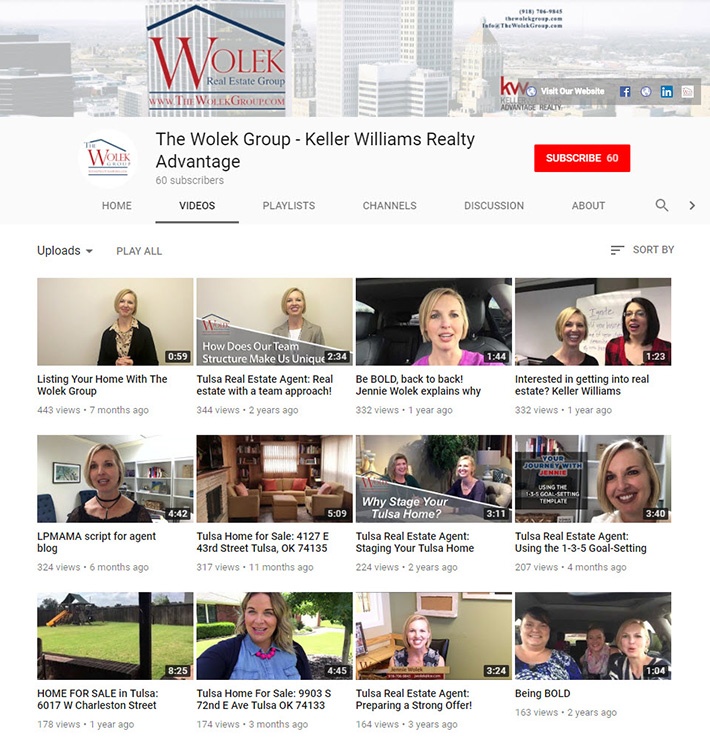 Example Blog Post