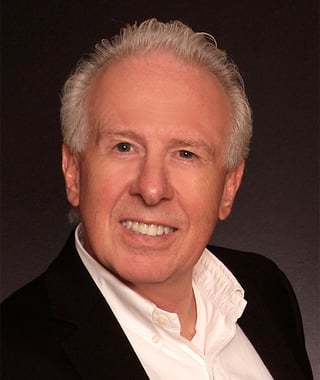 Vyral Client Marty Gum is a real estate agent in the Lake of the Ozarks who just purchased a new Real Geeks website to generate home buyer and seller leads online.
He needed a way to get people to his website without buying expensive pay-per-click leads.
Here's what we recommended:
First, we rounded up all the emails of people registered to his old websites and included them on the Official Video Marketing Plan—after a reconnect message, of course.
Second, we updated the call-to-action links on his video blog, social media, and video emails to "search for homes" on his new website.
"My website is getting a bunch of traffic for only being live one month"
Finally, we suggested he run a Facebook ad remarketing all of the people from his past website, current website, and his video blog.
The Advertisement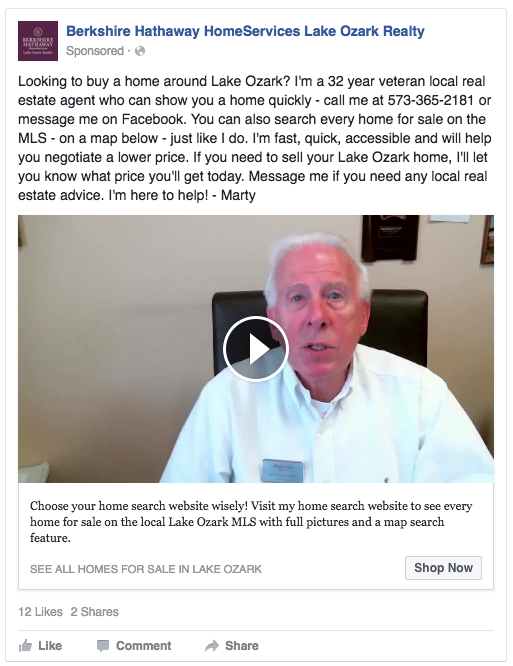 We wrote a simple video script for Marty about how he could help someone find the right home or sell their current home:
"Hi, this is Marty Gum. I'm with (firm) here in the Lake of the Ozarks and if you're thinking of buying a home or selling your current one, we can help. We'll help you find the right home, get you in for a showing, and negotiate the best price. We also know quite a bit about the area so we can show you where to buy right. I just want you to know we're here to be of service. If you have any questions about real estate, you want to see a property, or you want to know what your home would sell for if we put it on the market today, give us a call and we'll guide you. I'm Marty Gum with (firm) and thank you for watching this video."
We read Marty one sentence of the script at a time over an HD webcam interview, which he then repeated back into the webcam. This made it easy to precisely shape the video message.
We then seamlessly edited the video together, along with a few pictures and video clips Marty sent us of Lake Ozark homes.
Once the video was complete, we uploaded it to Rev.com to have a caption file made. It only costs $1 a minute, so it was inexpensive but effective.
Facebook videos do not play sound automatically in the news feed. With a captioned video, it's more likely people will "read" the message and then take action. This is a must if you're advertising.
Remember, when people visit Marty's website, they have no idea who he is—now there is suddenly an experienced real estate agent who shows up in their Facebook news feed to help them!
This will also make it easier for Marty to have quality conversations on the phone when he's following up, since many of his prospects now see him on Facebook.
That's the power of Facebook remarketing!
The Audience
We installed his Facebook pixel on his Real Geeks website and set a budget of $5 a day to remarket all of the people who visited his website over the next 30 days.
This budget was more than enough, since there were only 1,100 people in the entire audience.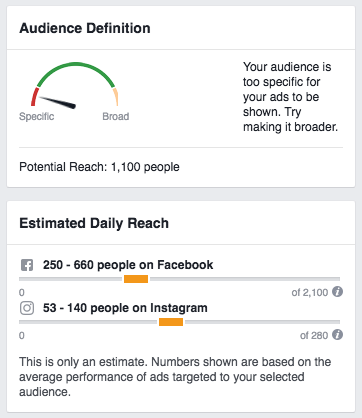 However, these are 1,100 people who were interested enough in buying a home in Lake Ozark to visit his website—a great audience!
We also included a few other home search websites he had running as he completed his transition to Real Geeks.

We targeted everyone, no matter where they lived, since anyone anywhere may want to buy a Lake Ozark home. The audience was so niche, it didn't need further targeting.
The Landing Page
We sent all the traffic right to the homepage of his Real Geeks website.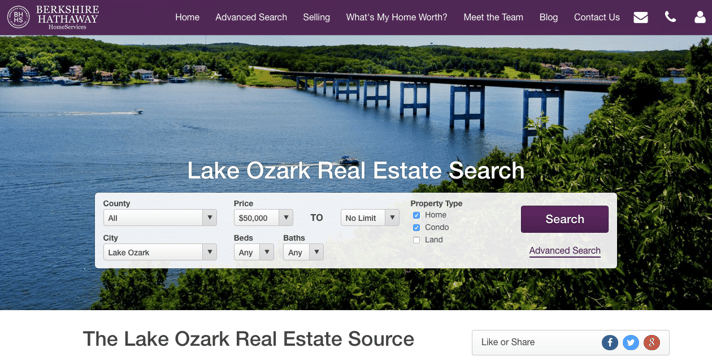 But before the visitor gets to see any home search results, they are asked to register. This is what creates a lead for Marty. It's how almost all home search websites work to generate leads for the real estate agent paying for the site and its respective traffic.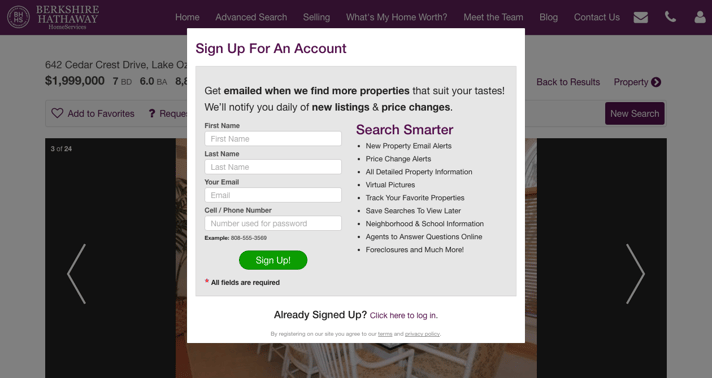 Here's the best part. Marty can track each specific lead that came in from Facebook.
We put special tracking codes in the link we used in his Facebook advertisement.
For example, we append these codes to his website URL:
http://www.yourlakeozarkhome.com/?utm_source=facebook&utm_medium=remarketing&utm_campaign=Vyral
Now don't use that link! It tells Marty that any visitor from that link came through "facebook" from the "remarketing" that "Vyral" set up for him.
This way, Marty will know exactly which commission checks came from his Facebook spend!
And that's all that matters in advertising: how much money will you spend to get a sale?
For most top real estate agents, that number is about 10%. So if Marty's average commission is $5,000 on a home sale, he can spend up to $500 to get a 10x return on investment from one sale.
But we didn't even need to spend that much...
The Results
Here's a breakdown of what happened:

We ran the advertisement for 30 days
He spent just under $145 over the course of July 2016
He reached 2,204 people who visited his website during that time
His Facebook video advertisement generated 142 clicks
His Facebook pixel registered 17 new leads on his website (i.e. complete registration)
But remember! If you read the ad closely, we also encourage people to message him on Facebook, call him at his office, and even leave a comment on the ad itself.
We want to make it as easy as possible for someone to respond.
Additionally, people may skip immediate registration on the trackable link and come back at a later time. We cannot track these leads for you; you'll have to ask how they heard of you.
All said and done, Marty said he generated 30 leads on this campaign, five of which he feels are qualified to buy a home soon.
A qualified lead means the person you spoke with has the budget, authority, need, and a relatively short timeframe to buy a home.
Marty's organic searches and direct traffic to his website went up, too—likely from the Facebook ad since he was not running any other advertising at the time.
The total value of those 5 qualified leads is $35,000—$7,000 average commission.
He also set 2 appointments directly from this Facebook ad in 30 days.
His total potential commission on these two appointments is $13,000.
That's a total of $48,000 of commission income that Facebook put into his sales pipeline.
That's from just a $145 investment.
Let's assume that half of those potential deals close and he earns $24,000. Now that's a good investment at whatever discount you apply!
We'll know for certain when the deals close, but it's too early in the sales process to tell—especially in a resort real estate market like Lake Ozark where leads take a much longer time to mature.