Clients and Friends,
Would you be interested in having us call the people who watch your videos?
This is the #1 way to get more business with us in the future. You can achieve an 8x ROI.
We just started calling this week for a few people in our test group.
"My agent Andrew called and converted to an appt next month when the buyer comes into town. This is great, lets keep it going!" - Kelly Cook, Phoenix
"Today I pulled in 17 dials, 7 contacts, and 2 leads! One is a nurture the other is hot. I will have them both transcribed for Denise tomorrow. " - Brayden Schwab, Calling Assistant
We'll use the same database-specific calling system that works for Vyral Client Jeff Cohn who sold 600+ homes last year. He has a calling assistant talk to everyone who watches his videos.
He has done it for the past five years with consistent results.
We just completed a webinar last week on "How to Hire a Calling Assistant to Call Your Database".
Back in 2014 he stormed into our Omaha office ready to fire us. "Your marketing does not work," he said. We asked if anyone was calling his engagements, which is a part of the plan. He said no.
So, he put an entry level wage calling assistant in place and his results went from zero to major results with one change.
We also just completed our first Mastermind Club meeting and a few of the agents in the room have part time calling assistants calling through their database engagements to back up their salespeople, consistently pulling a few sales a month directly from it.
This is why I write you. It's big news for you as a client and us as a marketing firm…
We will now call and email the people who click a link in your emails - on your behalf as your assistant - to start a conversation with a "message of the month" you approve.
We use Intelius and Spokeo to lookup missing phone numbers.
For example, we would call with the following script template…
"Hello, I'm calling for (client name), is this (client name)?


Hi! My name is Brayden. Thank you for taking my call I will be brief. I'm on a recorded line calling for (client name) with (client company) right here in (city).

I see you subscribe to (client name's) (city) real estate update videos.

Thank you.


(Client name) wanted me to call and ask if you have any real estate questions he can answer for you in his upcoming videos.


I'll forward the question to him. Do you have a question for (client name)?

How are you familiar with (client name)?

Also, while I have you on the phone, do you own or rent?

When do you plan on moving? (LPMAMA if opportunity there)

Do you know anyone who is looking to move I can have Jason call?
Thank you!"
The goal is to slow down and start a real conversation with the person. The goal on the high side, however, is ideally to speak with 10 people an hour.
All calls are graded to a scorecard:
Did they announce they are on a

recorded line?
Did they actively listen 70% of the time?
Did they bring

enthusiasm

to the call?
Did they follow the opening script

exactly?
Did they end each statement with a

question?
Did they

mirror/match

communication style?
Did they ask if they

own or rent?
Did they ask when they

plan to move?
Did they run the

LPMAMA

questions?
Did they reconfirm/ask for best email for updates?
Did they ask for a

referral?
We would call using AirCall.io to track and record the calls. If your assistant starts a conversation and identifies an opportunity, the notes and call recording are emailed to you.
We use Otter.ai to transcribe the call and send it to you for review.
We'll send them an email, too, with the same message. We'll forward you any response.
We'll keep track of all the conversations. This way we don't call someone twice with the same message. We will also reference the previous conversation when we talk to them again.
You'll get a weekly update on results with a few calls pulled randomly for your review.
We generate about 15,000 clicks a month across all our clients. That's about 750 clicks a workday. These are people who know who you are and are interested in what you're saying.
A methodical calling assistant can make 50 attempts a day to talk to someone, so we'll need to hire about 30 part time calling assistants to help all our clients do this.
It will also take about two weeks to train the to get them "Script Certified".
We give a script book to every new hire. They must become "script certified" before making any calls. Our callers first start with script memorization, then internalization (understanding the "why" behind the script) and then onward to personalization so the message is natural and not canned.
Script certification is simple.
Read the script
Write the script
Say it into a recorder
Listen to yourself in the car for 3 days
Repeat 5 times
This is powerful process. Your caller gets comfortable with what to say fast. Their mind shifts to "maybe I can really do this!". They will literally hear themselves getting better. To be script certified, our callers meet with their sales manager to recite the scripts accurately and with confidence. This process takes about two weeks. Callers are shadowing other callers at this time, too, to see how it's done.
We also ask each caller to bring the "best" and "worst" call of the day to a daily sales meeting to review. It's easy for us to review the calls with them in Otter.ai.
I have a video that will go on there of my business partner Scott Sillari who set aside two hours to make calls to a client's open/click report. He spoke with 15 people and identified three leads.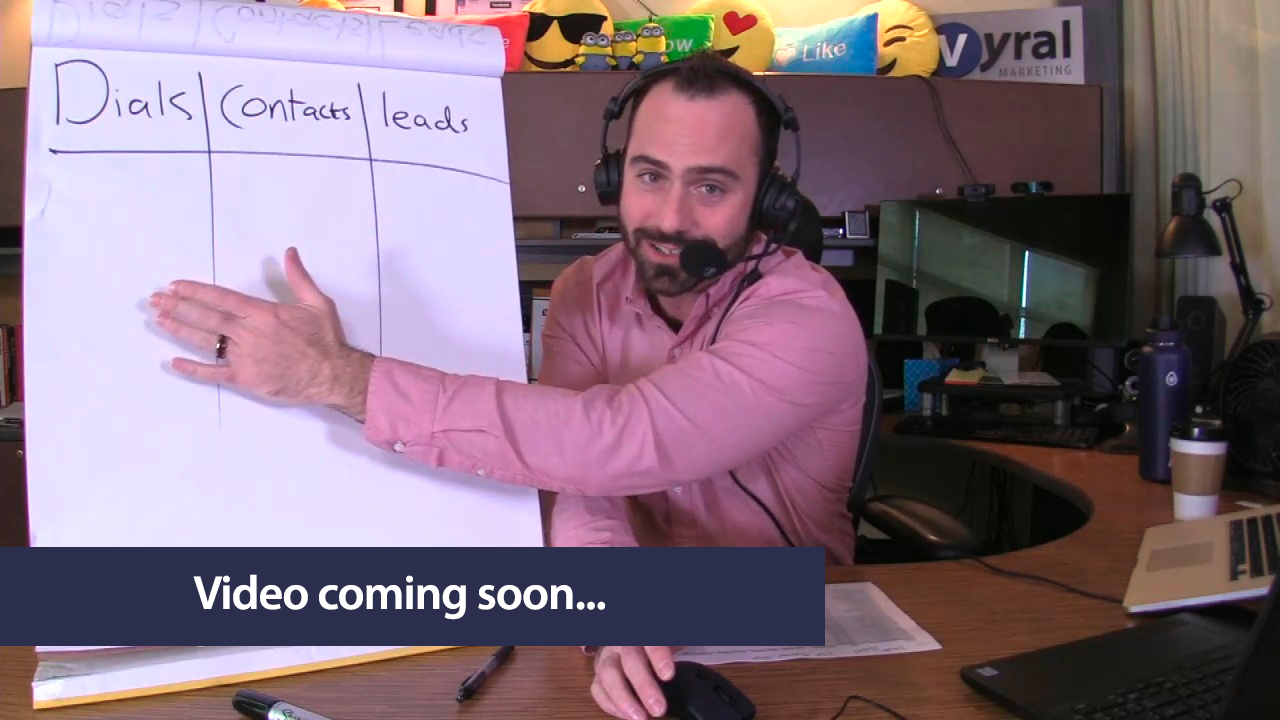 I'll have that recording, once it's edited, up on the website so you can hear the conversation style. We were able to bring in both sides of the conversation disclosing we're calling on a recording line.
We will specialize in database calls - calling your friends, family, clients, past clients and leads - a smorgasbord of people - who engage with your videos to have conversations on your behalf that brings real value to the person on the other line.
Specifically, we call only the people who click links in your emails, starting with anyone who clicked a "call to action", and then backward to people who clicked through to watch your video.
We will not do any inbound lead follow up or outbound cold calls.
You all have so many people who are spending a lot of time reading your emails, watching your videos, and clicking on links suggesting they're open to a conversation.
We just need to call them, or at least email them directly, to get business moving for you.
We leave a voicemail if there isn't an answer, here's the general script:
"Hi this Brayden at xxx-xxx-xxx with (company) here in (city). (Client) who I believe you know asked me to call you. I'm his/her assistant. I'm going to email you right now at (email address) with his/her message. Call me back at xxx-xxx-xxxx."
We also send them an email with your branded signature, with this template:
FROM: Brayden Schwab
SUBJECT: Just left you a voicemail
Hey there is this Brayden. I'm the assistant to (client name) at (company) here in (city). I just called you and left a voicemail about this quick email I would send you. I see you subscribe to our local real estate video blog, thank you.
(Name) wanted me to ask you/let you know.....
You can reply back to me. I'll forward it to (name).
Also, we have a lot of people who want to buy a home here in (area) but there are not enough homes for sale. Any interest in selling your home, or someone you know looking to sell?
I'll let (name) know.
Brayden
(full client branded signature here)
This is the future of where everything is heading. Gary Keller is doubling his company down on AI and machine learning to identify who in your database needs the right message at the right time.
We will use content strategy, predictive lead scoring, data enrichment, and personalization to know who to talk to so we're super efficient in our calls.
On a personal note, this is the next step for Vyral Marketing.
Zillow is getting into the calling game, so is Realtor.com, and Opcity sold for a fortune because they made the calls.
Also, as I write you - Google called me. They asked if they could email me a video on how GSuite administrators use AI. Then, they asked if I wanted an appointment with a senior consultant about how to use the software better. That's all. It was pleasant call.
Even at the Traffic and Conversion Summit, the keynote was not about the next marketing "thing," but rather the future of marketing is talking to customers. Interesting, eh?
I don't have evidence that more videos, emails or a fancier FB post will get you 8x ROI. We've reached the point that "more" marketing - at least to your database beyond our core plan - has diminishing returns.
I would rather you invest the money into a calling assistant than risking a lot more time and money hiring a video crew, split testing Facebook posts all day, or sending more emails.
Your calling assistant is here in the USA and you'll meet them before they start making calls. They are all trained and supervised by us.
Let me know if you're interested. Just email me at frank@getvyral.com.
Our test group will go on as long as we need until we hire the right people, train them extremely well, build the culture, and have well documented proof of results.
I'll pass your information to Allison in our office who is leading this calling service upgrade to get you on-board and to meet your calling assistant.
The mission is getting more business from your database. This will do it….it's time to make the calls!
We'll make them for you.
Sincerely,

Frank Klesitz, CEO
Vyral Marketing