Direct response advertising is all about capturing leads for the sales team. You offer an item of high value behind a registration page to get it. The deal is they provide their contact information to get the item. This works well for e-books, courses, checklists, webinars, free consultations - and for our friends in real estate – cash offers, free home values, home searches, etc. It can even be a transactional landing page where you ask them to buy. Either way, we recommend a top-of-the-funnel (get on my email list), middle-of-the-funnel, (attend an event/webinar) and a bottom-of-the-funnel offer (free phone consultation) to maximize your opportunities.
Example live landing page: https://utahbuyerlist.paperform.co/
Here's how we set up your landing page:
Competitor Research – how are their competitors landing pages structured, ideally from Google Ads – model them (critically most important step)
Form Title – Clearly state what the item of value is. Keep it short.
Form Description – 60 characters max about what they get. Keep it short.
Form Share image – format for both sizes in Canva, this is what shows when shared on social media. Lifestyle images work best, or a product shot if an item of value.
Form URL – the simpler the better - ideally a custom subdomain on their website, or just buy a real domain with a redirect
Logo/Item – put the logo or the value item they are getting at the top of the form (ebook, etc).
Headline – tell us very clearly and specifically what the item of value is. H1 style.
Subheadline – Describe how it works and the problem the item of value solves with the benefits they can expect. It should be a quick, immediate solution to a pain point.
Qualification questions – ask a few simple "tappable" questions to get to know them better. This gets them invested in completing the form.
Contact questions – ask for their contact information, format the fields correctly (email, US phone number, etc)
Submit button – make it large. Rename it to what competitors use instead of just "Submit".
Disclosures – put legal conditions at the bottom of the form, ideally a privacy policy and term of service. Link to the existing ones on their website.
Conditional Formatting – only ask one question at a time, or at most just a few. Don't overwhelm them.
Colors – make sure the colors are on-brand. High-contrast colors work best.
Fonts – make sure the fonts on on-brand, and a bit larger than the default size. Fonts are black or very dark gray. (San Serif, or Helvetica, for default if no front brand chosen)
White space – make sure the spacing is uniform and even, without extra line breaks. No breaks are H1 or H2 formatted.
Thank you page – give them the item of value hyperlinked (hosted on a public Google Drive link) or tell them what to do next (we'll call you / provide a Calendly link)
Facebook Pixel ID – add this so we can retarget everyone who visits the page
Email notifications – send a summary email of the submission to the sales team with a personalized subject line from the client's email address
Turn off "Send Me an Email Notification" – we don't need to see them
CRM sync – set up an integration to push the lead to their CRM (optional)
The #1 seller lead generation offer for a real estate agent is to get a free home value report, or a cash offer on your home. The top offers for buyers is to search for homes or get on your VIP buyer list. The top offer for a mortgage professional is to get a free home buying or refinance rate quote. Last, timely webinars or free reports around a specific topic to solve a problem work well. It's all about building a list of people who have the problem you solve. We promote the offer on your landing page to everyone in your database for you.
Example landing page
Example Thank You Page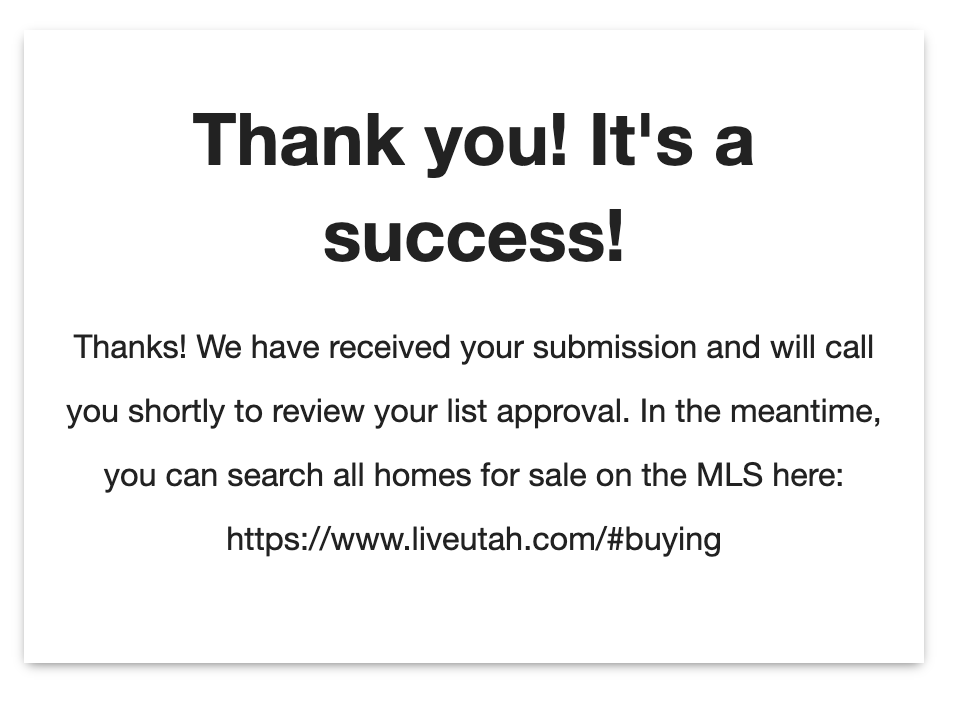 Example Email Notification Set Up