Advanced Client Journey - Jeff Quintin (Ocean City, NJ) | Real Estate Agent
Get Jeff's video marketing plan to boost sales from his database
Want to start your own marketing journey?
FRANK'S NOTES: Jeff's first video was shared by the business he featured on their page and was shared 73 times as of this post with over 8,300 views. That's without any paid advertising promotion yet! We discuss today how to track his email results with the Emma app on his phone from the email promotion to his list, along with that what we'll be doing for Facebook and YouTube advertising this week to get more people in his target zip codes to see it. Jeff also asks me how to track results from this when it comes to selling more homes, and I give my "answer." We also include Lauren in the meeting and go over her responsibilities of getting us Jeff's latest email list once a month so we can put it into Emma, preparing the businesses that Jeff is going to cover before Jeff shows up, asking the businesses to share the video on their Facebook page once it's posted on Jeff's business page, and then building a PR list of contacts who can write about what Jeff is doing to connect the community. The content is now done! We have the organic (free) promotion to Jeff's list and social media reach for his first video done too, and now it's time for Facebook and YouTube advertising! Our goal this week is to get all that running for the video we feature here. Jeff will now start publishing 1 video a week every Friday as planned our first meeting. It's happening!
Watch every weekly meeting with Jeff so far to see his full journey: http://www.getvyral.com/blog/topic/client-journey-advanced
View Jeff's Facebook Post for the Business Spotlight video: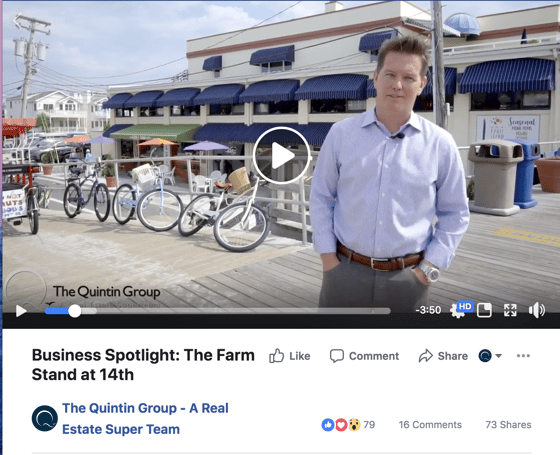 ABOUT JEFF: Jeff Quintin has been selling real estate for over 20 years. He's sold close to $1 billion dollars in real estate and, by every measurement, he is a "7th Level" Million Dollar Real Estate Agent. He's expanding into new markets outside his home in Ocean City, NJ (such as Philadelphia) and now needs to create more consistent and purposeful marketing content to back up his agents. He wants to be in front of his database and target markets all the time with engaging video and social media so they associate his firm as the preeminent helpful real estate professionals in the community. He then wants to scale his approach. Each of his expansion team members will model what Jeff does in their markets. His "hub" will provide the marketing support for those agents to succeed.
Client Journeys is a series where we meet weekly with a client to help them fully implement the Vyral Marketing Plan we teach in our 3 hour workshop. We broadcast each meeting live on Facebook. You'll hear their desires, struggles, challenges, successes, and of course marketing tactics as they build and improve communication with their database for more business. We organize Client Journeys into three categories, so you can follow clients in your business stage. ADVANCED JOURNEY – Highly leveraged professionals focused on strategy, recruiting, team building, and marketing. (2) INTERMEDIATE JOURNEY – Successful rainmakers who work with many clients and have minimal time for marketing. (3) BEGINNER JOURNEY – Those just starting their marketing journey beyond cold calling and referrals. Join us as we personally guide a client on their journey to results. Watch all past shows on Facebook or on our website.