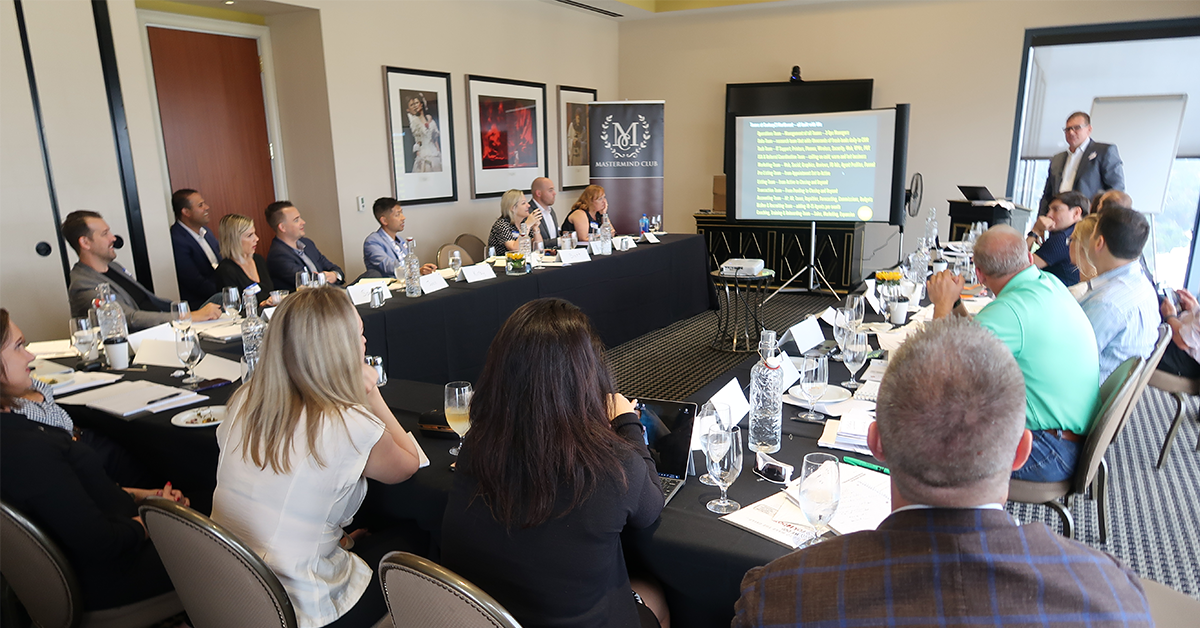 Email me frank@getvyral.com if you're interested in joining us.
Real estate clients and friends -
You're invited to learn more about our next Mastermind Club meeting in San Diego November 14th-15th.
A ticket is a break-even $700 and includes all our meals together (top notch), a luxury venue, and a Yacht cruise on Friday evening.
You can get all the details at www.mastermindclub.us.
We just booked our 2020 dates, too. They are:
March 26-27
May 14-15
September 24-25
October 22-23
They are all in downtown San Diego, CA.
I wrote this to you a few weeks ago, but here are some of the things there were shared.
One team is converting 11 out of every 100 internet leads to sales and how they do it (yes, that's right it's the highest I've ever heard in the industry)


A broker who has 75 overseas telemarketers, accounting and marketing support for his agents (and killing it)

A tip was shared on getting the best 3rdparty data into Facebook to run very targeted ads (completely terrifying what's for sale on you)


How one agent doubled their GCI in 24 months to $3 million with agent training workshops, videos, and FB ads optimized for messages


How to convert agent personal pages to fan pages, to then merge to your team page


An investor who's buying homes out of state at the rate of 5 a month in the Midwest with no money down (BRRRR method)


A sweet software system to document operations tasks to make it cheaper to outsource


The best place to add phone numbers and emails to your marketing list that's far superior


A property manager collecting $7 milliona month in rent now who left his Utah mega team and why
You can read the full post I wrote up here on Sept 30th.
https://www.getvyral.com/blog/mastermind-club-november-2019
The whole purpose of our meeting is to help each other grow our businesses with ease in a way that makes us happy by sharing insight and ideas that are relevant now.
A lot of what's relevant now is a slowing market and more competitors taking listings away. The big talk as of this week is the agent is now a vendor to Zillow with the 35% success fee and no longer the customer.
If you are interested in joining us for a meeting, please let me know.
You'll speak to Peter here about a guest ticket.
A few of our members include:
Greg Harrelson- 2,761 Homes Sold / $14.4 Million GCI / $509 Million Volume
Chris Watters- 542 Homes Sold / $5.1 Million GCI / $164 Million Volume
Adrienne Lally & Attilio Leonardi- 172 Homes Sold / $2.5 Million GCI / $96 Million Volume
Spring Bengtzen- 198 Homes Sold / $1.5 Million GCI / $55 Million Volume
Kyle Whissel - 305 Homes Sold / $4.3 Million GCI / $172 Million Volume
Goran & Lisa Forss- 486 homes sold / $5.0 Million GCI / $203 Million Volume
Kristan Cole- 711 homes sold / $5.4 Million GCI / $193 Million Volume
Adrienne and Attilio will be at this one. Lisa/Spring/Kyle were at our last meeting.
We only allow 1 agent per market and the minimum GCI production level is $425k. However, many earn way over that amount in the room.
It's also limited to 25 people - which is the perfect size so it stays a true mastermind - not a conference, seminar, or workshop.
I plan on sending you more stories about what's happening from the connections in the room. It's not just personal development, it's real business outcomes.
One of our members landed a major iBuyer account from a connection. Another attendee started a software company meeting the KPI tracking needs of real estate agents.
We have real estate agents hiring other real estate agents first as minimum wage employees on the phone before they ever go on an appointment, team mergers taking place, and insights on lead-generation that have caused the doubling of homes sold within 24 months.
I strongly encourage you to request a ticket if you're looking for something different than a conference or workshop/seminar.
Here, everyone in our room is a speaker. This is where people open up and share detail. Our focus is on relationships where many of the same people come back again and again.
This is all due to the anti-competitive nature of the room, and honestly, the quality of the business acumen in the room.
It's my job to draw the best out of everyone in a way that makes you comfortable and at ease.
Last - on a side note, and many of you know this - Mastermind Club is my personal passion project. The entire meeting is run at break even.
In fact, I share the P/L of the meeting with all the attendees.You get to see where every penny of your ticket went.
I'd love for you to learn more about what we put together for you.
Let me know.

Frank