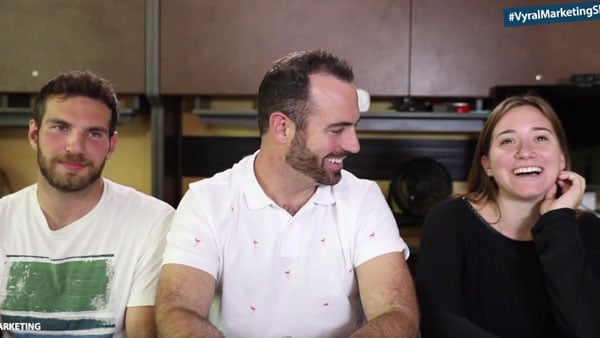 Clients and friends,
I have three new videos for you this week…
First, we just released a new episode of The Vyral Marketing Show (Episode 24).
Scott decided to record an episode for you on how to hire a marketing assistant.
You may need additional full time marketing help beyond the service we offer that helps you stay in better touch with your database using video.
A great, well-rounded marketing assistant is a tricky hire.
We've found success enrolling a small group of smart and resilient college students or graduates in a 1 year, part time apprenticeship program at minimum wage to start with plenty of training and a strong financial and professional upside upon success works great.
If you know what marketing you need done, and you don't want to risk hiring only one full time (and likely expensive) person, hiring via an apprenticeship may be for you.
*Kudos to Vyral Client Chris Watters and his book recommendation he talked about on the last Keeping It Real Show The Rare Find: How Great Talent Stands Out that back in the day sparked the idea and benefits of group hiring, not individual hiring, which changed the game for us.


Watch the episode to get all the details.
Second, I interviewed Vyral Client Dan Beer who earned $3.5 million GCI selling real estate in San Diego last year. How does he get clients? He primarily farms an area of now 32,000 homes with a newsletter and stays in touch with everyone they speak to with the help of video. He sold 52 homes ($46 million in volume) from his database last year earning $712k in commission income just from that pillar alone – with 650 past clients and 150 sphere in that list. "I hired Vyral because I wanted consistent, high value communication that established credibility and authority with my database and audience," says Dan.

Last, I interviewed Vyral Client Bill Stuart, who carved out a small niche area of 5,000 homes (Cleveland Park) for himself and his wife around their residence in Washington, DC applying the same farming techniques as Dan and implementing the Vyral Marketing plan. They earned $1.5 million in GCI last year selling $1 million dollar homes "they can walk to." Over 90% of their business comes from their database "without making any outbound phone calls at this point." They have 1,200 'mets' in their database. You'll see examples of his postcards and newsletter, too, which features his video blog and video updates.

That's a lot of video this week, but if you watch it all, you will learn how to attract new clients without chasing them, no matter what industry you're in since these marketing principles apply to all professional services (picking a target market, building a database, and nurturing it with stories and helpful advice consistently).
With that, have a great rest of your weekend! If you have a question you'd like Scott or I to answer on the next Vyral Marketing Show, just leave a comment below.
If you're interested in working with us, I always recommend you start by reading our Official Video Marketing plan, and if you like it, you can request a free strategy session and we'll talk about the results you may be able to expect if together we implement it.
For our valued clients, we can visit anytime - just email me. (yes, it goes right to me and I read every one). Myself, along with our entire team at Vyral Marketing, are here to help.
I want to interview every single one of you about how you're getting results.

Frank Klesitz, CEO
Vyral Marketing