Clients,
We're ready to flip the switch on a brand new website on Monday!
Here is a quick preview just for you: http://getvyral-2433991.hs-sites.com/
(We are completing the final proofreading this weekend)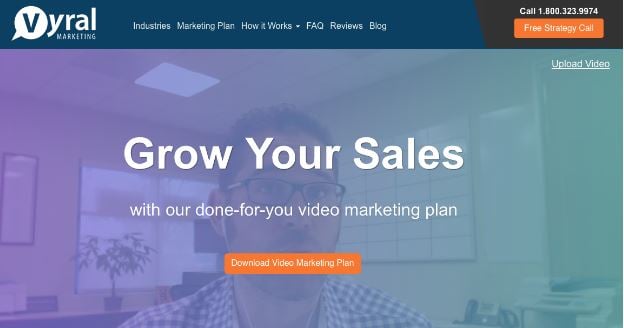 I've simplified the three-step video marketing plan we help you implement, which involves asking for email addresses, sending out two videos a month, and calling the prospects generated from it.
We've also made the "How it Works" section extremely clear on what you get with us.
I've also updated the FAQ section to answer all the most commonly-asked questions about our service.
You'll see a simplified version of our top 14 success stories on our website under "Reviews."
And now that we're working with clients in various industries, you'll see examples for your industry in the coming weeks under industry-specific pages, too.
I'm most excited for the new blog, which will allow me to organize information better.
Here's what you can expect:
Weekly Client Message – an archive of the weekly client messages I write to you

30 Day Client Launch – examples of every single new client we launch

Employee Spotlight – interviews with our employees on why they work here

Welcome New Clients – interviews with new clients on why they hired us

Success Stories – interviews with clients about their results

Advertising Case Studies – full write-ups on Facebook advertising campaign results

Client Interviews – in-depth Google Hangouts on how to succeed with Vyral

Video of the Week – the best client video of the week voted by our staff

Email of the Week – the highest-performing emails we sent out this week for clients
I'm organizing everything on the blog by industry so it will be easier to find what you want.
Any feedback for me on how to make our website more useful for you?
For those of you interested, the website is built in the Hubspot platform.
You'll see all our communications to you coming through Hubspot, instead of Infusionsoft, over the coming weeks as we complete the transition.
We simply needed to build our website on a platform that integrates directly with a top notch CRM, and Hubspot was our best choice.
(For those of you in real estate, you have it lucky; almost every website provider does this for you. For a business like ours, no one has built software specifically for our industry.)
Let me know if you have any questions about the new website. I'll be working on finalizing it over the weekend and it will be live for the world on Monday.
My #1 concern is making it full of useful information that's well-organized and easy to find.
Next Friday I'll send you a 90-minute DVD-quality office tour of one of our great real estate clients, Jeff Quintin, out of Ocean City, New Jersey.
My co-host Jeff Manson on www.KeepingItReal.com put it together last week and it's absolutely incredible.
Have a wonderful weekend and thank you for being a client!
Frank Klesitz