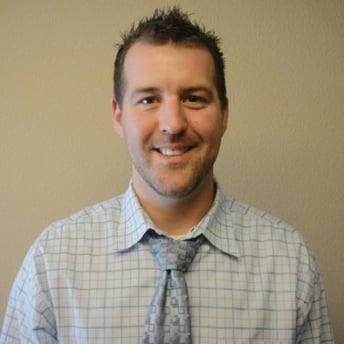 Lindsay: How did you hear about us?

Brian: I originally heard of you because I have a Real Geeks website, and Frank does the Keeping It Real Podcast with Jeff Manson, the CEO. I've been watching those for about two years.

Lindsay: What motivated you to call us?

Brian: The fact that I thought I had a good partner we could team up with to make the most out of what you guys offer.

Tim: Brian and Tiffany have done some video and had some success and I've done a little bit of video and had some success. At least for me, I see the results right now in video are much higher than an email. Video marketing really legitimizes you. For me, it was just the next piece of the puzzle and when Brian introduced me to it, I thought it was brilliant.

Lindsay: Can you summarize where you're at with your business?

Brian: For me, we are having a very strong year. We do about 10 to 15 deals a month and we currently do a little bit of video marketing, but not enough.

Tim: That's pretty much in line. I do loans, I do video, but I don't do enough. Brian and I can hold each other accountable and you guys can hold us accountable. We're all comfortable with video now, so it's great to have a service that is going to help us figure out the nuances of it.

Lindsay: What are some of your business goals?

Brian: Work less and make more. Can I say that?

Tim: I think you forgot to leave the words "a lot" out of there, as in "work a lot less" and "make a lot more." No, but really, our market here in Colorado is crazy so that's a struggle to be able to automate items like this. Either we don't do it or it consumes too much of our time. To try to automate this to where it's as automated as possible, it's taking less of our time, and it's consistent, that's huge.

Lindsay: How many people would you say are in your database?

Tim: I say it's a tricky question because I have a lot of closed loans that I've got from many Realtors, so I'm trying to figure out who my personal contacts are. There are going to be several hundred in there. But who I can realistically market to with Brian without crossing any sort of ethical lines, I don't know how many are in mine, I really don't. I know Brian definitely has way more than me.

Brian: As far as ours, on my website, the people that have signed up on the website, I probably have at least 1,000 and then probably another 300 in sphere and past clients.

Lindsay: What are you guys doing to market to your database now?

Tim: Our database now, I do video, direct video to people. I'll do texts to people in groups, any sort of medium that I can find that can get a result, regardless of how I feel about it, that's what I'm interested in. We do some video stuff on Facebook. We threw up a quick 30-second clip on Facebook of us and a client who closed, and little things like that where it's not in your face. I don't do any direct mail at all. Outside of that, just typical real estate stuff. Open houses, stuff like that.

Brian: We do a lot of pop-bys, videos for all of our clients every month. We talk to our database, at least our past client base, pretty actively. I think it's good that we're going to be doing this. I don't think I should have too much push back as far as unsubscribes.

Lindsay: Why hire us? Why not do this yourself?

Brian: I tried doing it myself. I hired Vyral Marketing because I thought it was great with the coach, the accountability, the back-end, and the editing taking away a lot of the stuff that we had to do. For me to go in with a lender, it made sense. From a time standpoint and also from an accountability standpoint.

Tim: Ditto on that.

Lindsay: What kind of results are you guys expecting?

Tim: For me, I think the exposure is huge. With our current marketing, we've created a lot of recognition and people can see the value that we have. The end result would be to get transactions, number one. As part of that, and prior to that, to have the community we are in see us as experts, as the people to call, and provide enough content and added value where they want to watch the video. I want them to feel like we are the experts and the right people to call, and as a result, getting transactions out of that.

Brian: Same.

Lindsay: What does success look like to you guys?

Tim: Brian was just in Mexico, why don't you ask him? No, he works super crazy hard and I think for me, success is the ability to be able to do things I want to do. Videos are fun for me, I like those. To be able to do things the way I want to do them is success. To work with the people I want to work with, that's success. To be able to feed my family and spend my free time the way I want to spend it, that's success. Really, it's to do things the way we want to do them that's getting results.

Brian: For me, it's living life on your own terms.

Lindsay: What would you say your personality types are?

Brian: On a DISC profile I'm a high DI, my wife is a high ID.

Tim: I'm very introverted and shy. Just kidding. I enjoy doing videos, I hate the editing process. I'm in mortgages, so I have to be super detailed, but I really enjoy doing that kind of marketing stuff. I guess that's my personality type.

Lindsay: How do you guys like to be communicated with?

Brian: For me, it would be to call or text my cell phone. If it's something in-depth, an email.

Tim: I'm 100% the same way. We're both on the same page with that.

Lindsay: Finally, who should we thank for your business?

Brian: Frank. I've talked to Frank at Tony Robbins events, on Facebook. I've been watching Keeping It Real for a few years now.