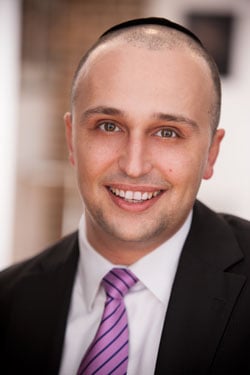 Lindsay: How did you hear about us?

Leo: I've seen you a couple times online and I think I've heard other people speak of Vyral Marketing, so that's how I kind of knew about it.

Lindsay: What motivated you to call us?

Leo: Well, I would like to have a system in place where I can focus on building my database. If I can focus on prospecting, open housing, expireds, and add five, 10 names a day into my database, if I can have a strategy of building a rapport with those people and building credibility with those people and at the same time, having some sort of a system where as I prospect and build my database, these people are kind of getting fed credibility, so that when they're ready, they will reach out to me. Or, something where I have videos, a newsletter, podcasts, etc. I want to incorporate all those things into my real estate business, and it seems to me that it really will take too much of my time to do videos, a newsletter, blogging, video prospecting; it's too much. If you guys are as good as you say you are at what you do and I am as good at what I do, then there's no reason why this should not generate a significant amount of income into our business.

Lindsay: Summarize where you're at with your business.

Leo: My first year, I was just kind of basically learning how to sell real estate, prospect, etc. I'm at a point now where I know exactly what strategies to use to prospect and I know the route I'm going to go on, building my database, going after specific markets in Chicago, and I'm looking to build a team that's really a sustainable business. From the beginning, you guys are going to be kind of my assistant in building that. Like I said, if I can focus on what I do best and give the maintenance to someone else, I feel like I can grow quickly. I'm at a point where I'm going to essentially be starting a team very quickly, using open houses, expired, and online regeneration to go about this business.

Lindsay: Perfect! What are your business goals?

Leo: $20 million in sold properties by April 1st, 2018 and I'd like to have a team of, let's call it six people within the next 12 months.

Lindsay: How many people would you say are in your database? Ballpark?

Leo: I don't know, me and my brother have one database. I'm just getting back into real estate; I took some time off. So I would say, on an Excel spreadsheet, and I'm beginning to put that together now, I've got probably 60, maybe 70 names and phone numbers. Some I have to reach out to to get a name and email. But then on my brother's, he has like 1,000 contacts on his LinkedIn and I have like 2,000 people that I'm "friends" with on Facebook.

Lindsay: How many of those people do you think you truly know?

Leo: On my social media, because there are so many of them that I've forgotten, I don't really know them. So once you guys export and I take a look at each name, I would say realistically, probably 100 or maybe 150 people who we actually know, who if I called them, they'd know who we are. Even though I have 2,800 people I'm friends with on Facebook, I rarely speak with many.

Lindsay: What, if anything, are you doing to market to your database right now?

Leo: I'm literally just getting back into it, so I haven't been marketing to them.

Lindsay: Why hire us? Why not just do this yourself?

Leo: I know how much energy and effort it took me to get $5 million or $6 million in sales by myself, but I didn't get into selling my database, I didn't do any videos. If I can have someone, while I'm building my database, instead of taking hostile approach, if I can hire somebody to help me with that, I've got somebody to be covering me. Somebody to create these videos, make it look professional, send them out every week, create articles for me, put them on the blog, create a newsletter with me—if I can have somebody helping me while I'm out there full-time promoting myself, getting listing appointments, I'm going to grow that much faster. So you can cut my time of both and speed up my time of growth. I think this service will be extremely helpful in growing us so I can focus all my energy on prospecting and working to get listings while someone else helps me with doing marketing.

Lindsay: What results are you expecting?

Leo: If nothing else, now that I'm adding these people into my database, they're receiving emails on my behalf that are dressed nicely and I'm doing professional videos explaining what's happening in the market, explaining what's happening in our community, and they're seeing me on social media, they're seeing me doing commercials for mega open houses, then my expectation is that when they are ready to list, I will not only be someone they can sit down with, but someone they're receiving information from and I'm positioned as an expert in the field. So my expectation is that as I'm building my list, that these people are not falling through the cracks because they're being followed up with.

Lindsay: What does success look like to you?

Leo: Growth. I guess just progress is success. A minimum of one or two appointments every single day so that if I set one to two a day Monday through Friday and I go on four of them, with my closing ratio, I'm looking at results that are really high.

Lindsay: What would you say is your personality type?

Leo: I would say I'm pretty good with people. I'm aggressive in a not aggressive or obnoxious way. I go after my goals, I'm hungry to succeed. I'm introverted and prefer to do my own thing. It takes me a little bit of effort to be extroverted. Naturally, I'm inclined to just chill and do my own thing but in this business, you have to be out and about, which I have no problem doing if I need to.

Linday: How do you like to be communicated with?

Leo: Well I guess it depends on who's communicating with me. I would probably say if it's consulting/marketing stuff, either by phone or email. I guess it doesn't matter; text, depending on the nature of the conversation.

Lindsay: Who should we thank for your business?

Leo: My brother Moshe actually convinced me to call you guys, so if you want to send him a thank you gift, that'd be cool too.