"There is a Real Estate broker about 20 miles from here. He's a retired Air Force guy. He has 47 Realtors I believe who work for him. He's really impossible to get in to see and even more impossible to get in to talk at any of his sales meetings. He said he got my email with some talk about VA appraisals and he sent me an email immediately and he asked me two questions and I answered them immediately. He fired back saying, "Thank you so very much for clearing this up for me, by the way call my office manager (he gave me her name and number) and tell her that I said to put you on the next sales meeting." Bang, I was in the door. Just like that. Just with the power of that video. You never know where they go. You never know how they influence or direct people's thoughts."
Want the results you see above?
Get Pat's Video Marketing Plan
Vyral Client Pat Fitzgerald is a highly successful loan officer specializing in VA home loans in San Antonio. We talk about picking any mortgage niche and dominating it. You'll learn how Pat generated 200+ loans last year with 70% of his business coming to him from the internet with the rest coming from his database. He brings buyer and seller leads to his agents. He is also considered the preeminent expert in the VA home loan niche in San Antonio. You'll learn how he did it. If you're looking to build your mortgage business where you're in control of where your next loan comes from, this interview is for you.
Example YouTube Channel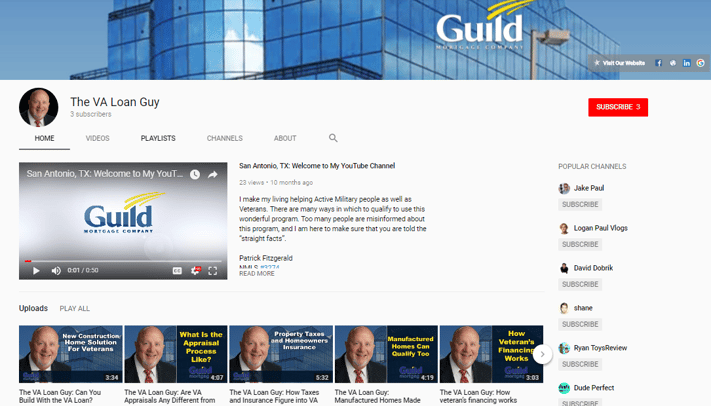 Example YouTube Video