Clients,
One of the things we're looking to improve at Vyral Marketing are your four quarterly direct offer messages a year to spike response from your database.
One possible message, that we're going to test, is to hold a referral sweepstakes.
I've heard success about this with other clients and I wanted to try it out for you.
We're testing this out right now for Vyral Client Jeremy Larkin.
Here's the page where people in his database can go to enter a drawing for a $250 Amazon gift card. Vyral Marketing will cover the cost of the gift card.
It's important to note for legal purposes that people do not need to submit any referrals for entry.
All of this will be in the Official Rules to keep the sweepstakes compliant.
Here's the landing page we'll drive the traffic to: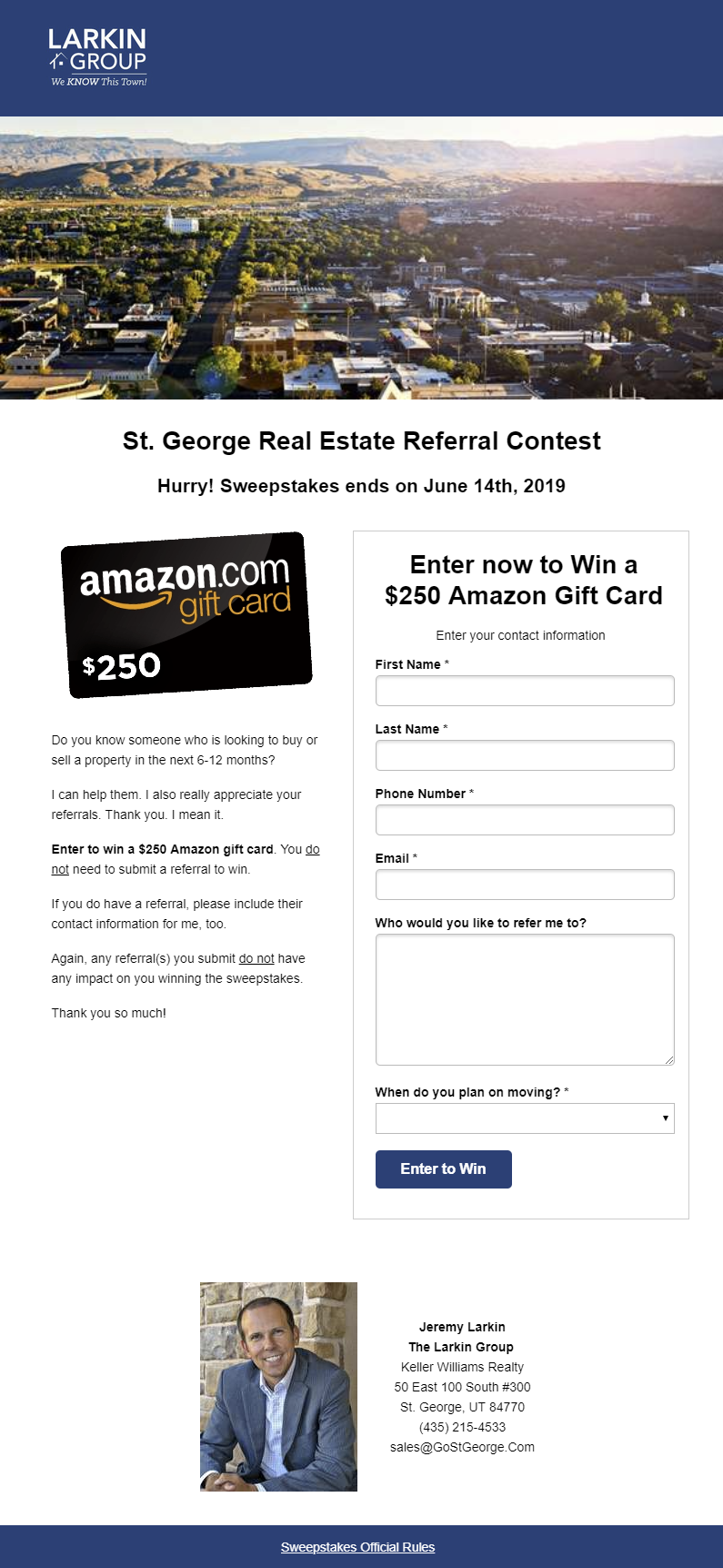 And then here is the email message that we'll send to Jeremy's database:
SUBJECT: Know anyone moving soon?
(picture of client)
I wanted to write you quickly to ask if you know anyone who is looking to buy or sell a home?
Your referral means a lot to me and I'm ready to help anyone to needs it.
Do you know anyone moving in the coming months? Maybe you're thinking of moving?
I'm also holding a sweepstakes to give a away a $250 Amazon Gift Card. You can enter right here.
I can also answer any question you want about local St. George real estate.
Ask me! I'm here to help. Reply to this email it goes right to me.
Thank you. I really appreciate it.
Make sure to enter for the $250 Amazon gift card above! Hurry, you must do it before (date).
Jeremy Larkin
(full signature)
We'll follow up with one more email a week later after this one goes out reminding people to enter to win the $250 Amazon gift card.
It would look like this:
SUBJECT: May I help?
I wanted to follow up to see if you entered to win the $250 Amazon gift card.
You can enter to win right here.
Hurry!! The drawing ends (date). Yes, I'm really giving one away.
Also, do you know anyone who wants to move? I can help them buy or sell a home.
I'm here to help if you need me in any way when it comes to St. George real estate.
Just reply and let me know.
Jeremy Larkin
(full signature)
We'll collect all the people who enter and hold the drawing and notify the winner for you. When someone submits their name in the form, you'll get an email notification.
Cross your fingers! I'll report back to you on this blog post about the results and if it's positive we'll start putting this in place for the rest of you.
Let's get you some business!
Frank