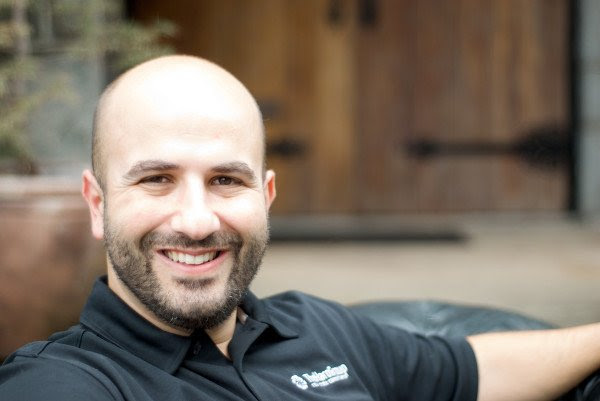 You'll see the email and landing page that generated 15 cash offer requests for our client Haro Setian in Greenville this month.
Send this email example to your list to get seller leads
Clients and friends,
I hope you're enjoying your Holiday Weekend…
The best Christmas present I can give you - as your marketer - is a list of people in your database who want an offer on their home.
Here you go:
Send this email example to your list to get seller leads.
It drives people to this landing page. The opt-ins go right to you.

(This is all personalized for you, of course)
It will quickly identify who in your database wants an offer on their home. Our office will set up the landing page for you, too.
When you follow up, simply ask the seller if they want maximum convenience with an instant/investor offer, or maximum money with a traditional sale.
You'll show the seller all their options available as their fiduciary.
Most brokerages have instant offer programs available, but if you don't, just Google "We Buy Houses + City" and you'll have a solid buyer list in the search results you can quickly contact.
You can also call your title company or go to ListSource and ask them to pull a list of everyone who has purchased 2 or more non-owner-occupied single-family corporate owned homes in the past 6 months in your county. Give the list to a skip tracer to do the LLC owner name and phone look ups. You'll then have the buyer's contact information to promote your listing directly.
That's it. Just get that email above to your database. It worked very well for our client Haro in Greenville this month.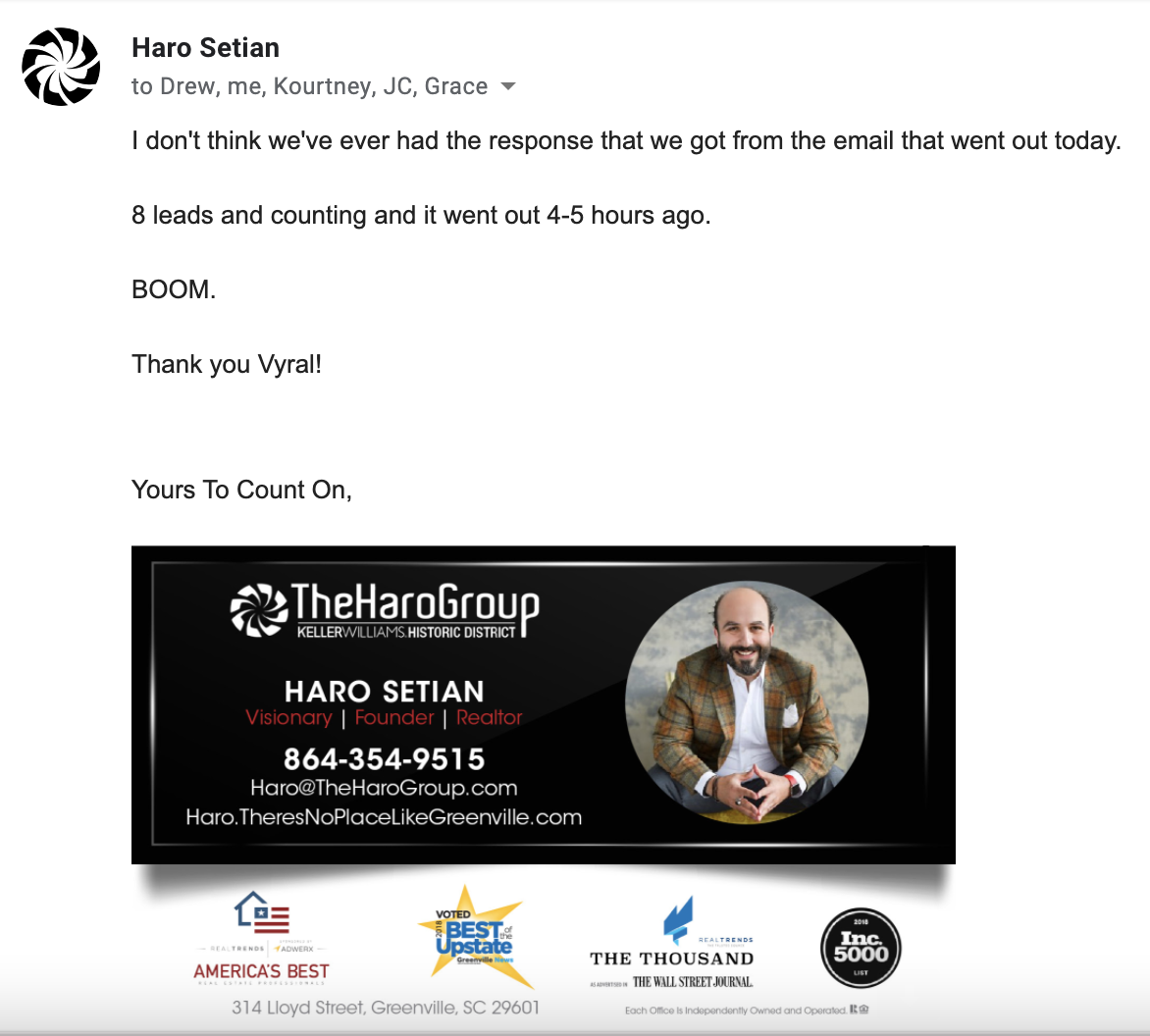 He just replied to me today, in fact, when I asked permission to share this saying he got 15 opt-in leads total for a cash offer to date.
Call us at 1-800-323-9974, talk to your contact here, or request a strategy call to get this done.
We call these types of messages "direct offers" to spike immediate response. We write one a month for you to send out on top of your two videos a month. This is all part of our core Vyral Marketing program we implement for our clients.
Merry Christmas! :)
On another note, we've had just over 400 team leaders and brokers request a copy of the 200+ page, 24 lesson 6-month recruiting project workbook I sent you a few weeks ago.
You can still request a free copy here if recruiting agents to your team or brokerage is part of your 2021 business plan.
We start January 13 for the first recruiting lesson.
You can see the pricing and how it works if you want to work together to get all 24 lessons implemented. It's a weekly live class with me in a small group, followed by a weekly implementation call with our team.
This is an add-on for our core program to help you attract agents.
Here's an example of what you'll get done...
One of the first things you'll do is write down why someone should work for you. You dictate it, and then our writers will write it for you.
We then drive traffic to it with Facebook ads, outbound email, an email to your database, and with online job boards.
Simply follow up with the applicants that come your way (or hire someone to do that, since it's pretty painful and time consuming).
Case in point, which is fresh in my mind from this weekend…
My wife wants to build her real estate investment team in 2021.
I set up this landing page with the "sales letter" and drove traffic to it with this Facebook ad and a Craigslist post.
It's positioned as a free apprenticeship/mentorship. We'll set up the same funnel for you, personalized for how you do business.
She's had 70 applicants in the past 3 weeks since it went live.
Neither of us have the time to hunt down and pre-screen/schedule 70 people for interviews, so I hired a college educated ISA for 5 hours a week for $10 an hour on Upwork in Cambridge, MA to follow up, screen them all, and get them on her calendar for an interview.
All the hires start immediately making 150 dials a day to find business. They set an appointment or pass the lead to Katy's senior people who have experience closing the deal with sellers.
Katy trains them up from there do their own deals on a split. She provides them with the names/phone numbers, what to say, and ongoing coaching to help them build their own pipeline of business.
(It's all cold calls, old archives in the database, or cheap top-of-funnel Facebook leads to start before they get the Glengarry leads).
Everything I describe above is in the workbook you can get for free and you'll implement it in class.
So, get that seller lead generation email out to your database so you take some listings in January 2021.
And, if you're interested, let me know if you'd like to work together to build your real estate team or brokerage, too.
We'll help you.
Have a great week,

Frank Klesitz